Hey there, saree enthusiasts and fashion-forward folks! Buckle up because we're about to take you on a whirlwind tour through the dazzling world of Coorgi style saree draping. If you've ever wondered how to rock a saree with pizzazz, you're in for a treat. We're here to make the elegant Coorgi saree your new BFF!
What's So Cool About Coorgi Sarees?
Before we get our saree-draping groove on, let's quickly chat about what makes Coorgi sarees a standout in the fashion world. Picture this: Coorg, a lush and picturesque district in Karnataka, known for its unique culture. The Coorgi saree, also called the Kodava saree, is like a fashion love letter to this incredible place.
Fabric & Bling
First things first – Coorgi sarees are like a warm hug for your skin. They come in luxurious silk or comfy cotton and are as soft as a dream. And oh, the designs! They're like a nature-themed fashion show, with patterns inspired by Coorg's forests, coffee plantations, and wildlife. Expect rich reds and deep blacks to steal the show.
Drape it Like a Pro
Now, let's talk draping. Coorgi sarees have this super cool drape style that sets them apart. Instead of pleats in the front, we're all about pleats at the back, letting the pallu (the loose end of the saree) flow gracefully over your shoulder. It's like an art form in itself!
Also Read: Rocking the Black Saree Vibes: Real Talk!
Ready to Rock the Coorgi Saree Look?
Now that we've gushed about how amazing Coorgi sarees are, let's get down to business – draping one with style!
Step 1: Pick Your Fave Saree
Your Coorgi saree adventure begins with choosing the one that screams 'you.' Think about where you're going and how you want to slay the scene.
Step 2: Gather Your Gear
Time to play dress-up! You'll need a well-fitted blouse, a matching petticoat, and some comfy heels. Make sure your blouse color vibes with your saree – that's a pro move.
Step 3: Petticoat Power
Slip into your matching petticoat and secure it at your waist. Just like a superhero dons their cape, you're getting ready to rock your saree!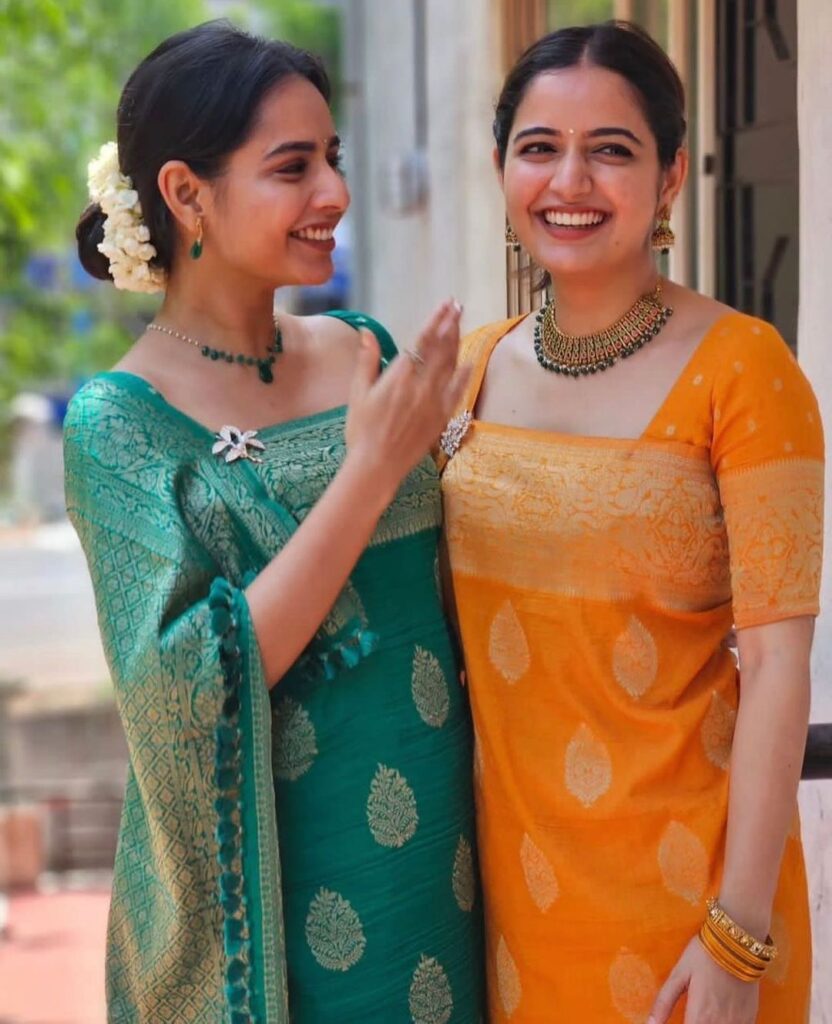 Step 4: Drape Like a Pro
Grab the non-pallu end of your saree and tuck it into your petticoat on the right side.
Wrap the saree around your waist, securing it nicely.
Create about 5-7 pleats (you can totally pick your fave number), ensuring they're all the same size.
Fold those pleats and tuck them into your petticoat.
Now, for the grand finale – drape that pallu over your left shoulder and let it flow.
Add a fancy pin or brooch to keep your pallu in place.
Step 5: Glam Check
Step back and give yourself a once-over in the mirror. Adjust your pleats, pallu, and border until you're feeling fly.
Accessorize Like a Pro
To really make your Coorgi saree pop, follow these accessory tips:
Bling It On
Go all out with traditional gold or silver jewelry. Think statement necklaces, earrings, and bangles – you're the star of the show!
Hair Envy
Top off your look with a classic bun, jazzed up with fresh flowers or cool hair accessories. You'll be the buzz of the city.
Happy Feet
Slide into comfy sandals or heels that match your saree's color scheme. Your feet deserve some love too!
Timeless Elegance – The Coorgi Way
Coorgi style saree draping isn't just about fashion; it's about celebrating culture, art, and history. With its unique drape and stunning designs, the Coorgi saree is like a piece of wearable art. Embrace the elegance, and you'll be turning heads wherever you go.
Also Read: Accessorizing Your Banarasi Saree With Bling-Bling!