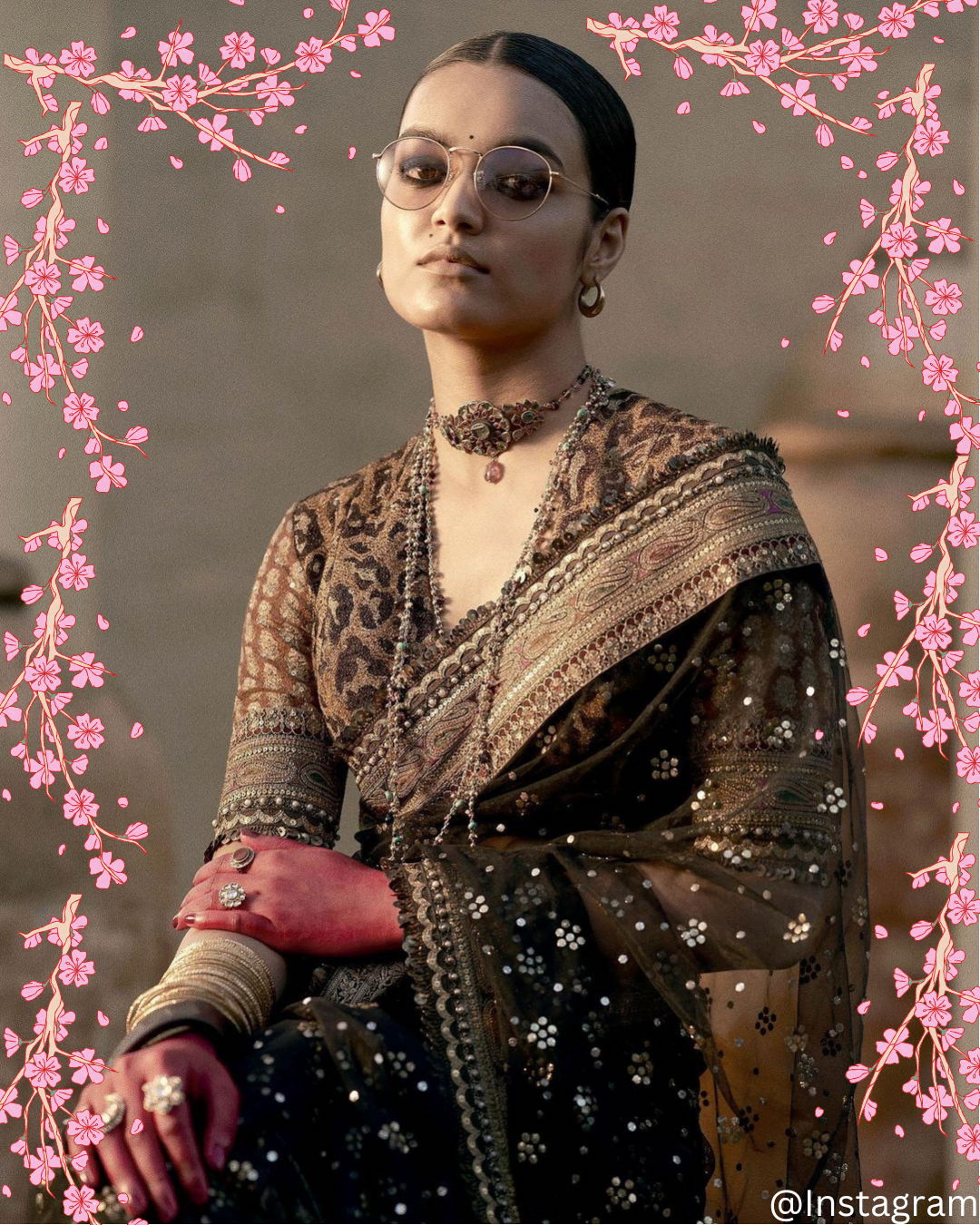 Hey, fashion fam! 🕶️ We're diving deep into the fabulous world of black saree inspired outfits. Like, can we just take a sec to appreciate how black sarees have gone from runway glam to everyday slay? 🖤 Let's spill the tea on these chic and timeless vibes!
Black Sarees: Eternal Hotness 🔥
Yo, black is THAT color. It's mysterious, it's sleek, and it's pure fire! Black sarees are like the ultimate style hack – they mix old-school traditions with new-age coolness. Whether it's a fancy event, a lit celebration, or just a chill hangout, black sarees are the bomb dot com.
Runway Magic: Black Saree Trends
Hold up, runway moments are where it's at! Top designers have gone all out with black sarees and we're living for it. Check these dope trends:
1. Bling Bling All the Way
Imagine black sarees dripping with bling – sequins, beads, and insane threadwork. These sarees catch light like no other and will legit make you the center of attention. Shine on, babe!
2. Next-Gen Drapes
Black sarees aren't playing it safe. They're all about fresh drapes that are anything but basic. Think unique pleats, sassy pallu styles, and blouses that redefine the game. It's tradition with a twist!
3. Fusion Frenzy
Guess what? Black sarees are going global! Designers are mixing Indian vibes with flavors from all over the world. It's like cultural confetti on your saree, and we're totally vibing with it.
Your Black Saree Style Game 💃
Ready to slay? We gotchu with some wicked ideas to rock that black saree like a pro:
1. Classic Coolness
Keep it chill with a black saree featuring a clean white or silver border. Match it with a killer blouse and own that classy look. Perfect for formal gigs and night-outs!
2. Golden Goddess
Feeling fancy? Get a black saree decked out in gold embroidery. This combo is pure royalty – think weddings, festivals, and major glam moments.
3. Modern Magic
If you're all about that modern swag, pick a black saree with simple lines and a hint of bling. Add a statement belt to level up your game while staying true to that saree vibe.
Unleash Your Inner Stylist 🎉
Black sarees are like that BFF who can pull off any look. Wanna switch it up? Try these moves:
1. Saree Gown Goals
Turn your black saree into a gown-like masterpiece. Let the pleats flow like a gown's skirt. It's like red carpet meets Desi swag – total showstopper!
2. Palazzo Party
Transform your black saree into palazzo pants heaven. Rock it with wide-legged palazzos and a cute blouse. This is the definition of fusion fashion!
3. Jacket Up, Babe
Add a poppin' embroidered jacket to your black saree. It's like ethnic vibes with a dash of modern flair. Perfect for those high-spirited shindigs!
Final Word
Black sarees are the real deal, fam! From runway dreams to everyday goals, they're the style queens we all need. They're classic, they're cool, and they're all about that swag. Ready to slay? Your black saree journey starts now!
Also Read: Ananya Panday's 6 Mind-Blowin' Saree Looks You Can't Miss!