Hey there, fashionistas! Let's talk about something fabulous – Banarasi sarees! These beauties from Varanasi are like a slice of Indian tradition served with a dollop of elegance. But you know what takes them from 'wow' to 'OMG'? The right jewelry! So, grab your chai, and let's dive into the world of Banarasi sarees and all things shiny and sparkly.
1. Banarasi Sarees 101
First things first, let's get cozy with Banarasi sarees. These stunners are all about intricate zari work and silky smoothness. They come in different flavors like Katan, Organza, and Georgette, each with its own special charm. When you're picking jewelry to rock your Banarasi vibe, remember to match it with your saree's color and style. You want harmony, not chaos!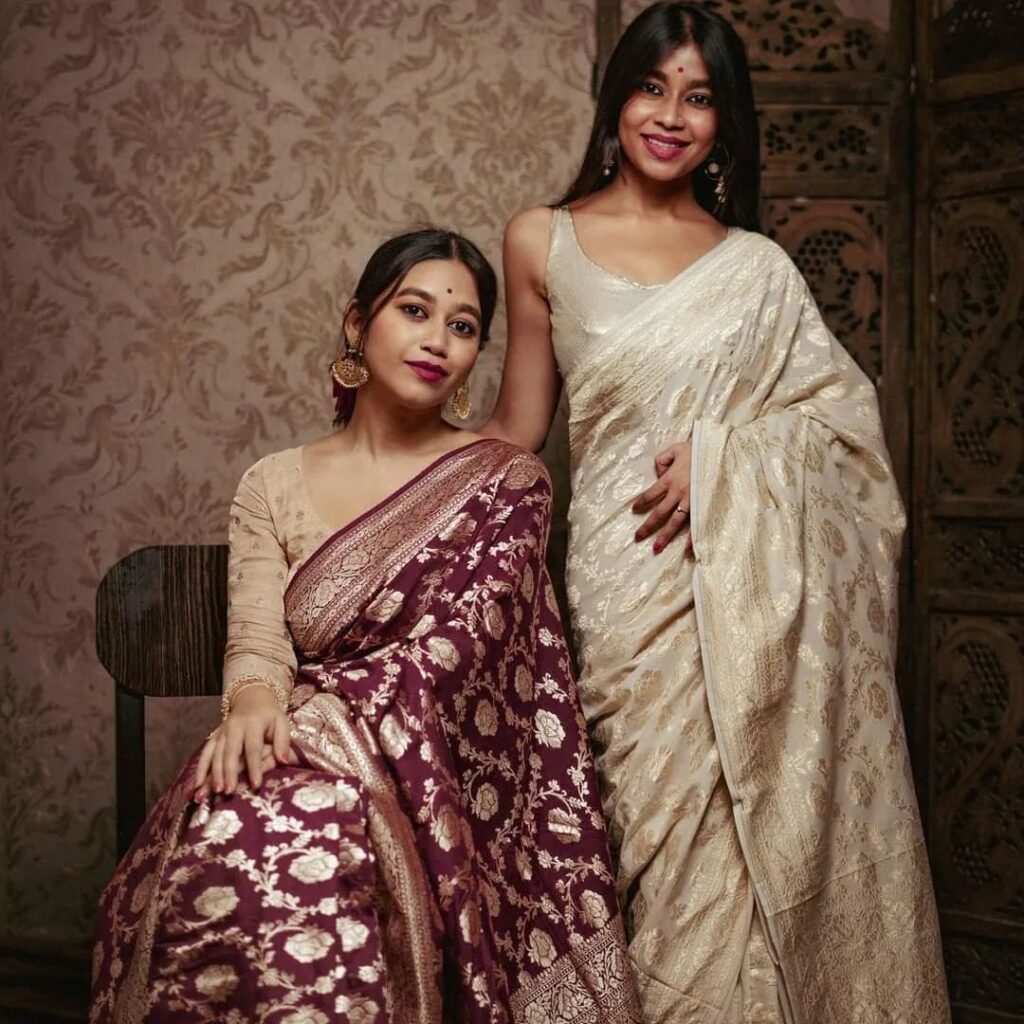 2. Necklaces That Wow
Okay, now let's talk necklaces. What's a saree without a stunning neckpiece, right?
Statement Necklaces: Picture this – a choker or a layered necklace with fancy designs. It's like a disco party on your neck, and your Banarasi saree is the dance floor!
Temple Jewelry: Feeling all traditional? Go for temple jewelry with intricate motifs. These golden or silver pieces are like little pieces of art.
Polki and Kundan Sets: Glam alert! Polki and Kundan sets are the bling queens. Uncut diamonds and colorful gems make them perfect for grand events. Prepare to dazzle!
3. Earrings That Pop
Earrings are the cherry on top. Here are a couple of options:
Jhumkas: These bell-shaped earrings scream 'Banarasi'! Go big for drama or small for a subtle charm. You can't go wrong.
Chandbalis: Want some vintage vibes? Chandbalis, with their moon-like shape, are the way to go. Pair them with a matching necklace for the full effect.
4. Bangles and Bracelets
Wrists need love too!
Gold Bangles: Traditional vibes call for gold bangles. From basic to elaborate, there's a style to suit everyone.
Silk Thread Bangles: For a modern twist, try silk thread bangles in vibrant colors. They're comfy and add a pop of fun to your outfit.
5. Hair Bling
Don't forget your locks! Decorative hairpins, combs, or a classic Maang Tikka can jazz up your hair game.
6. Fancy Footwear
Let's not overlook the feet! Traditional juttis, sparkly heels, or embellished sandals – pick what matches your saree's style.
7. The Grand Finale
Before you step out looking like a million bucks, always try your jewelry with your Banarasi saree. It's like a dress rehearsal, but way more glamorous!
In a nutshell, jazzing up your Banarasi saree with the right bling is like adding sprinkles to ice cream – it takes things from yummy to 'YAAASSS!' So, whether it's a wedding, a festive bash, or just a day when you want to feel like a superstar, these tips and trends have got you covered.
Also Read: Hottest Wedding Saree Trends of the Season