Hey there, fashion fanatics! Get ready to dive into the glitzy world of Zendaya's jaw-dropping appearance at the Louis Vuitton Paris Fashion Week show! Brace yourselves for a fashion rollercoaster that's as cool as it gets.
Paris Fashion Week Magic
Picture this: Paris, the city of love, shimmering with anticipation as Louis Vuitton's Women's Spring-Summer 2024 show unfolds. The runway is lit, the crowd is buzzing, and our girl Zendaya is about to steal the show!
Zendaya: The Ultimate Style Diva
Zendaya, the queen of versatility, strutted her stuff in a dazzling white gown that made jaws drop. It was sleek, it was daring, and it was pure fashion wizardry. Law Roach, the genius stylist behind Zendaya's iconic looks, struck gold once again.
Gown Goals
Now, let's talk about that gown! It hugged Zendaya's curves like it was custom-made by fashion angels. Gold buckles and caramel leather panels? Oh yes, they spiced things up, adding a dash of rebelliousness to the ensemble.
Zipper Drama and a Sizzling Slit
Hold onto your hats because here comes the showstopper – a gold zipper running from her neckline to her midriff. It was like a fashion secret, revealing a plunging neckline and a thigh-high slit that screamed, "I'm fabulous!" Zendaya was not here to play; she was here to conquer.
Internet Explodes
As Zendaya sashayed down that runway, the internet went into overdrive. Social media erupted with comments like "You're killing it!" and "Zendaya, are you even real?" Even Rita Ora couldn't contain her excitement. Fans were ready to sprint to wherever Zendaya was – talk about devotion!
Accessorize Like a Pro
But let's not forget the bling! Zendaya paired the gown with white satin stilettos that were straight out of a fairy tale. Her gold jewelry, including hoops and a statement ring, added a touch of glam that we all needed.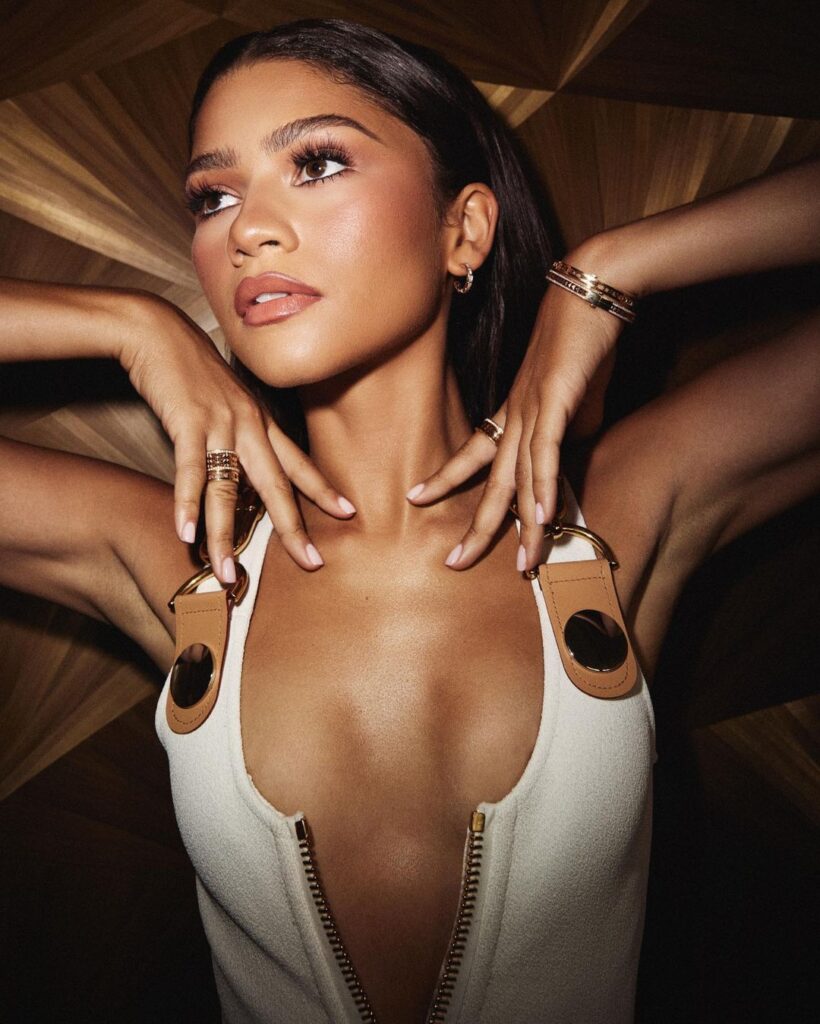 Glam Squad Goals
Zendaya's makeup game was on fire! Think mascara-loaded lashes, sultry smoky eyes, and lips that were sheer perfection. Her hair, sleek and straight, was the icing on the fashion cake.
So, What's Your Verdict?
Now, tell us, what do you think of Zendaya's Louis Vuitton look? We're betting you're as obsessed as we are! Her daring fashion choices and unstoppable confidence left us all in awe.
Zendaya: The Louis Vuitton Ambassador
In case you missed it, Zendaya is now the shining star in Louis Vuitton's galaxy as their newest celebrity brand ambassador. It's official; she's not just a fashion icon; she's THE fashion icon.
Also Read: Zendaya's Pink Slayage: 5 Looks that Totally Rocked!