Hey, Sunshine Lovers!
Picture this: You, the sun, and a dazzling beach day! But wait, are you sun-smart enough to conquer those rays without a hitch? Fear not, fellow sun worshippers! Lakme sunscreen is your golden ticket to embracing the sun in style. Get ready for a sun-sational ride as we unveil the coolest Lakme sunscreen tips and tricks that'll make you the ultimate sun-kissed sensation.
Lakme Sunscreen: Your Skin's BFF
Lakme sunscreen isn't just sunscreen; it's your skin's bestie. Here's why:
UV Bodyguard: Lakme sunscreen packs a punch against those pesky UV rays. It's like a bodyguard for your skin, keeping you safe from sunburn and UV-related drama.
Skin Sipper: Some Lakme sunscreens are as hydrating as your morning smoothie! They keep your skin hydrated and happy, even when the sun's scorching.
Age-Defier: Lakme sunscreen is your secret weapon in the battle against aging. It fights off wrinkles and fine lines, keeping you forever young (well, almost!).
No Grease, No Fuss: Worried about looking like a greaseball? Not with Lakme! It's non-greasy, so you can slather it on without feeling like you're wearing a heavy coat.
Even Stevens: Lakme sunscreen is your ally in achieving that flawless skin tone. Say goodbye to blemishes and dark spots!
Makeup Magic: Ladies, rejoice! Lakme sunscreen doubles as a makeup primer, giving you a smooth canvas for your artistic endeavors.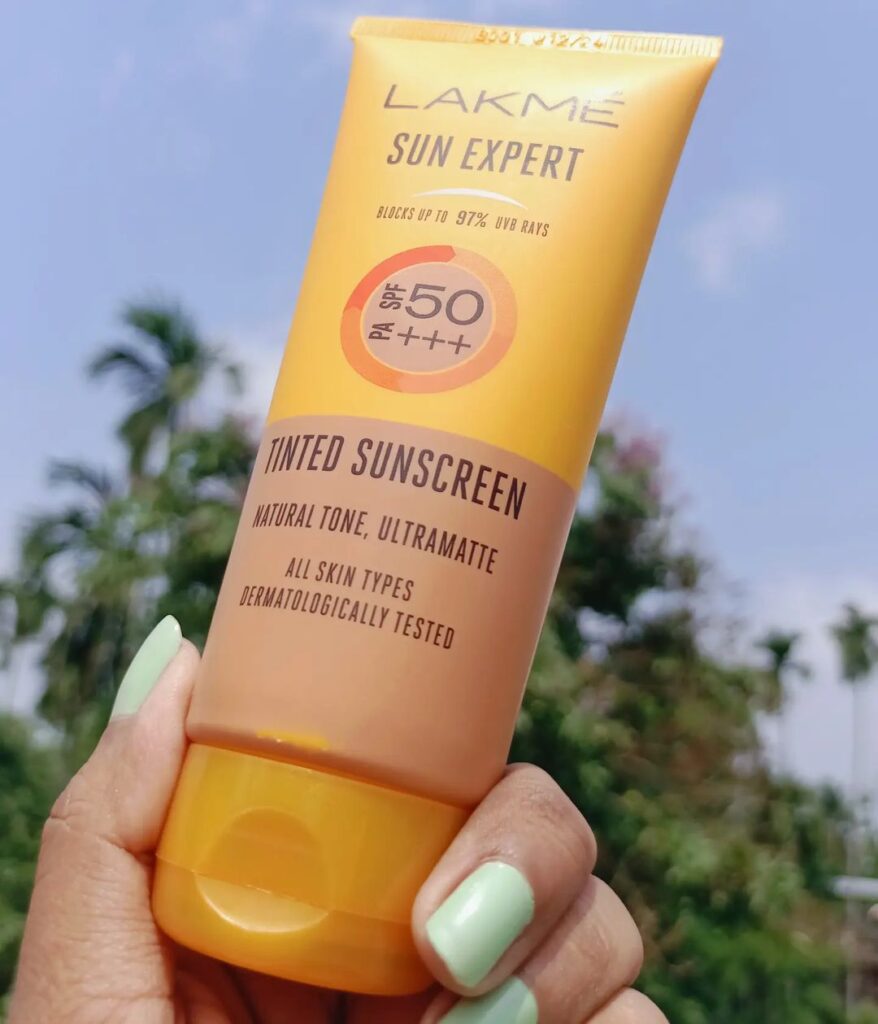 The Sun-Kissed Guide: How to Make the Most of Lakme Sunscreen
Ready for some fun in the sun? Check out our sizzlin' tips:
Sun-Kissed Tip #1: SPF Selection
Think of SPF as your sunscreen superhero level. Pick the right one for your skin type and the sun's intensity. Your skin will thank you later!
Sun-Kissed Tip #2: Slather It On
Don't be shy! Apply Lakme sunscreen generously to all those sun-exposed spots. That means your face, neck, arms, legs—basically, anywhere the sun can reach.
Sun-Kissed Tip #3: Reapply, Don't Delay
Sunscreen doesn't last forever, especially when you're swimming or sweating. Reapply every two hours to keep the sun at bay.
Sun-Kissed Tip #4: Daily Delight
The sun doesn't take weekends off, and neither should your sunscreen. Make it a daily routine, whether it's sunny or rainy!
Sun-Kissed Tip #5: Seek Shade
Pop open that beach umbrella during peak hours (10 am to 4 pm) when the sun's rays are on full blast.
Sun-Kissed Tip #6: Cover Up in Style
Rock a cool wide-brimmed hat and stylish shades to amp up your sun-smart game. You'll look fab while staying safe!
Sun-Kissed Tip #7: Check the Date
Sunscreen has an expiration date, so make sure yours is still in its prime. Fresh is best!
Sun-Kissed Tip #8: Consult the Pros
If you've got specific skin concerns, talk to a dermatologist. They can help you choose the perfect Lakme sunscreen for your skin type.
FAQs: Your Burning Questions, Answered
Q: Can I wear makeup over Lakme sunscreen?
A: Absolutely! Lakme sunscreen makes for a fantastic makeup primer, ensuring you look flawless and sun-safe.
Q: Will Lakme sunscreen make my skin greasy?
A: Nope! Lakme's got you covered with non-greasy formulas that won't weigh you down.
Q: Is Lakme sunscreen suitable for sensitive skin?
A: Lakme has options for sensitive skin too. Look for products labeled "sensitive skin" or chat with a dermatologist for personalized recommendations.
Q: How long does Lakme sunscreen work?
A: To keep the sun's rays at bay, reapply Lakme sunscreen every two hours, especially if you're splashing around or sweating.
Q: Can I use Lakme sunscreen on my body?
A: Absolutely! Lakme sunscreen works wonders on both your face and body. Slather it on for full-body sun protection.
Q: Is Lakme sunscreen waterproof?
A: Some Lakme sunscreen variants are water-resistant, making them perfect for water adventures. Check the label for specifics.
In a Sun-Soaked Nutshell
Being sun-smart isn't just about sunscreen; it's about embracing the sun with confidence. Lakme sunscreen has your back, and now you know how to make the most of it. So go ahead, chase the sun, and let Lakme be your sun-kissed sidekick!
Also Read: 10 Fun Tips for Gorgeous Skin with Lakme Foundation!