Hey there, cool cats! It's that time of year again when pumpkins and spookiness are all the rage. Halloween is right on the doorstep, and you know what that means? Your nails can join in on the fun! We've got some totally rad Halloween nail ideas that will make you the life of the party. No need for a spellbook, just follow along, and let's get started.
Witchy Vibes 🧙‍♀️
Embrace your inner witch with these enchanting nail designs. Grab some black or dark green nail polish and coat your nails like you're painting a night sky. Now, take a fine brush (or even a toothpick if you're feeling extra crafty) and draw some wicked symbols like broomsticks, cauldrons, and cute black cats. Sprinkle on some glittery nail polish to make it pop, and finish it off with a matte top coat for that extra witchy touch.
Sink Your Teeth Into It 🦇
Want to be a vampire for the night? Sink your teeth into these vamp-tastic nails. First, paint your nails a blood-red color that's so dark it's almost black. Now, take a fine nail art brush or a toothpick and craft some fierce vampire fangs on your accent nails. To up the drama, add some dripping blood with a deep red nail polish. These nails are fierce enough to make Dracula jealous.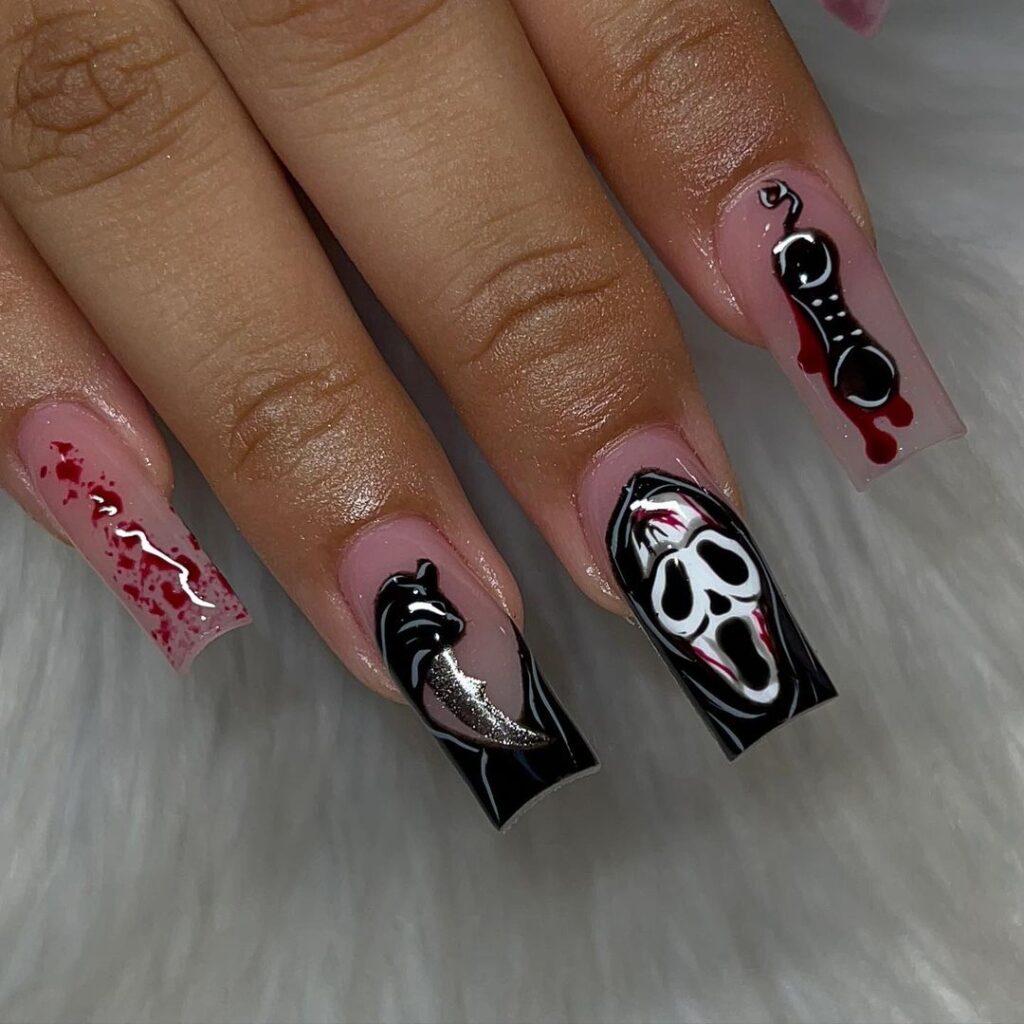 Eye-Popping Fun 👀
Get ready to give everyone the evil eye with these creepy eyeball nails. Start with a white base to make those eyeballs pop. Use different colors and a tiny brush to create detailed eyeballs complete with spooky irises and bloodshot veins. If you want to go the extra mile, add a glossy top coat for that wet and wild look. These nails are so realistic; they might just give you x-ray vision!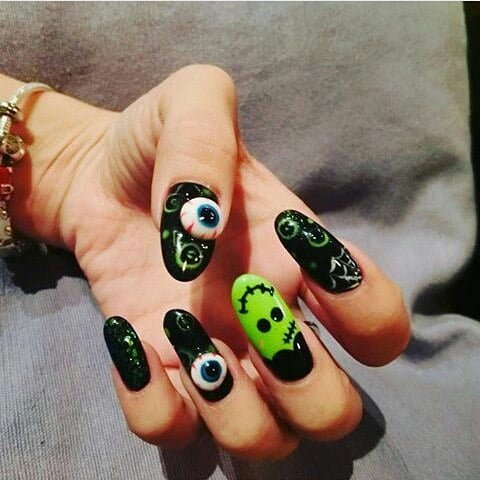 Graveyard Glam 💀
Turn your nails into a spooky graveyard scene with this chilling nail art. Start with a dark, earthy base coat to mimic graveyard soil. Now, use a fine brush to paint tombstones, eerie trees, and ghostly apparitions on your nails. And here's the kicker – add some glow-in-the-dark polish for an eerie, ghostly glow that lights up the night. You'll have the spookiest nails in town.
Spiderweb Slayin' 🕷️
Love spiders but not the creepy-crawlies? These spiderweb nails are perfect for you. Start with a sleek black base coat to set the stage. Then, grab a thin nail art brush and spin some intricate spiderwebs on your nails. Don't forget to add some glittery silver or gold nail polish to make those webs shine. You'll be the web-slinger of the party!
Pumpkin Party 🎃
Pumpkins aren't just for carving; they're for nail art too! Begin with a vibrant orange base coat to mimic the classic pumpkin color. Then, use a fine brush to paint on cute pumpkin faces or intricate pumpkin designs. Finish it off with some green for the stems, and you're ready to join the pumpkin patch party. These nails scream fall fun!
Mummy Magic 👻
Wrap your nails in the mystery of mummies with this eerie design. Start with a beige or light gray base coat to represent mummy bandages. Then, use a thin brush to create crisscrossing bandages across your nails. Leave small gaps to show off those mummy eyes peeking through. A touch of brown or black polish for that ancient look, and you're mummy-fied!
Zombie Attack! 🧟‍♂️
Get ready for the undead with these zombie-themed nails. Begin with a ghastly green or gray base coat to mimic zombie flesh. Then, use a fine brush to paint on the details like rotting flesh, exposed bones, and oozy wounds. Add some fake blood for that extra gruesome touch. These nails will have you feeling like you're surviving a zombie apocalypse.
In Conclusion
This Halloween, let your nails do the talking with these spook-tacular nail art ideas. From witches and vampires to graveyards and mummies, there's something for everyone. So, go ahead and get your nails Halloween-ready, and don't forget to show them off at the spookiest party in town!
Also Read: Get Your Cyberpunk Groove On This Halloween!