Hey, fashionistas and trendsetters, get ready to be shooketh! Selena Gomez was on fire at the Rare Impact Fund Benefit Gala, and she was serving looks hotter than a summer day. Her secret weapon? The one and only Rahul Mishra's 'Iris' dress from the Couture Fall 2023 collection.
The 'Iris' Dress That Broke the Internet
Okay, let's talk about the 'Iris' dress. Imagine a dress that's not just a dress but a work of art. It's the color of amethyst dreams, and it has an off-shoulder thing going on that's all the rage. But that's not even the best part.
This dress is like a love letter to Iris flowers, with intricate hand embroidery that makes it look like Selena's wearing a garden. But here's the kicker: there are 18 petals on that dress, and each one is blinged out with resham, chenille thread, sequins, glass beads, bugle beads, badla, and silver zari. Seriously, it's like Rahul Mishra waved a magic wand and turned Selena into a floral goddess.
Paying Tribute to the Real MVP
And wait, there's more. The dress has this motif that's a tribute to Munir Ahmed, who's been Rahul Mishra's right-hand man for over ten years. It's like a secret handshake between fashion legends. Wearing this dress isn't just about looking good; it's about carrying a piece of fashion history and honoring a dedicated team member.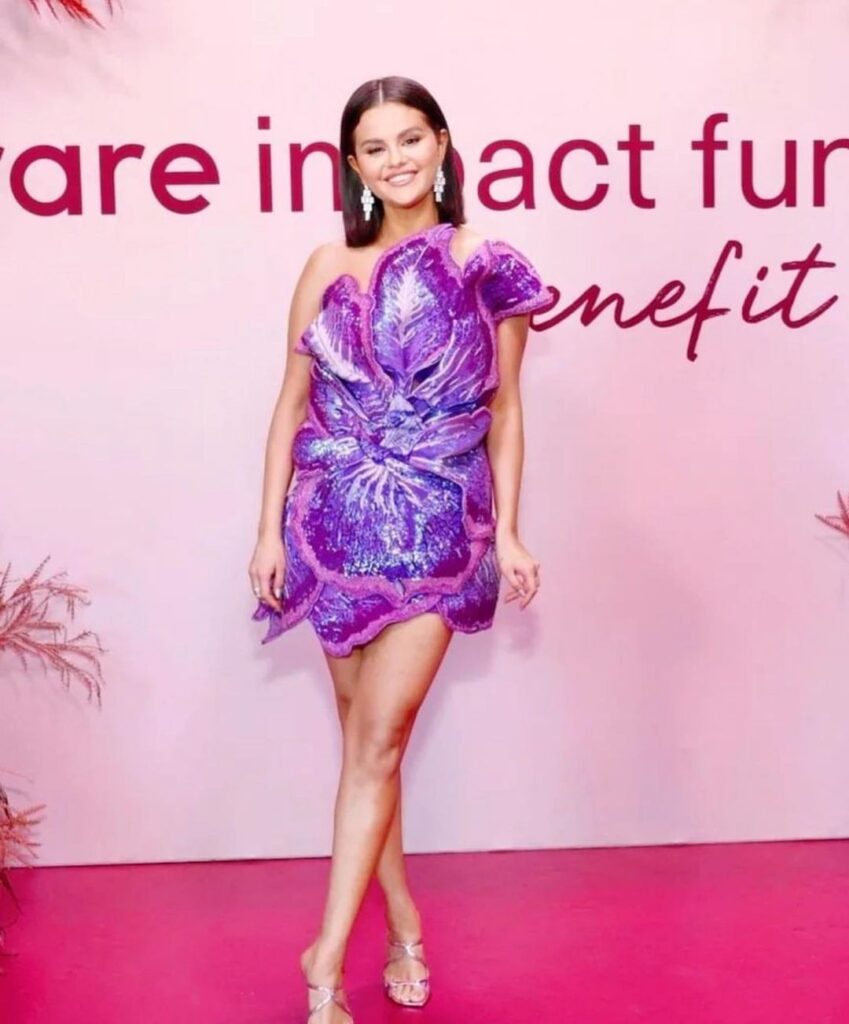 Less is More, Baby!
Now, you know how sometimes people go overboard with accessories? Not our girl Selena. She kept it simple but fierce. She rocked metallic lilac strappy heels like she's on a mission to slay, and her silver geometric earrings? They're like the cherry on top of this fashion sundae.
Beauty Queen Vibes
And what's a stunning dress without a beauty regimen that makes your jaw drop? Selena's makeup game was on point with that nude eyeshadow, sharp-winged eyeliner, lashes that were poppin', and a glossy lipstick that could make anyone swoon. It's the kind of look that confidently whispers, 'I effortlessly rock this.'
The Impact of Queen Selena
Selena Gomez's fashion game at the Rare Impact Fund Benefit Gala wasn't just about turning heads. It was like setting a new high score in the fashion world. The 'Iris' dress didn't just make her look stunning; it made her an icon, a trendsetter, and a whole mood!
Wrap It Up, Fab Squad!
In a world where fashion speaks volumes, Selena Gomez's 'Iris' dress isn't just an outfit. It's a statement. It's a shout-out to art, storytelling, and elegance. It's a reminder that sometimes, less is more, and a tribute can be as stylish as it is heartfelt.
So, next time you're feeling your fashion game, remember Selena and her 'Iris' dress. It's proof that fashion is art, and you're the canvas.
Also Read: Selena Gomez: The Queen of the 2023 VMAs Red Carpet!