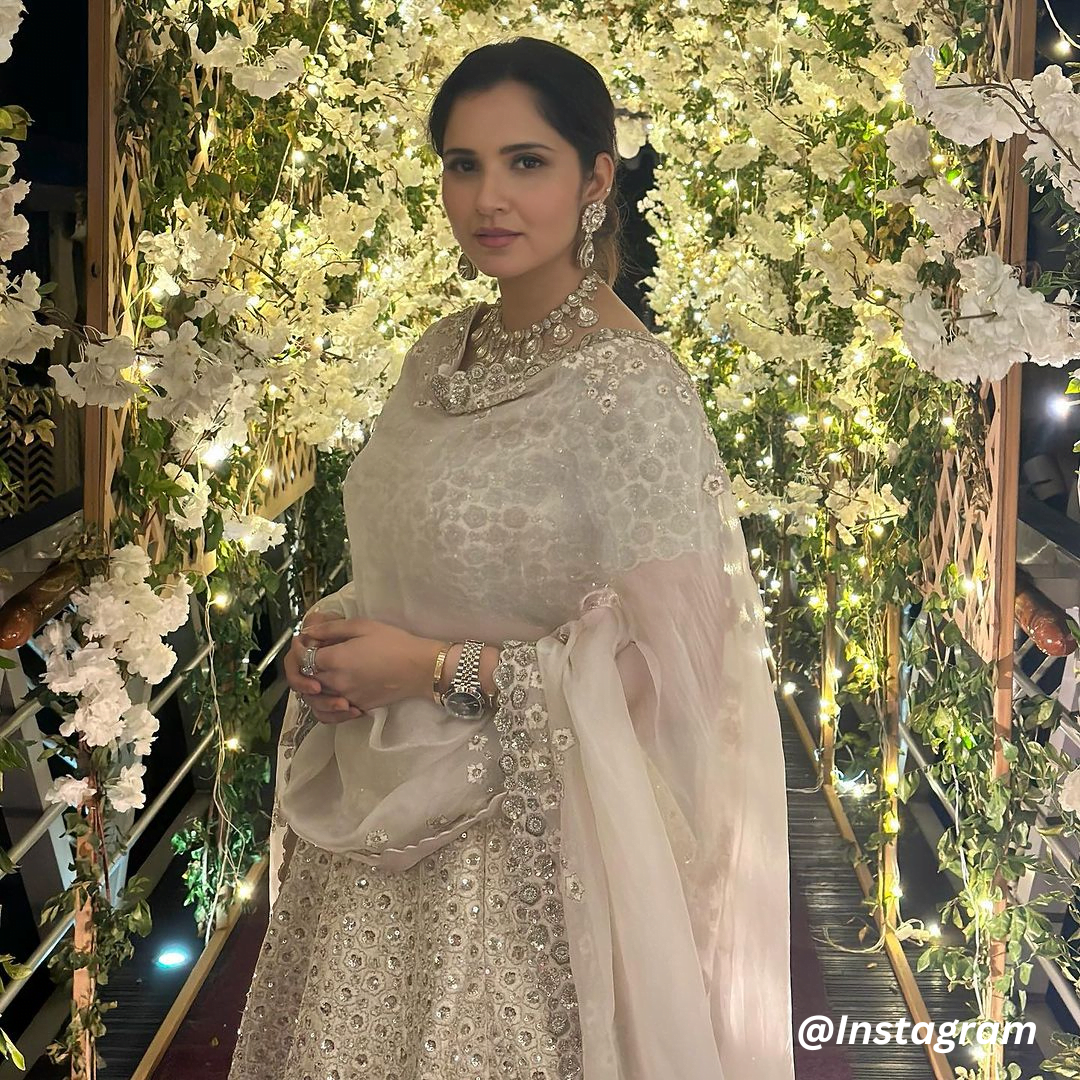 Hey there, fashion enthusiasts! We're about to dive into a fashion fiesta like no other. Picture this: Parineeti Chopra and Raghav Chadha's wedding at Udaipur's Leela Palace – a blend of glitz, glamour, and jaw-dropping outfits. While the bride rocked her ivory lehenga and a stunning pink sari, her BFF Sania Mirza was on a whole other level of fabulousness.
The Daytime Delight 🌞
Sania Mirza kicked off the style parade with a bang. She waltzed into the day wedding wearing a Sharara set that oozed charm and grace. It was like she had a fashion wand, and it was set to 'spellbind.'
Imagine vibrant, chic, and not over-the-top – that's the vibe Sania brought. The outfit, courtesy of designer Aisha Rao, boasted a riot of green tones, perfectly complemented by a pink organza dupatta. But what made it pop? The modern twist with a sprinkle of glitz. It was like a Bollywood fairytale come to life.
But hold your horses, the pièce de résistance was the dazzling emerald and diamond necklace with matching earrings. It was as if the stars decided to attend the wedding themselves. Sania rounded off the look with a sleek bun, subtle makeup, mauve lips, kohl-rimmed smokey eyes, and skin that looked as fresh as a daisy. If elegance had a face, it would look like Sania Mirza.
The Sister Act 👯‍♀️
Not to be outdone, Sania's sister, Anam, stepped into the spotlight. She was a vision in a pastel green sari with a sheer ruffled border and intricate detailing. Anam was a picture of timeless beauty – a perfect sisterly duo for the grand occasion.
Evening Extravaganza 🌙
As the sun dipped below the horizon, it was time for the star-studded reception. Sania Mirza, being the style icon that she is, showed up in a white-gold lehenga that could make hearts skip a beat. The skirt had heavy gem detailing and smaller gems scattered all over. It was like a dreamy constellation on her dress.
This time, Sania switched gears with a complete diamond jewelry set. The result? Absolute luxury and glamour. She didn't just attend a wedding; she became the queen of the night.
Airport Arrival Style ✈️
But wait, the fashion story doesn't start at the wedding. It starts at the airport! Sania Mirza turned heads as she touched down in Udaipur, donning a red and pink printed kurta set. And the icing on the cake? She had Gucci's green disco bag slung casually over her shoulder. Talk about making an entrance!
In a nutshell, Sania Mirza's fashion at Parineeti Chopra's wedding was nothing short of legendary. Her outfits, from the vibrant Sharara for the day to the dazzling white-gold lehenga for the night, left everyone in awe. Sania Mirza proved once again that she's not just a sports star but also a fashion icon.
Also Read: Parineeti Chopra's Epic Wedding Reception Look: Bridal Perfection Unleashed!