Hey there, party people! It's time to spill the beans on Parineeti Chopra's wedding reception look – brace yourselves for a whirlwind of style, glamour, and sheer awesomeness. 🌟
Saree Magic
So, picture this: Parineeti, the Bollywood queen, rocking a pastel pink saree. But hold on, it's not just any saree; it's a bling-tastic masterpiece! This saree is dripping with glittery details that could outshine the stars. Seriously, it's like the saree version of a disco ball, but way classier.
Traditionally Cool
Now, here's the kicker. She's got the sindoor (that red powder thing) and pastel pink chooda bangles. These aren't just accessories; they're like her VIP pass to married life. It's like saying, "Hey world, I'm hitched, and I'm rocking it!"
Cape Crusader
But wait, there's more! Parineeti added an ethereal organza cape to her look. This thing was like a cloud of pure elegance. It floated around her, making her look like an angel sent from Bollywood heaven. ✨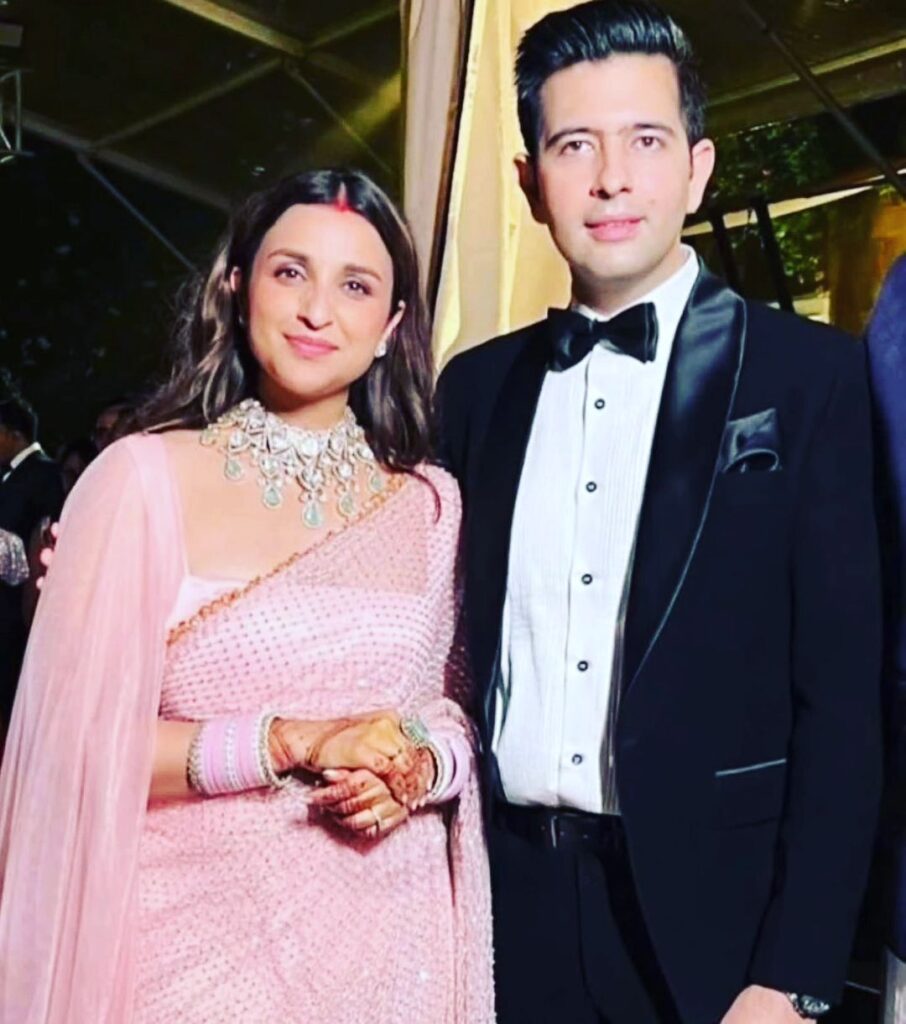 Bling Bling Baby!
And now, the jewelry. Oh boy, did she nail it! Parineeti went for this statement necklace with soft-green accents. It's like she said, "I need something to pop in this sea of pink," and bam, there it was. It's like jewelry telepathy or something.
The Dashing Groom
Let's not forget Raghav Chadha, the dashing groom. This guy showed up in a classic black suit, and we're talking James Bond level of coolness. He had the tailored blazer, crisp white shirt, and a slick black bow tie. It's like he was born to wear that suit.
A Starry Affair
Now, imagine the guest list – it was like a who's who of the coolest people in India. Arvind Kejriwal, Bhagwant Mann, Harbhajan Singh, Sania Mirza, and Manish Malhotra all showed up to party. It's safe to say, this was the hottest ticket in town.
Family Love
Even though Parineeti's cousin, Priyanka Chopra, couldn't make it, her mom, Dr. Madhu Chopra, was there to spread the love. Priyanka sent her love and blessings via Instagram. Family is family, no matter how busy the schedules are!
In a nutshell, Parineeti Chopra's wedding reception look was a dazzling fusion of tradition and modern chic. She rocked that pink saree like a boss, and Raghav Chadha was the ultimate suave groom. With a star-studded guest list and family love, it was a night to remember.
Also Read: Parineeti Chopra's Epic Post-Wedding Glam: Neon Green Kurta and Pink Chooda Magic!