Hey there, party people! Gather 'round because we've got some seriously cool Karwa Chauth 2023 deets to spill. You know our girl Parineeti Chopra? Well, she just celebrated her first-ever Karwa Chauth, and trust us, it was off-the-charts awesome!
Parineeti's Dazzling Outfit
So, picture this: Parineeti walks in, and she's wearing this super hot red sharara. And let us tell you, she looked smokin'! I mean, who wears a sharara to a festival? Parineeti, that's who! Red symbolizes love, and this girl was radiating it. It's like she told Raghav, "I'm here to slay!"
Accessory Game on Point
Our girl knows how to accessorize, no doubt. She had these pink chooras and jhumkas on, adding that extra zing to her look. Pink chooras – traditional bride vibes! And those jhumkas? Dang, they were the cherry on top!
The Trendy Bindi
And you know what? She sported a tiny bindi on her forehead. Classy move! The bindi is a symbol of spirituality and love, and it totally made her look pop. We're lovin' it!
Raghav's Dapper Avatar
Now, let's not forget the man of the hour, Raghav Chadha. He was all traditional and stylish. The perfect match to Parineeti's fab look. They were like a power couple ready to rock the Karwa Chauth scene.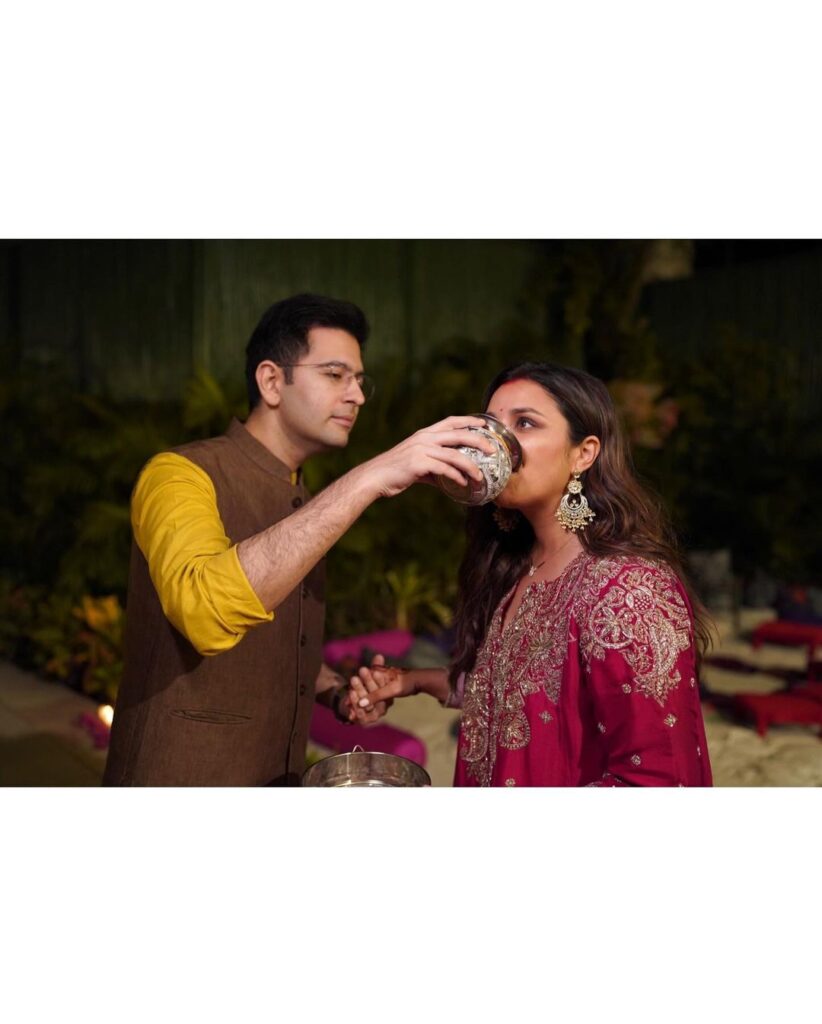 Candid Moments Galore
Okay, folks, the pictures! The first one, Parineeti and Raghav Chadha look like they're on cloud nine, grinning from ear to ear. It's as if they're declaring, "Karwa Chauth, consider it conquered!"
Mehendi Magic
And then there's this oh-so-adorable moment where Raghav is drawing mehendi on Parineeti's hand. Talk about couple goals! It's like saying, "We're in this for life, babe!"
The Sweet Ritual
Karwa Chauth involves a day-long fast, and it's the husband's job to break it. Raghav was right on point, helping Parineeti hydrate after the fast. Now, that's what we call love and care.
Heartfelt Words
Parineeti posted these heart-melting pics on social media, saying, "Happy first Karwa Chauth, my love… @raghavchadha88." That's what we call #RelationshipGoals, right there! And Raghav wasn't holding back either, he wrote, "Happy Karwa Chauth, my Paru. Love you to the MOON and back" is met with an all-around "awww!"
Love Story Unveiled
Let's not forget, these two lovebirds tied the knot in Udaipur back in September. Surrounded by their loved ones, it was pure magic. Parineeti's caption for the wedding pics summed it up: "From the very first chat at the breakfast table, our hearts knew. Been waiting for this day for a long time… So blessed to finally be Mr. and Mrs.! Couldn't have lived without each other… Our forever begins now."
And that's a wrap, folks! Parineeti and Raghav's Karwa Chauth was not just about fasting and rituals. It was about style, love, and some seriously stunning pictures.
In the end, Parineeti Chopra rocked her Karwa Chauth outfit like a boss. She made tradition look so cool and fashionable. Cheers to the power couple who knows how to celebrate love!
Also Read: Parineeti Chopra's Epic Wedding Reception Look: Bridal Perfection Unleashed!