Hey there, style enthusiasts and fellow fans of the fabulous Parineeti Chopra! Hold onto your fashion hats because we're about to take you on a whirlwind tour of the Bollywood superstar's recent wedding extravaganza. Brace yourselves, because Parineeti's wedding look is nothing short of a style tsunami that's about to hit your fashion shores!
The Perfect Mix: Bollywood Meets Politics
Picture this: the perfect blend of Bollywood glam and political charm. Yep, you heard it right! Parineeti Chopra, our favorite Bollywood sweetheart, recently tied the knot with the dashing politician, Raghav Chadha. The internet went berserk, and honestly, we couldn't keep our chill either.
Less is More: Minimalistic Makeup Magic
Now, we're used to seeing Parineeti rock bold makeup looks on the silver screen, but for her big day, she threw us all a curveball. She decided to go au naturel with a dash of elegance. We're talking nude lipstick, subtle pastel eyeshadow, and mascara that could rival anyone's dream lashes. Oh, and a hint of eyeliner to make those peepers pop! The result? A bride who's radiating beauty and making "less is more" look cooler than ever.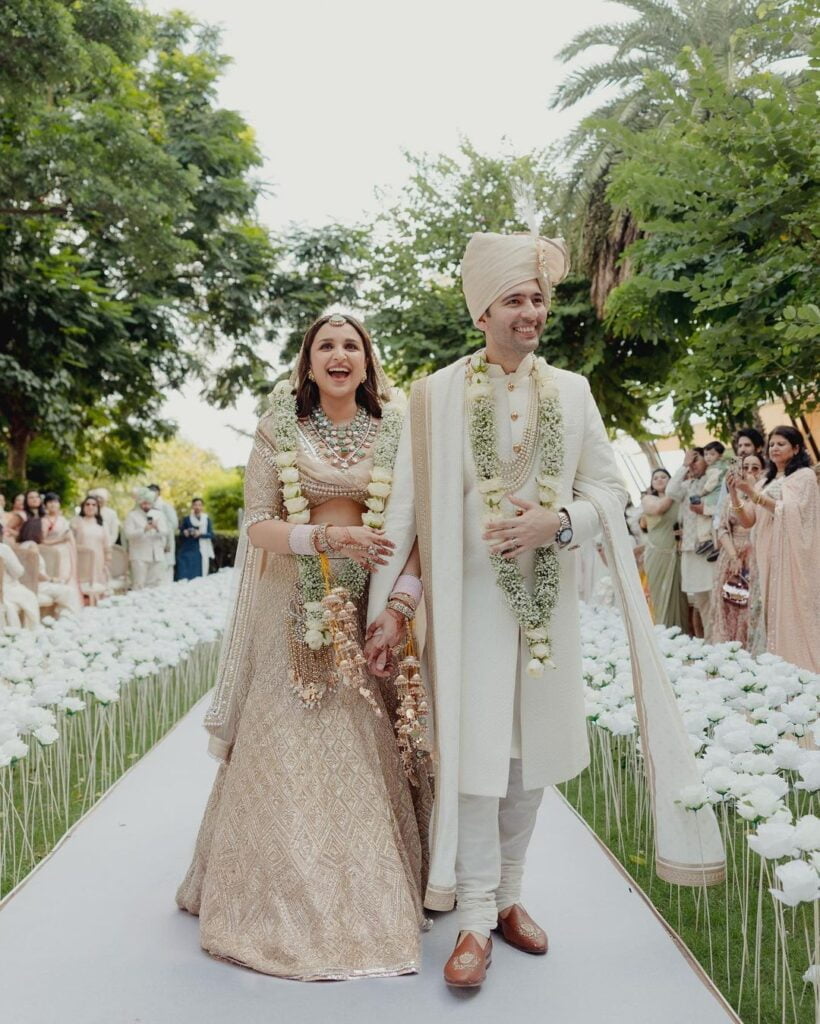 The Lehenga of Dreams
Okay, folks, this is where it gets spicy. Parineeti's wedding attire was the stuff dreams are made of. Instead of the classic red or pink, she went for a champagne-hued lehenga that was nothing short of a showstopper. And get this—it took a jaw-dropping 2,500 hours to create! That's like binge-watching an entire series on Netflix, but way more fabulous.
The intricate hand embroidery with vintage gold thread was the real deal, and the Naksahi and metal sequins added a touch of glam that had us swooning. Did we mention the sleek dupatta that added a modern twist? Trust us; it's all the rage.
The Bling Factor
Hold onto your seats because this is where Parineeti went all out! Her emerald necklace, featuring uncut layers and sparkling stones, was shouting "royalty" from the rooftops. The green hues of the necklace gave her bridal look a pop of color that was simply spectacular.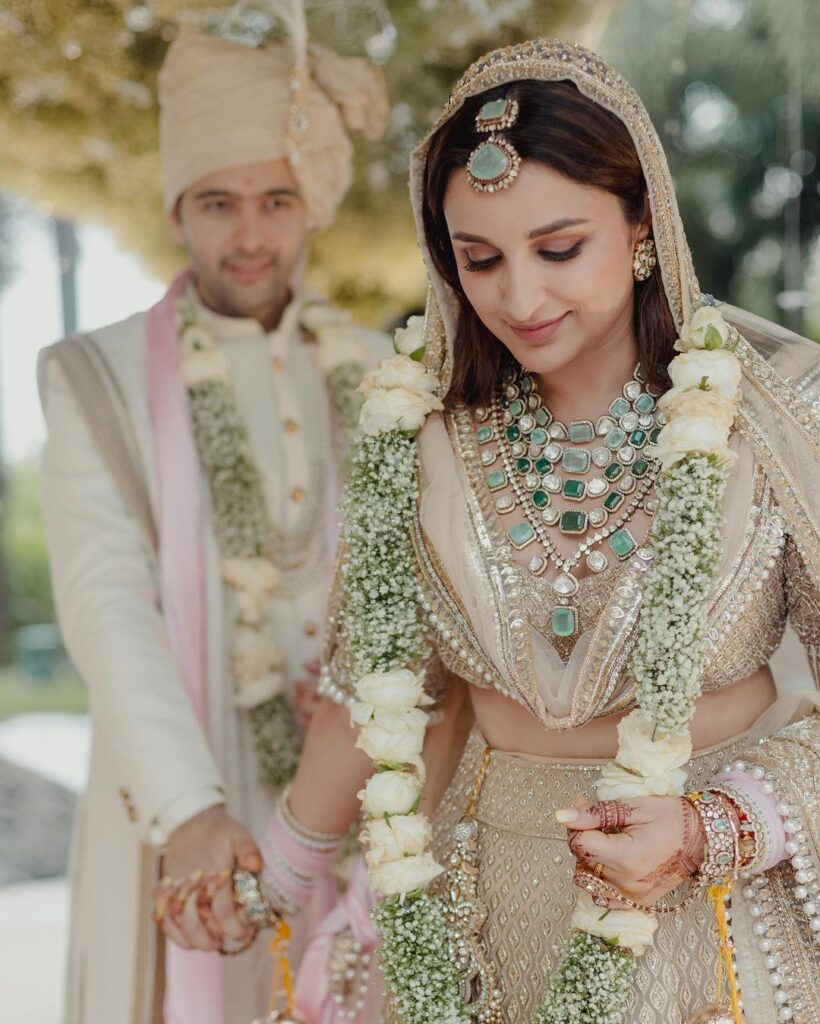 Oh, and let's not forget the pastel pink choora, the matching mangtika, and those elegant earrings. They were like the cherry on top of an already delicious fashion sundae.
Raghav's Dapper White Sherwani
And what about the dashing groom, Raghav Chadha? Well, he was no slouch in the style department either. Rocking a stellar white sherwani, he perfectly complemented Parineeti's bridal avatar. They were like the Bonnie and Clyde of the fashion world, but, you know, without the crime!
In a Nutshell
Parineeti Chopra's wedding look isn't just about fashion; it's a style revolution! Her minimalist makeup, dreamy lehenga, and bling-tastic accessories have rewritten the bridal fashion rulebook.
So, if you're a bride-to-be or just a fashion enthusiast looking for some major inspo, Parineeti's wedding look is where it's at. It's proof that sometimes, less really is more, and that style and elegance go hand in hand.
Here's to Parineeti Chopra and Raghav Chadha, the power couple who made style history!
Also Read: Parineeti Chopra's Ultimate Desi Glam in 'JALSA 2.0' – How to Steal the Show!