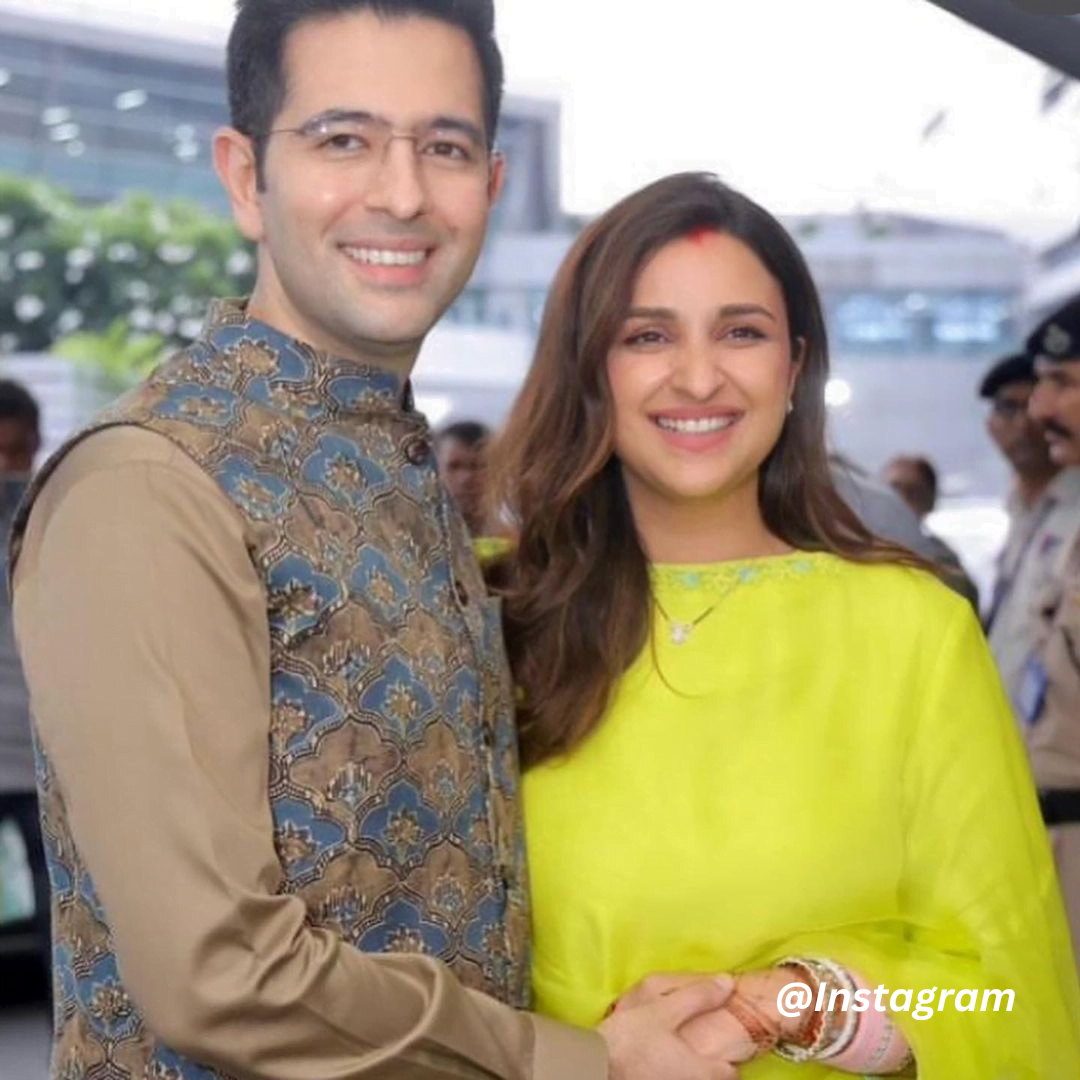 Hey there, party people! Hold onto your hats because we're diving into the fabulous world of Parineeti Chopra's post-wedding swag. Picture this: Parineeti and Raghav Chadha just landed in Delhi as the hottest couple in town. It's not just their wedding that's got everyone talking; it's Parineeti's jaw-dropping style game that's stealing the show!
Neon Green Magic: First things first, let's talk about Parineeti's outfit. She rocked a neon green kurta set that was fresher than your morning smoothie. The kurta had these long, elegant sleeves that were basically a fashion mic drop. But wait, it gets better! The pants were a whole other story, decked out in powdery blue threadwork embroidery that screamed 'OMG, look at me!' It was like a neon dream come true.
Dupatta Drama: And as if that wasn't enough, Parineeti threw on a dupatta with edges that matched her pants. Seriously, who thinks of these things? Parineeti, that's who! She's basically the fashion queen we all aspire to be.
Bling That Sings: Now, let's talk about the accessories. Parineeti flaunted a teardrop diamond-cut mangalsutra that was straight-up dazzling. But here's the twist: she didn't wear it the traditional way. Nope, she placed it on her dupatta, turning it into a showstopper. Talk about a game-changer!
Pink Chooda Vibes: Hold onto your hats because Parineeti went full rebel mode here. Instead of the usual red chooda, she rocked a custom pink chooda from Mrinalini Chandra. Yes, you read that right—pink! It's like she's rewriting the bridal rulebook in style.
Earrings to Envy: Parineeti's white circular earrings were the cherry on top. She wore them on her way to Udaipur and then again at her post-wedding bash. Because when you've got earrings that good, you flaunt them twice, right?
Makeup and Mane: Parineeti's makeup was all about that natural glow, letting her own beauty steal the spotlight. And her hair? It was perfection with a side-part that screamed, "I woke up like this!"
Jazzed-Up Juttis: Oh, and she wrapped up the whole look with some shiny juttis, adding a sprinkle of classic charm to her modern avatar.
In a nutshell, Parineeti Chopra's post-wedding look was nothing short of a fashion fiesta. She's mixing tradition with trendiness, turning heads, and inspiring brides-to-be and fashion fanatics all over. It's safe to say that Parineeti knows how to make an entrance, and we're here for every stylish twist and turn.
Also Read: Parineeti Chopra's Wedding Style: Chic, Classy, and Oh-So-Cool!