Hey there, fashion-forward peeps! Let's spill the tea on Kiara Advani's jaw-dropping Diwali party look. She and her bae, Siddharth Malhotra, totally stole the show. Picture this: a stunning velvet mustard yellow lehenga that oozed wedding vibes and a statement choker that said, "I'm here to slay, honey!"
The Lehenga Game Strong 💪
Kiara's lehenga was basically a work of art. It was made of this lush velvet fabric, giving it that elegant oomph. The top part had a deep square neckline, which added a bit of modern sass to this classic piece. The whole outfit was just WOW, especially when paired with a matching mustard yellow lehenga.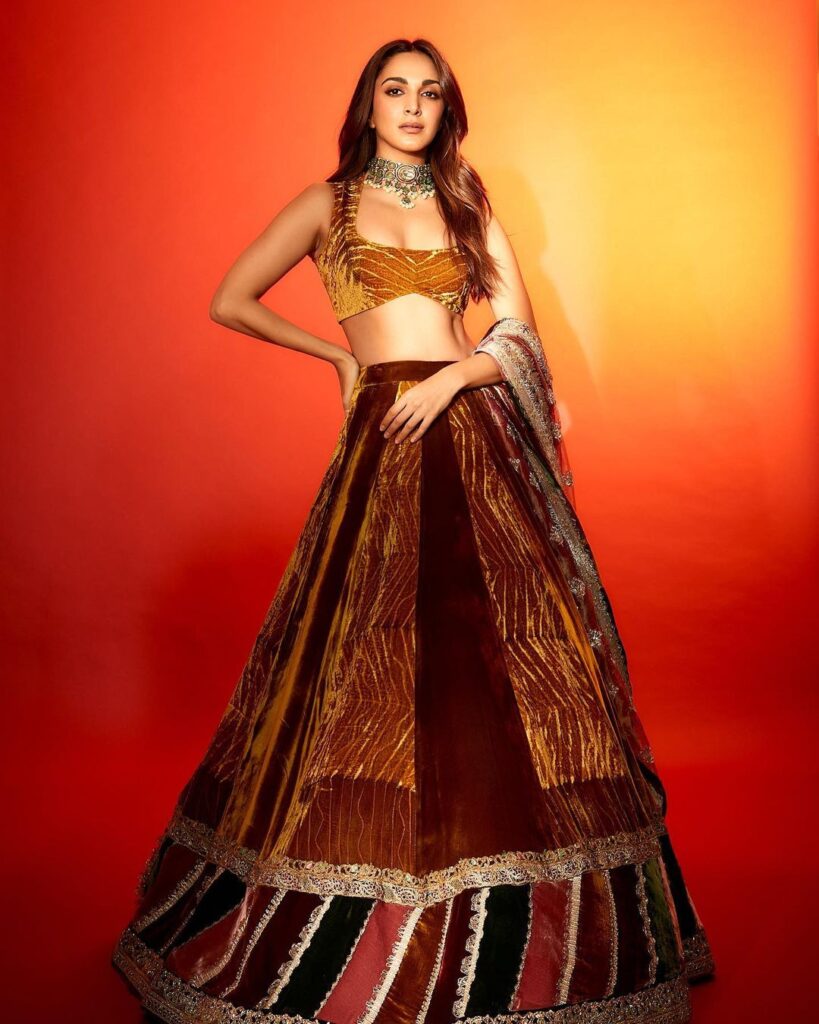 But wait, there's more! The lehenga had these expertly placed panels in bright and dark yellow shades that made everyone's jaw drop. The patterns were like, "Bam! Look at me!" Plus, there was this super cool border with multicolored velvet fabric that made the whole thing pop.
Oh, and she rocked a pink dupatta with sparkly bling all over it. It was like she had a bit of stardust wrapped around her. ✨
Bling-Bling Accessories ✨
Now, let's talk about her bling game. Kiara went all out with a choker that was basically dripping with mint green stones. It was so regal, you'd think she borrowed it from a queen's vault. And just to balance out all that royal swag, she added some pretty pearls. We're talking soft and glam here, folks.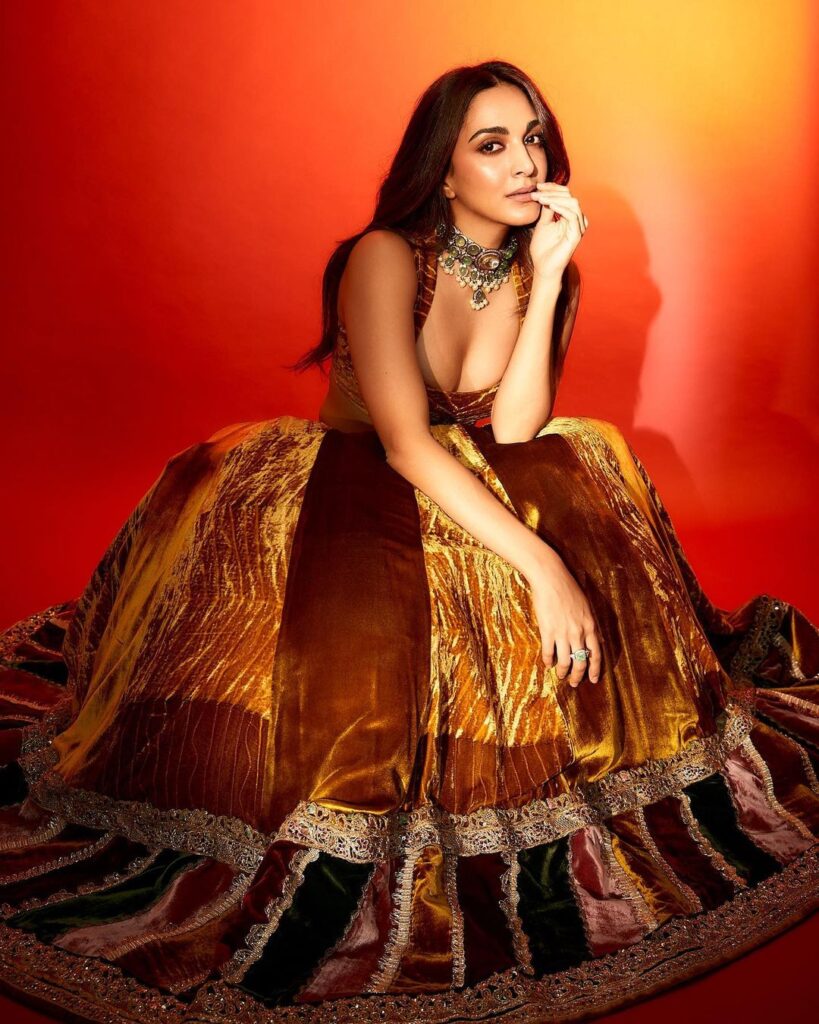 But here's the fun part: she kept it simple with just a finger ring. Sometimes, you gotta follow the rule "less is more." Kiara knows what's up!
Makeup Magic ✨
Kiara's makeup was like a masterpiece. She had this flawless matte base that made her skin look as smooth as butter. Her eyebrows were all neat and framed her face perfectly. Then, there were her eyes, smudged liner and kohl, giving her that sultry drama look. Hello, smokey eyes!
And let's not forget the muted-toned pink lipstick that added a pop of color to her lips. She wrapped it all up with loose waves in her hair, creating that effortlessly chic vibe. Middle parting for that laid-back glam, y'all.
Get the Look
Now, we know you're dying to steal Kiara's style, right? Here's the lowdown:
1. Lehenga Love: Get yourself a mustard yellow velvet lehenga. Look for those geometric patterns and a snazzy border. You'll be Kiara 2.0 in no time!
2. Bling It On: Find a choker that's dripping in minty stones and throw in some pearls for that sweet touch. Keep the rest of your accessories simple, like a cool finger ring.
3. Makeup Mastery: Matte-finish base, killer brows, smokey eyes, and pink lips. You got this, hun!
4. Hair Goals: Loose waves and a middle parting for that breezy look. You'll be turning heads everywhere.
Kiara Advani knows how to rock a party look, and now you do too. Go out there, slay the style game, and have everyone asking, "Who's that style icon?" 😉
Also Read: Kiara Advani's Sizzling Mermaid Makeover for Femina Magazine