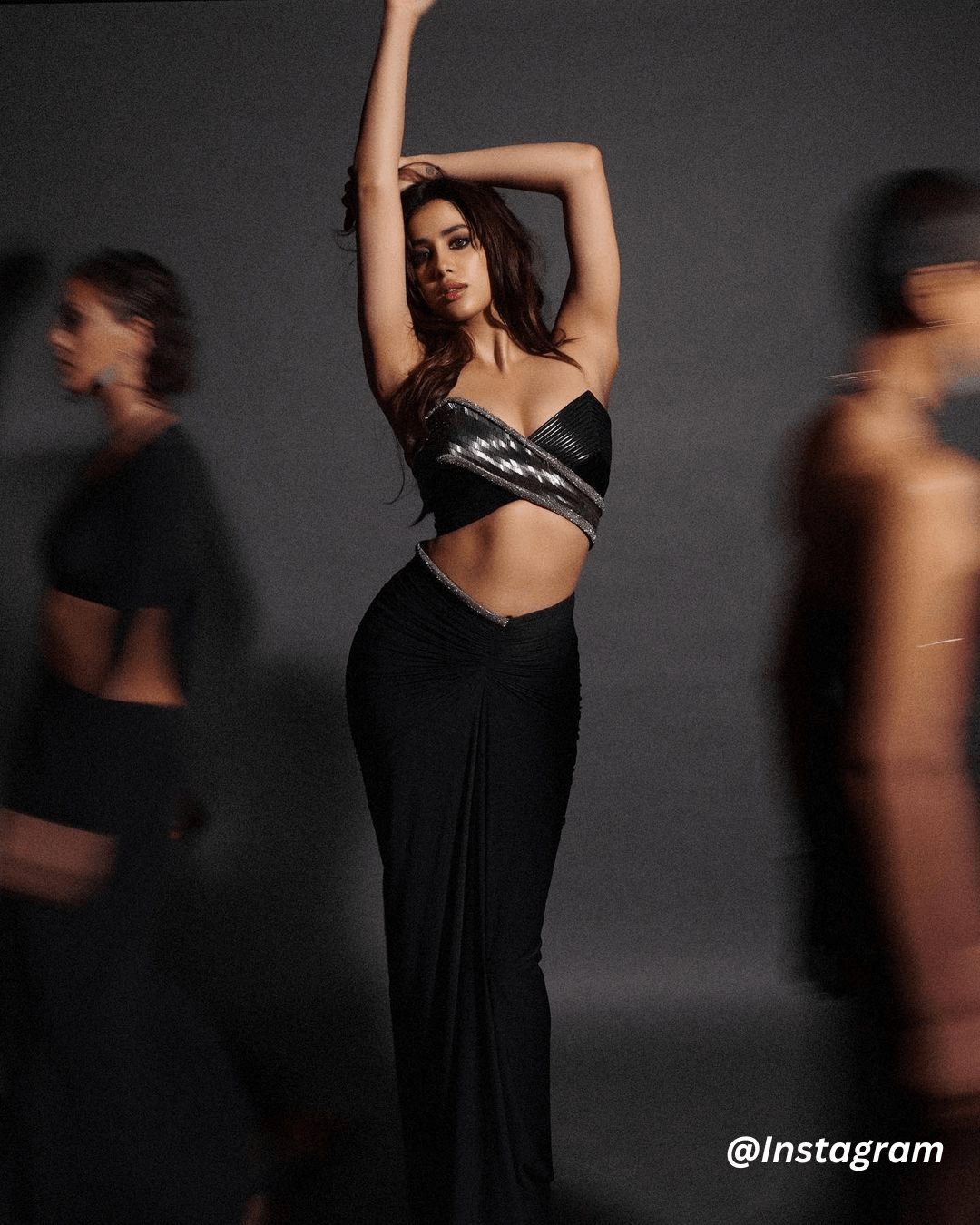 Alright, folks, gather around because we've got some hot fashion tea to spill! Lakme Fashion Week 2023 was LIT, and the showstopper that stole the spotlight was none other than our girl Janhvi Kapoor. She absolutely slayed the game in an outfit that left the internet shook.
Janhvi Kapoor: The Ultimate Queen of Cool
Janhvi Kapoor is no stranger to making waves in the fashion world, and at Lakme Fashion Week 2023, she took her style game to a whole new level. Her outfit, courtesy of designer Amit Aggarwal, was pure fire and had everyone talking.
Black is the New Black
Janhvi Kapoor graced the runway in a jaw-dropping all-black ensemble that was equal parts edgy and elegant. The strapless bustier top with a plunging V neckline and some serious black-silver bling on it was the stuff of fashion dreams. And let's not forget those daring cut-outs on the back that added a dash of spicy to the outfit.
The skirt she paired it with? A dhoti skirt with all the right moves, featuring a fitted bust, an asymmetric hem, and a midriff-baring cropped length. This fusion of traditional and modern styles was like fashion magic in the making.
Glam Galore
Janhvi Kapoor didn't stop at the outfit; she brought her A-game with the accessories too. Her center-parted wavy hair was giving off some serious 'I woke up like this' vibes, and her metallic chrome nails and high heels? Total game-changers.
But the real show-stoppers were her eyes. She had the fiercest smokey eye makeup and dramatic winged kohl-lined eyes that could cut through glass. Those feathery brows framed her face like a work of art, and the overall look was just chef's kiss.
Lakme Fashion Week 2023: The Ultimate Fashion Showdown
Lakme Fashion Week 2023 was an absolute hit, and Janhvi Kapoor's appearance sealed the deal. The event started with a bang, promising a season filled with jaw-dropping designs and epic showcases.
The official Lakme Fashion Week socials were blowing up with pics and videos from the event, and the comments section? A total love fest. Fans showered Janhvi Kapoor with heart-eyes and fire emojis, and who could blame them?
What the Fans are Raving About
One fan couldn't contain their excitement, saying, "Janhvi is a goddess! 😍😍"
Another fan summed it up with "Electrifying🔥!! Such an elegant outfit."
And there was this gem: "🔥🔥🔥🔥 Overloaded hotness."
Not to forget, "The most beautiful girl in the world in the most beautiful dress! 😍."
Janhvi Kapoor's stunning showcase was more than just a fashion moment; it was a cultural event. Her effortless fusion of traditional and modern styles has officially turned her into a fashion icon.
What's Next for Janhvi?
On the professional front, Janhvi Kapoor is all set to rock our world in the Sudhanshu Saria-directed film 'Ulajh,' which snagged a National Award. She's also teaming up with Rajkummar Rao for 'Mr and Mrs Mahi.' Get ready for some more Janhvi magic on the big screen.
To sum it up, Janhvi Kapoor's appearance at Lakme Fashion Week 2023 was nothing short of legendary. She's not just an actor; she's a style goddess. With every step she takes, she's leaving a fashionable footprint that we can't get enough of.
Also Read: Disha Patani Slays the Modern Bride Look at LFW 2023!