So, here's the scoop, peeps! Disha Patani just totally rocked the runway at Lakme Fashion Week X FDCI 2023. She was all decked out in this super glam ivory lehenga and micro choli combo, and boy, did she own it!
The Grand Entrance
Okay, picture this: Day 3 of Lakme Fashion Week, and boom, in walks Disha. She's looking like a million bucks, strutting her stuff in a jaw-dropping ivory lehenga that's dripping in gold bling. It's like a fusion of tradition and vogue, and it's giving us all the feels!
Modern Bride Goals
Disha went all-in on this modern bride vibe. Her micro choli was a bold move, and it screamed confidence. The lehenga was heavy on the bling, and it highlighted her stunning frame. Seriously, this was more than fashion; it was a work of art!
Every Little Detail
The lehenga was like a masterpiece, guys. It had pearls, golden bits, and these pastel floral patterns that added an extra layer of oomph to the whole look. Kalki's attention to detail is next level, and this outfit proves it.
The Sleeveless Blouse
Let's talk about the sleeveless blouse. It had a plunging neckline and a scalloped hem – pure perfection. It added a modern twist to the traditional lehenga skirt. Classic meets contemporary, and we're here for it!
Less is More
Disha kept her jewelry game low-key, and it was genius. The lehenga deserved the spotlight, and her minimal makeup added to the chic factor. This is the ultimate example of 'less is more' in fashion.
Celebrating Our Heritage
Nishit Gupta, the big boss at Kalki, said their new collection, 'Zayra,' is all about celebrating India's rich heritage with a mix of soft colors and intricate designs. And we saw it in action! The 'Zayra' collection had blinged-up lehengas and fusion gowns in ivory and metallic shades – pure fire!
Lakme Fashion Week X FDCI 2023
The show kicked off with a killer opener by Raw Mango on October 10 in New Delhi. The five-day fashion fiesta started in full swing on October 11, and it's been a rollercoaster ride ever since.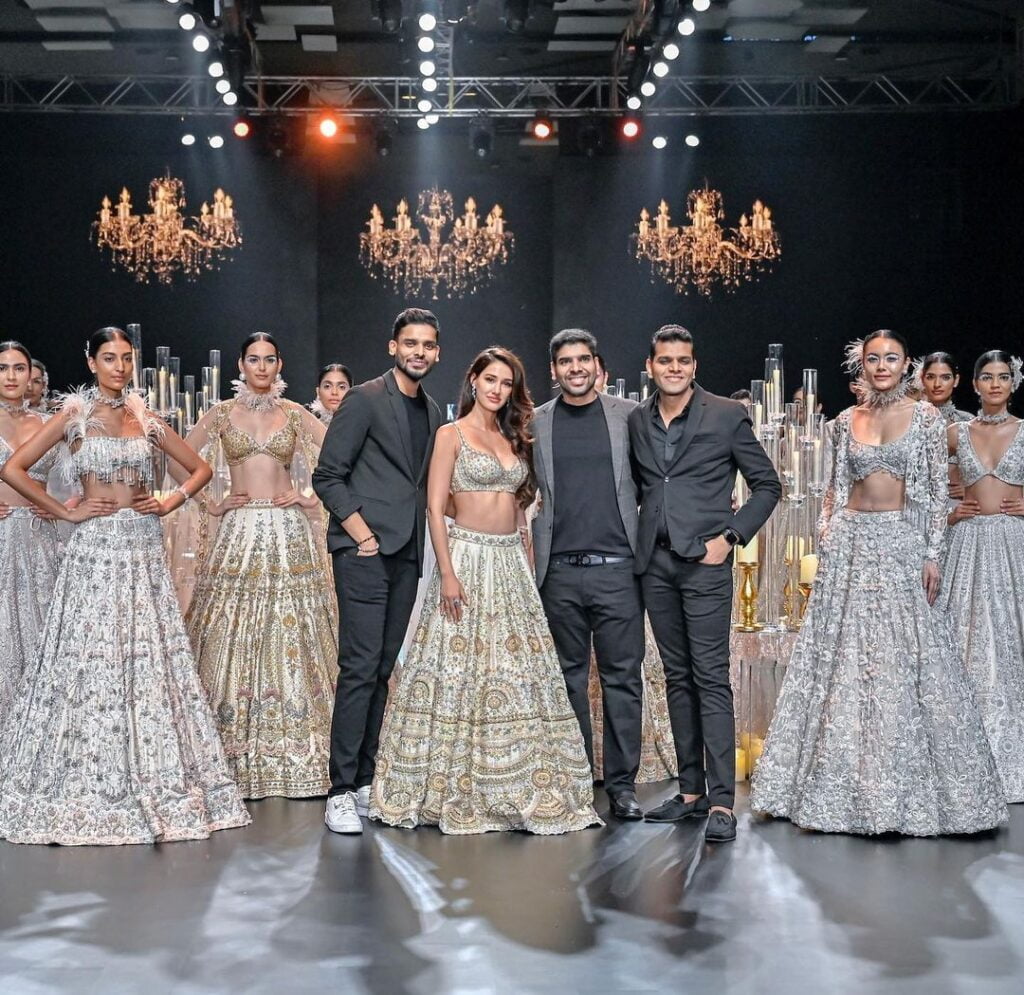 In a Nutshell
Disha Patani, our modern bride, was the star of the show at Lakme Fashion Week X FDCI 2023. Her bold-yet-elegant outfit and Kalki's dedication to preserving Indian culture made it a moment to remember.
In the world of fashion, it's not just about clothes; it's about telling a story. Disha's modern bride look at Lakme Fashion Week X FDCI 2023 was a tale of tradition meeting style. Brace yourselves; this is the headline everyone's buzzing about!
Also Read: Disha Patani: SLAYIN' India Couture Week 2023 Like a QUEEN