Hey there, fashion enthusiasts! Hold onto your seats because we're about to take a wild ride into the fabulous world of Harris Reed. If you haven't heard of him, get ready to be mind-blown. Harris Reed is like the rockstar of the fashion universe, and we're here to spill the tea on why he's taking the style world by storm.
Graduating in Style
So, picture this: You graduate from Central Saint Martins in 2020, and BOOM! Your fashion career blasts off like a SpaceX rocket. That's Harris Reed's life story. In just three years, he's gone from fresh grad to the Creative Director of Nina Ricci. Yup, you heard that right.
Vogue Covers? NBD.
Harris Reed isn't just a name in fashion; he's practically a legend. His custom demi-couture creations have graced the covers of Vogue – multiple times! He's the mastermind behind two iconic Met Gala looks, one on Iman and the other on Ashley Graham. Oh, and did we mention he's the brains behind some of the most jaw-dropping tour outfits in music history?
Pandemic? What Pandemic?
Launching a brand during a global pandemic? No biggie for Harris Reed. He didn't just roll with the punches; he danced through them. How, you ask? By not getting caught up in the hype. While others chased after their five seconds of fame, Harris took a deep breath and followed his gut. That's his secret sauce.
Glamour Galore in SS24
Fast forward to today, and Harris Reed is giving us major old Hollywood vibes with his SS24 collection. Imagine a black and gold strapless gown, super extra and with a neckline that's out of this world. But that's just the beginning – oversized mermaid skirts, peplum gowns, and hats that look like bells. It's like stepping into a glitzy time machine.
Gender-Fluid Fabulousness
Reed isn't just a designer; he's a trailblazer. His designs challenge the norms of femininity and masculinity, and it's seriously awesome. He finds femininity within masculinity, creating styles that are bold and rigid. It's all about breaking the fashion mold.
Celebrities Love Him
Stars like Adele and Selena Gomez have rocked Harris Reed's creations, and the impact is mind-blowing. People see celebs in his outfits and start asking, "Who's this Harris Reed dude?" It's like a fashion evolution in progress!
Community Vibes
Harris Reed is all about supporting his community. He's not just about the glam; he's about lifting up emerging talents. He's got a group chat where he shares advice with other small brands – talk about paying it forward.
Juggling Two Brands Like a Pro
Running two brands isn't easy, but Harris makes it look like a piece of cake. How? With an A-team by his side, including Phoebe Cobb and stylist Harry Lambert. Teamwork makes the dream work, people!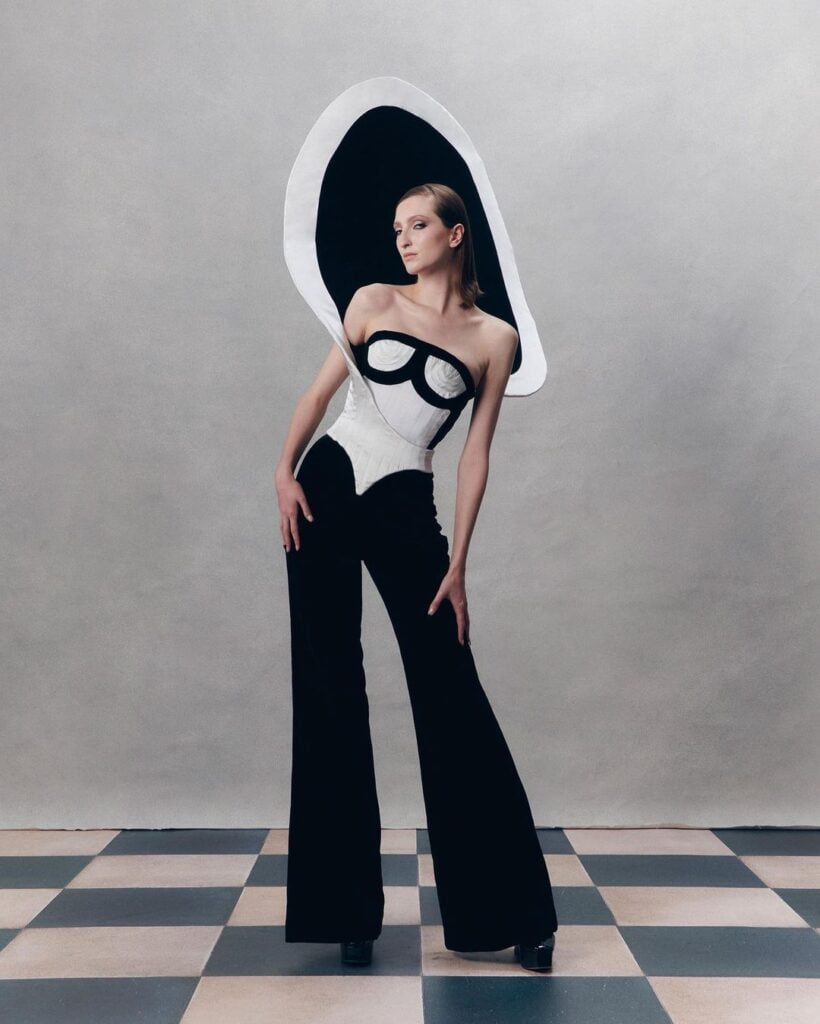 Never Forget Your Squad
In the hustle and bustle of the fashion world, Harris Reed drops some wisdom: stay connected with your peeps. Whether it's your chosen fam or your blood fam, they know what's best for you. Fashion is fun, but your real ones got your back.
And there you have it, the lowdown on Harris Reed, the fashion maverick who's rewriting the style rulebook. From Vogue covers to gender-fluid glamour, he's the game-changer we all need. Keep slaying, Harris!
Also Read: Ralph Lauren's Glam Return at New York Fashion Week 2024!