Hey, fashion fam! You won't believe the tea we've got for you today. Our girl, Emily Ratajkowski, totally owned the runway at the PrettyLittleThing x Naomi Campbell fashion show in New York. 🌟 And guess what? She did it without breaking the bank! Let's spill the deets on this epic fashion showdown.
The $35 Must-Have Dress
Okay, picture this: Emily strutting her stuff in a sizzling yellow cowl neck minidress that costs only $35! Yep, you heard that right. She proved that you don't need a fat wallet to slay the fashion game.
Accessorize Like a Boss
But hold on, there's more! Em paired her budget-friendly dress with some bling-bling gold earrings, a chic black handbag, and sky-high heels. Her accessories? Total game-changers. 🛍️💎
Glow-Up Goals
Let's talk about her makeup game, fam. Emily's auburn hair was on point, with those trendy curtain bangs. Her makeup featured a killer brown smoky eye, coral blush that popped, and a peachy nude lip. 😍 Flawless, right?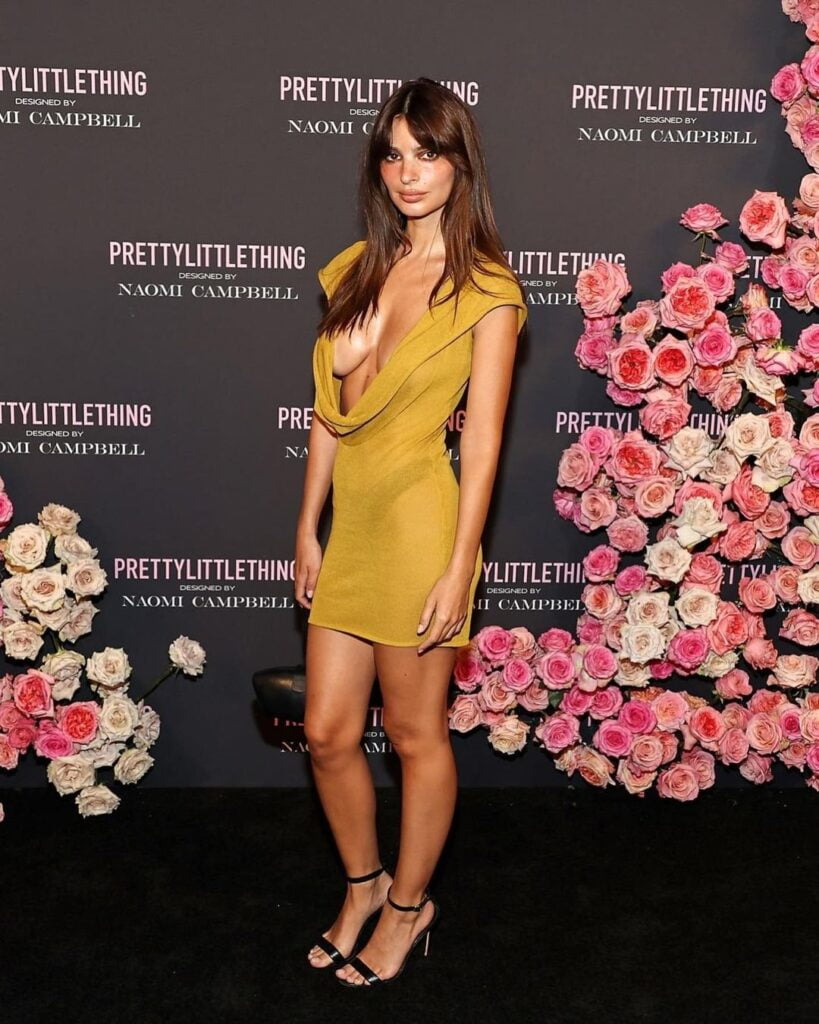 Star-Studded Squad
Now, this wasn't your average night out. Emily was kickin' it next to Julia Fox and actress Tommy Dorfman. But here's the real tea: Lori Harvey, Winnie Harlow, and Teyana Taylor also showed up, making it the ultimate star-studded event. 🌟🌟🌟
Fashion Dream Team
Behind the scenes, we've got emerging designers Victor Anate and Edvin Thompson. They teamed up with the legendary Naomi Campbell to create a fashion masterpiece. The collection's price range? Hold on to your wallets, folks. It goes from just $6 to $220. Affordable glam, anyone?
Emily's Fashion World Domination
Now, let's talk about Emily's fashion domination. Earlier this year, she rocked campaigns for Loewe, Viktor & Rolf, and Versace. And if that wasn't enough, she slayed in a Tory Burch campaign, sharing the spotlight with her adorable son, Sylvester. Mom goals, right?
Victoria's Secret Magic
But wait, there's more! Emily also graced the campaign for Victoria's Secret's new Icons collection. Think lace bras, sexy underwear, slips, and robes, all flaunting that iconic monogram logo print. 😏
A Star-Studded Blast from the Past
This campaign was 🔥. Photographed by Mikael Jansson and styled by Camilla Nickerson, it featured '90s and 2000s icons alongside fresh faces like Paloma Elesser and Adut Akech. Even OG Angels like Naomi Campbell, Gisele Bündchen, and Candice Swanepoel joined the party. Talk about a star-studded reunion!
Wrap-Up
So, there you have it, fashionistas. Emily Ratajkowski owned the PrettyLittleThing x Naomi Campbell fashion show with her affordable glam and dazzling style. She's not just a model; she's a fashion icon who bridges the gap between high-end luxury and everyday chic.
Also Read: Priyanka Chopra Slayed at Victoria's Secret 2023!