Yo, fashion fam! Ever heard of Chikankari Kurtis? They're like the coolest trend straight outta India, bringing a mix of old-school charm and new-gen swag. These kurtis are basically your secret weapon to slay any outfit game. Ready to dive into the Chikankari universe and check out the grooviest styles that are setting the trend bar high? Let's do this!
Classic Whites: Timeless and Flawless Hold up, peeps! Imagine rocking a kurti that's as white as the clouds. Classic Chikankari kurtis got that elegant vibe that's perfect for any scene. It's like an instant mood-lifter. Wear 'em with colorful bottoms or just rock an all-white look – you're gonna be the classiest chica in the room!
Pastels: Dreamy Candy for Your Closet Get ready to channel those dreamy vibes with pastel Chikankari kurtis. Think cute shades like baby pink, minty green, and baby blue, all jazzed up with delicate embroidery. These kurtis are like sunshine in fabric form, perfect for picnics or just strolling around like a style star.
Bold is the New Cool: Guess what? Chikankari isn't all about playing it safe. Nah, we're talking bold and vibrant colors here. Picture rocking shades that pop – bold reds, blues, you name it. These kurtis are your ultimate hack to grab eyeballs wherever you go. It's like wearing a spotlight!
Next-Level Styles: Modern Twist, Tradition Kicks Hold onto your hats, peeps. Chikankari kurtis are putting the 'oomph' in traditional with modern silhouettes. Asymmetrical hemlines, high-low cuts, Kaftan Kurtis – it's like combining tradition and swank in one rad outfit. Your fashion game just hit a whole new level!
Mix 'n' Match Like a Pro: Fusion Feels Get ready to play stylist, 'cause Chikankari is teaming up with different styles and fabrics. Imagine pairing Chikankari kurtis with palazzo pants, jeans, or even skirts. It's like mixing grandma's awesomeness with today's flair. Go ahead, rock that fusion fusion fusion!
Jacket Swag: Elevate Your Game Whoa, jackets on kurtis? Yes, please! Jacket-style Chikankari kurtis are like the superheroes of fashion. The embroidered jacket adds this royal touch, perfect for fancy occasions. You're gonna be turning heads, no doubt!
High-Low Drama: Be the Star Say hey to high-low hemline Chikankari kurtis! These babies are all about drama and style. The hemline game is strong, making your outfit a real head-turner. Be ready to take center stage, fashionista!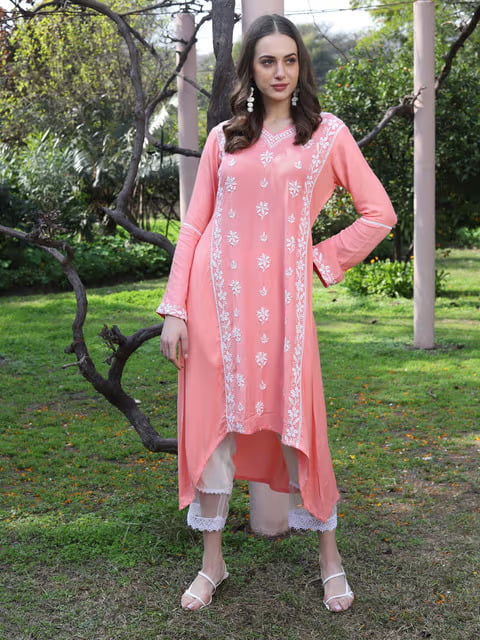 Angrakha: Vintage Meets Trendy Ready for some vintage swag? Angrakha-style Chikankari kurtis bring back that retro charm with a modern twist. The cross-over style flatters all body types. Rock it casual or go all out – it's your call, superstar!
So there you have it, fashion champs! Chikankari kurtis are your secret weapon to conquer the style universe. From classic elegance to modern sass, they've got your back for every scene. Level up your style game with these stunners and unleash your inner style Jedi! 🌟
Also Read : Top 10 Trendy Kurti Styles for 2023: Elevate Your Fashion Game