Are you looking to stay ahead in the fashion game and upgrade your wardrobe with the latest trends? Kurtis are a timeless and stylish choice for women, and in 2023, there are some fabulous kurti styles that are making waves in the fashion world. Whether you're heading to a party, a casual outing, or a festive celebration, these trendy kurti styles will ensure you look chic and fashionable. Let's dive into the top kurti styles for 2023 and revamp your ethnic wear collection.
1. Puffed Sleeves Kurti – Vintage Glamour Reinvented
Step back in time with the revival of puffed sleeves. The puffed sleeves kurti exudes vintage glamour and adds a touch of drama to your look. Whether you choose a short or long kurti, the puffed sleeves will make a statement. Opt for pastel shades or bold floral prints to embrace the romantic vibes of this style.
2. Tiered Kurti – Playful and Flattering
The tiered kurti is all about playful layers that create an effortlessly chic look. This style is perfect for adding volume and dimension to your outfit. The tiers can be adorned with lace, embroidery, or contrasting fabric to enhance the overall appeal. Pair it with straight pants or palazzos for a trendy fusion ensemble.
3. Cape Kurti – Elegant and Contemporary
Cape kurtis have been a favorite among fashionistas, and their popularity continues to rise in 2023. The cape adds an ethereal and elegant touch to the kurti, making it a great choice for formal occasions. Whether it's a sheer cape or one with intricate embellishments, this style will make you stand out in any event.
4. Asymmetric Hem Kurti – Edgy and Fashion-Forward
For those who love to experiment with unconventional styles, the asymmetric hem kurti is a must-try. The uneven hemline adds an edgy and fashion-forward element to your look. You can go for bold prints, geometric patterns, or even color-blocking to accentuate the asymmetry.
5. Pleated Kurti – Graceful and Refined
Pleats have a way of adding grace and refinement to any outfit, and the pleated kurti is no exception. Whether the pleats are at the neckline, waist, or hem, they bring a structured elegance to the kurti. Go for monochromatic shades or opt for pleats in contrasting colors to create a statement look.
6. Belted Kurti – Cinched for Style
Accentuate your waistline and add definition to your silhouette with a belted kurti. This style allows you to play with various belt styles, from slim leather belts to embellished ones. Belting a kurti not only looks chic but also gives you the freedom to adjust the fit according to your preference.
7. Ruffle Sleeves Kurti – Whimsical and Charming
Ruffles are a timeless embellishment that brings whimsy and charm to any outfit. The ruffle sleeves kurti offers a fun and feminine touch, perfect for daytime events or parties. Keep the rest of your look simple to let the ruffles take center stage.
8. Printed Maxi Kurti – Effortless Boho Chic
Maxi kurtis with vibrant prints are a go-to choice for those who love bohemian vibes. These kurtis are not only comfortable but also exude an effortless chicness. Pair them with statement earrings and chunky bracelets to complete the boho look.
9. Tunic-style Kurti – Versatile and Modern
The tunic-style kurti bridges the gap between traditional and modern fashion. With its straight silhouette and clean lines, it's perfect for both casual and semi-formal occasions. You can dress it up with heels and accessories or keep it casual with flats and minimal jewelry.
10. Embellished Neckline Kurti – Opulence Redefined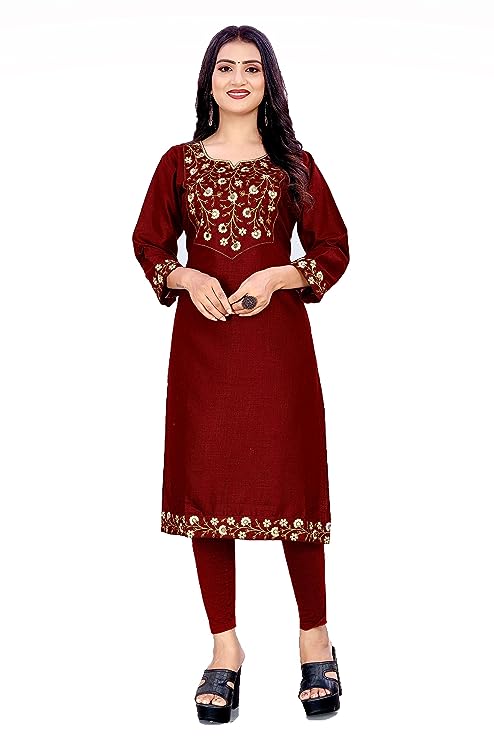 When you want to make a statement without going overboard, opt for an embellished neckline kurti. The intricate embellishments around the neckline add a touch of opulence to your ensemble. You can choose from sequins, beads, or thread work, depending on your personal style.
Conclusion
With these trendy kurti styles for 2023, you can elevate your fashion game and make a lasting impression wherever you go. From vintage-inspired puffed sleeves to chic cape kurtis and whimsical ruffle sleeves, there's a style for every taste and occasion. Embrace the playfulness of tiered kurtis and the edginess of asymmetric hems to keep your style on point. Stay fashion-forward with pleated and belted kurtis while embracing the boho vibes of printed maxi kurtis. No matter which style you choose, remember to wear it with confidence and let your unique personality shine through. Happy styling!