Hey there, fashion-forward friends! Let's take a walk down the runway of Milan Fashion Week Spring/Summer 2024 and talk about the dazzling outfit that had everyone buzzing. We're diving into Alia Bhatt's awesome style at the Gucci Ancora show. Hold onto your hats (or stylish sunglasses) because this is a fashion tale you won't want to miss!
Meet Gucci's New Style Wizard
Before we get into the juicy details of Alia's outfit, let's introduce the man behind the magic—Sabato De Sarno, the new creative director at Gucci. He's the mastermind who cooked up this amazing collection called 'Milano Ancora.' It's like a fashion buffet inspired by Gucci's rich history. The show took place in Milan's chic Brera district, and let's just say, it was the place to be.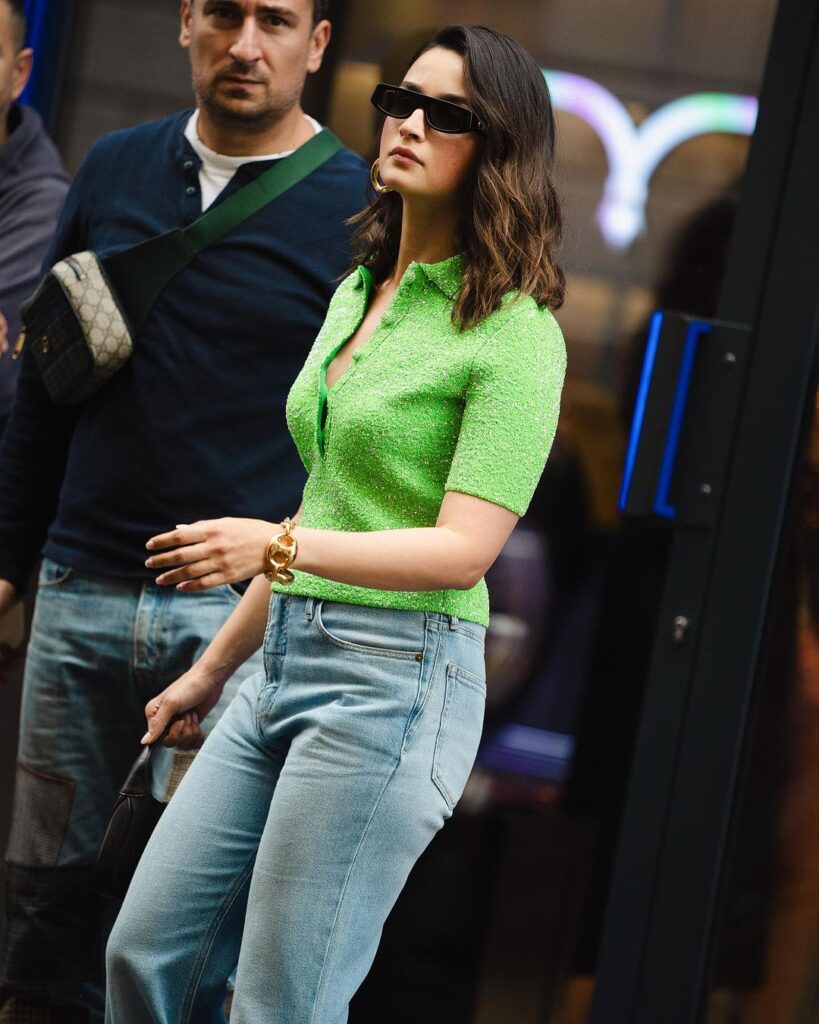 Alia's Green Bling T-shirt: Bold and Beautiful
Now, let's talk about the star of the show—the green bling T-shirt that Alia rocked. This isn't your average tee; it's a head-turner. The color green screams "fresh" and "eco-friendly," which is all the rage in fashion right now. And that bling? It's like a disco party on your shirt. Alia didn't just wear an outfit; she made a statement about fashion and the planet.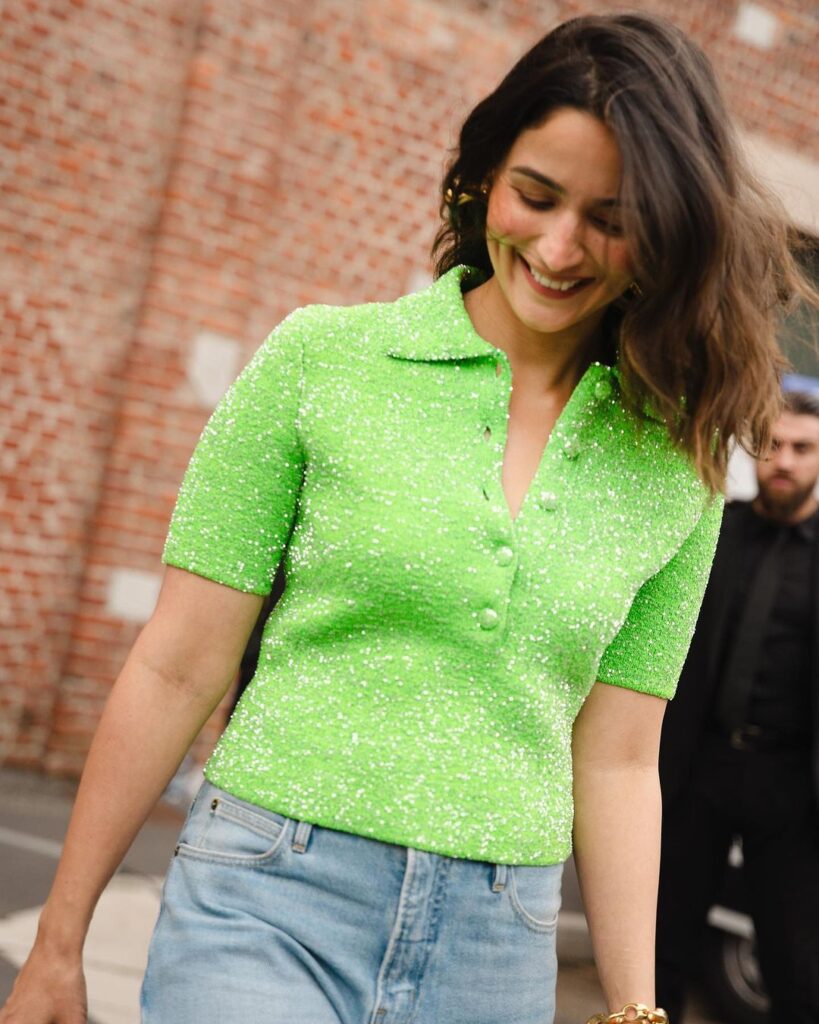 Denim Bellbottom Jeans: Retro Vibes Return
You know those wide-legged jeans that your mom or dad rocked back in the day? Well, they're back! Bell-bottom jeans are groovier than ever, and Alia nailed the look. Her jeans fit like a glove around the waist and hips before going full '70s disco with a dramatic flare at the ankles. Talk about making an entrance!
Accessories on Point
Now, let's chat about accessories. Alia played it smart—she kept it simple. Pointed toe-heels added a touch of elegance, while hoop earrings, black Gucci sunglasses, a golden bracelet, and a cute little black handbag completed the look. It's all about balance, people!
Hair and Makeup: Natural Glam
Alia's loose wavy hair and natural makeup brought a touch of Hollywood glamour to the whole ensemble. It's like she woke up looking fabulous, and we're here for it!
Confidence Meets Fashion
But what really made Alia's outfit shine was her confidence. She didn't just wear the clothes; she owned them. It's proof that fashion isn't just about what you wear—it's about how you wear it. Alia's style is all about fun and self-expression.
Get Inspired!
Feeling inspired? We sure are! Alia's green bling T-shirt and bell-bottom jeans combo is perfect for making a statement. Whether you're hitting the town, grooving at a music festival, or just want to turn heads, this look is your fashion inspiration.
In a nutshell, Alia Bhatt's Milan Fashion Week appearance was legendary. She didn't just wear an outfit; she told a story. Her fashion choices spoke volumes about style, sustainability, and individuality. Fashion is a canvas, and Alia painted a masterpiece on one of the world's grandest stages.
Also Read: Amy Jackson's Epic LBD Makeover: Milan Fashion Week 2023 Unleashed!