Yo, fashion fam! 🙌 Ready to level up your style game and break some necks with your killer outfits? We've got your back with some super cool color-blockin' ideas that are gonna make you the style icon you were born to be. Let's dive into the world of color and fashion, and make sure you're turning heads wherever you go!
1. Red & Cobalt Blue – Bold and Badass
Picture this: You rockin' a fiery red top with some cobalt blue pants that scream confidence. Add a dash of gold bling, and you're ready to own any room you step into. 🔥
2. Yellow & Pastel Pink – Sunshine Vibes
Want something cheerful and perfect for brunch with your squad? Combine sunny yellow with soft pastel pink. A yellow sundress, pink sandals, and accessories – you're basically a walking ray of sunshine! ☀️
3. Black & White – Timeless Chic
For the days when you wanna keep it classy, you can't go wrong with black and white. Rock a fitted black blazer, white pants, and a crisp white shirt. Throw on a statement belt for an extra pop of style! Classy never goes out of style! ⚫⚪
4. Olive Green & Mustard Yellow – Earthy Elegance
Fall vibes incoming! Pair olive green with mustard yellow for a grounded, earthy look. An olive green skirt with a mustard sweater, and some cute ankle boots – you're all set for autumn adventures. 🍂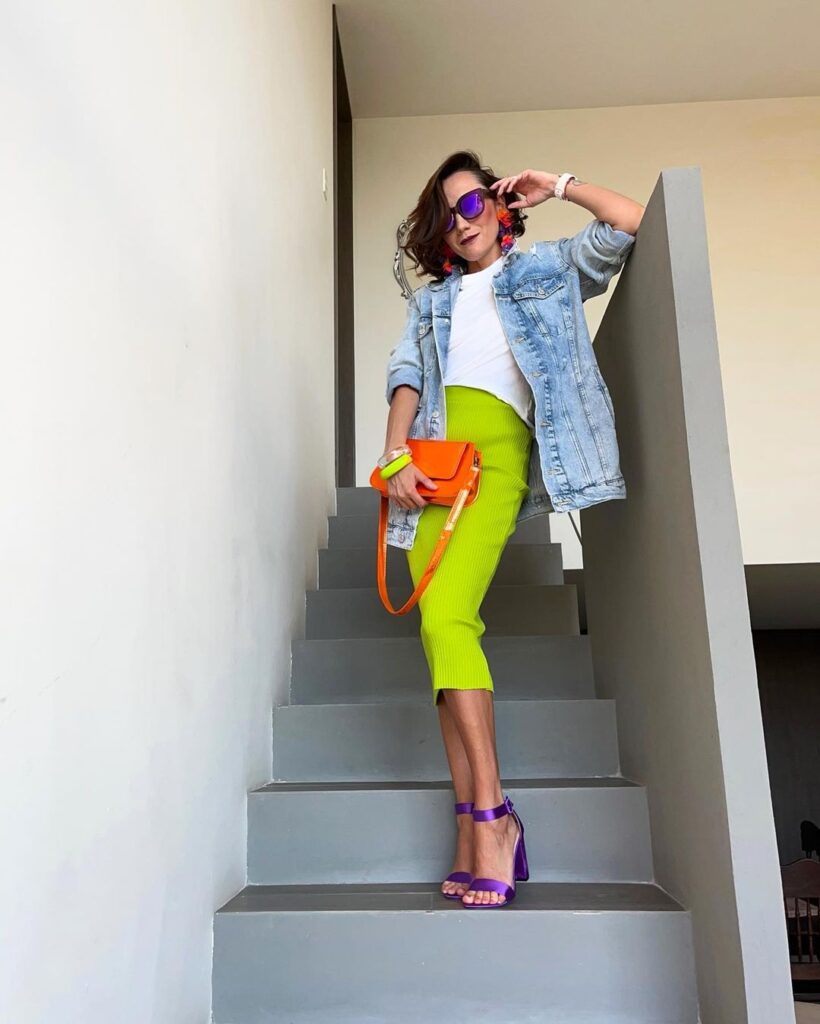 5. Electric Blue & Neon Green – Bright and Bold
Feelin' bold and adventurous? Go for electric blue and neon green. Trust us; you'll turn heads wherever you go. Neon green top, electric blue jeans, and white sneakers – it's a night-out game-changer! 💙💚
6. Orange & Hot Pink – Fiery Flare
Time to bring the heat! Combine orange and hot pink for a passionate look. A sleek orange dress with hot pink pumps and a matching clutch – you're on fire, girl! 🔥💖
7. Navy & Turquoise – Calm and Chic
Sometimes, you wanna keep it chill. Navy and turquoise got your back. Navy blazer, turquoise blouse, and white pants – you'll look relaxed and stylish, whether you're at work or a fancy dinner. 🌊
8. Purple & Gold – Royalty Vibes
Channel your inner royalty with purple and gold. A deep purple gown with gold accessories – you're ready for a royal gala or a fancy event. You're the queen, remember that! 👑💜
9. Forest Green & Brown – Nature's Palette
Nature lovers, this one's for you! Rock forest green and brown for an outdoorsy vibe. Brown leather jacket, forest green trousers, and ankle boots – perfect for exploring or just hangin' in town. 🌳🌲
10. Coral & Lavender – Sunset Dreams
Get ready for some dreamy vibes with coral and lavender. A coral maxi dress with lavender accessories – you're all set for beach weddings or summer parties. It's like being in a sunset! 🌅
In a nutshell, color-blockin' is your secret weapon to express yourself through fashion. With these 10 dope ideas, you'll slay every outfit. Don't be afraid to mix it up, get creative, and let your style shine. Remember, fashion is all about YOU, so own it!
Also Read: Celeb-Style Parachute Pants: Your Funky Fashion Guide