Hey there, trendsetters! Ever wondered how some of your favorite celebrities manage to look effortlessly cool? Well, one fashion trend that's been making a huge comeback is parachute pants, and our celeb pals are totally rocking them! Strap in because we're about to take you on a whirlwind tour of celeb fashion and why you should be jumping on the parachute pants bandwagon.
The Parachute Pants Party 🪂
Back in the '80s, parachute pants burst onto the scene. They were baggy, they were low, and they were made of this crazy nylon material. Originally, they were meant for breakdancers, but then they strutted their way into everyday fashion. After a little break, they're back, baby!
The Nostalgic Vibes ✌️
Celebs are all about nostalgia, and parachute pants are like a blast from the past. Well, they still are! Let's check out which celebs are turning heads and making these pants look cooler than ever.
Justin Bieber: The Trendsetter 🎤
First up, the Biebs himself! Justin Bieber knows how to make fashion headlines. He's got parachute pants in every color and style. His secret? Mixing them up with streetwear that's straight fire. Trust us; this guy knows how to be comfy and stylish at the same time.
Zendaya: Queen of Elegance 👑
Zendaya is pure class, and she's here to prove that parachute pants can be elegant. Whether she's walking the red carpet or just chilling out, she makes parachute pants look like the height of sophistication. Who knew baggy pants could be so fancy?
BTS: Worldwide Fashion Icons 🌍
You've probably heard of BTS, right? These K-pop superstars are not just about music; they're all about style too. When they hit the stage, you better believe they're rocking parachute pants. Their fashion influence is out of this world, and they're showing us that these pants are perfect for performance and style.
Hailey Bieber: Street Style Diva 💃
Hailey Bieber, the ultimate street style guru, knows how to work parachute pants into her wardrobe. She's all about pairing them with crop tops and sneakers. It's a casual yet chic look that screams, "I know what's up." Take a page from Hailey's fashion book, and you'll be turning heads on the street in no time.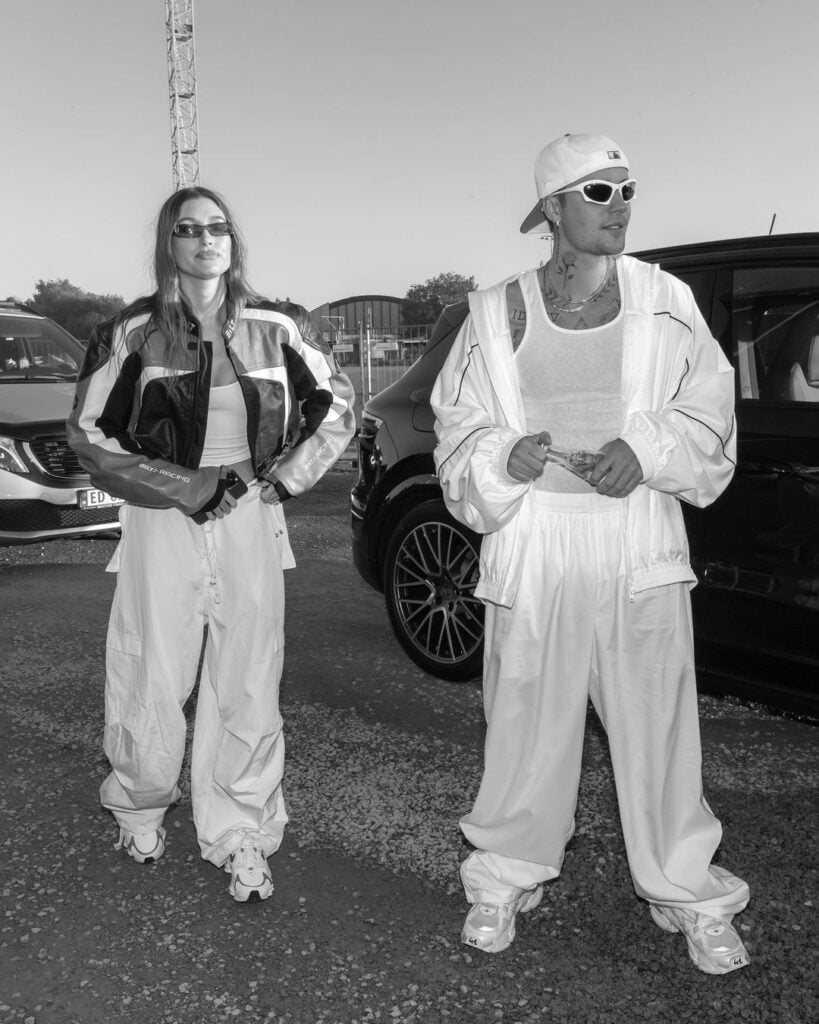 How to Slay in Parachute Pants
Okay, now that you're convinced that parachute pants are the bomb, let's talk about how you can rock them too.
Find Your Fit 🕺
When shopping for parachute pants, make sure you find the right fit for you. They're supposed to be relaxed, but you still want them to flatter your shape.
Play with Colors 🌈
Parachute pants come in all sorts of colors and patterns. Go wild! Whether you love classic neutrals or bold, eye-catching shades, there's a pair out there for you.
Mix It Up 🧥
Here's the fun part: mixing and matching! Pair your parachute pants with different tops, like crop tees, oversized sweaters, or whatever makes you feel amazing.
Accessorize, Baby! 🧢
Don't forget the bling! Add a cool belt, some stylish sneakers, or a funky hat to take your look to the next level.
The Grand Finale 🎉
So there you have it, folks—parachute pants are back and hotter than ever, all thanks to our favorite celebs. From Justin Bieber's trendsetting vibes to Zendaya's elegance, and BTS's global domination, there's no denying these pants are a must-have.
Ready to join the parachute pants party? Go grab a pair, find your style, and strut your stuff. You're about to become a fashion icon in your own right!
Also Read: Summer Styling: Tube Tops Unleashed!