Hey there, fashion divas and trendsetters! We're about to drop some seriously cool tips on how to totally rock those shorts and slay the fashion game. 🌟 Shorts are the ultimate must-have for any season, and we're here to help you ace the style scene effortlessly. Let's dive right into the world of shorts and fun fashion!
1. Chill Vibes: Easy Breezy Casual Look
When you're all about that laid-back life, comfort is where it's at. Grab some comfy cotton or linen shorts that let your skin breathe and your moves flow. Team them up with a super chill graphic tee for that instant cool factor. Toss on a denim jacket for that effortlessly cool vibe and slip into a pair of funky sneakers to complete the look. Don't forget to throw on a cute necklace and oversized shades for that extra touch of fab!
2. Brunch Squad Goals: Casual Meets Chic
Brunch dates or weekend hangouts? We've got you covered, babe! Slide into some stylish high-waisted shorts that scream confidence. Tuck in a flowy top and cinch your waist with a rad belt for that cute silhouette. Pop on some wedge sandals and grab a chic handbag – you're now brunch-ready, and heads will turn wherever you go!
3. Sun's Out, Buns Out: Poolside Sizzle
When the sun's blazing, and the pool's calling, it's time to turn up the heat! Get those high-rise shorts in a poppin' color or a wild pattern. Pair 'em up with a sassy bikini top or a flowy tankini for the ultimate beach babe look. Layer on a sheer kimono cover-up, slip on some stylish flip-flops, and don't forget your big, fabulous sun hat and oversized sunnies. You're officially a summer goddess!
4. City Adventures: Work to Wow
Workday turning into a night out? No sweat! Opt for a pair of sleek shorts in a neutral shade and rock a boss button-down shirt. Tuck it in, babe, and throw on a pair of low block heels for that city-chic vibe. Top it off with a statement necklace and a clutch – you're ready to conquer the day and the night, all in style!
5. Wild Wanderer: Embrace the Outdoors
Calling all adventure junkies! If you're all about nature, you gotta dress the part. Go for those cargo-style shorts with pockets galore. Pair 'em with a cool tank top for the ultimate outdoor explorer look. Put on a wide-brimmed hat for shade, rock those hiking boots, and throw on a lightweight jacket – you're trail-ready and looking fierce!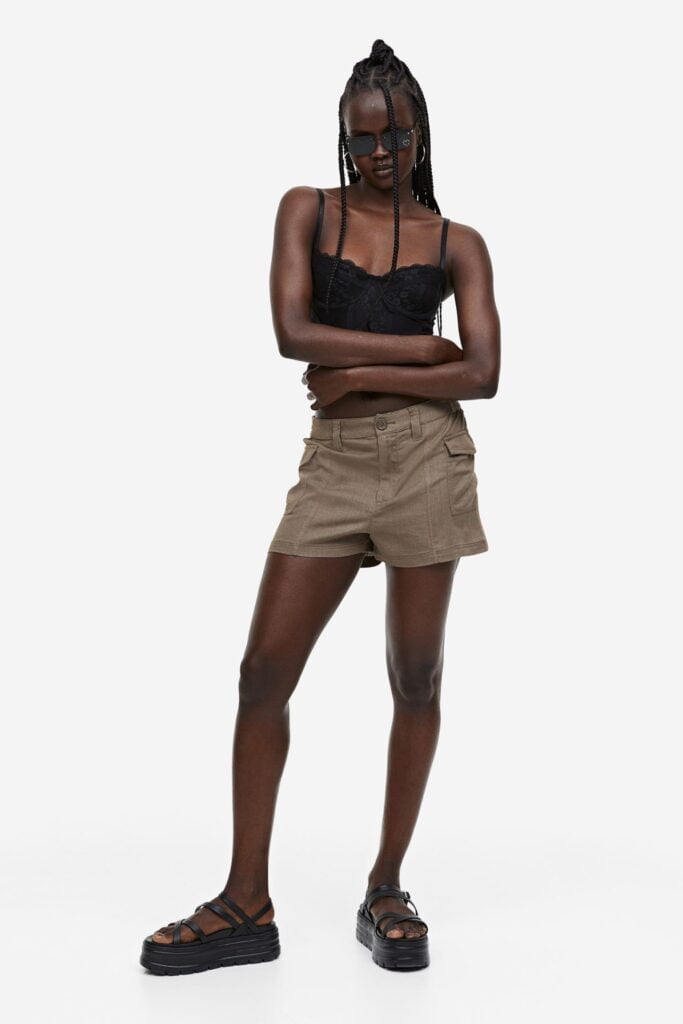 6. Nighttime Glam: Shine Bright Like a Diamond
When the stars come out, it's time to sparkle and shine! Snag some shiny, sequined shorts or anything metallic that catches the light. Pair 'em with a slim cami top and a slick blazer for a killer combo. Strut your stuff in some strappy heels that scream confidence. Don't forget the statement earrings and a cute clutch – you're the life of the party, babe!
So, girls, get ready to show off your unique style with shorts that match your vibe. Whether it's casual hangouts, poolside fun, or owning the city, there's a shorts style for every queen out there. The best part? It's all about rockin' those shorts with the attitude that screams "I'm fabulous, and I know it!"
Conclusion
Your shorts, your rules – it's time to own your style and let your confidence shine. No matter the occasion, shorts are your canvas to express your one-of-a-kind personality. So, go ahead, mix and match, and strut your stuff with your head held high. You're a fashion icon in the making!
Also Read: 10 Types of Trendy Pants for Women: Get Ready to Slay with Sass and Comfort!