Yo, folks! Indian weddings are lit, right? From the funky henna designs to the bling-bling jewelry, it's all about that swag. But you know what's the secret sauce to stand out at a desi shaadi? It's all about those hair accessories, fam. We've got the 411 on the hottest hair bling to make you shine on your big day!
Maang Tikka: Timeless Vibes, Y'all!
First up, we've got the OG of Indian hair bling – the Maang Tikka. It's like the crown jewel of our desi weddings. Imagine a dope chain with a pendant chillin' on your forehead. That pendant can be blinged up with gems and pearls. This piece isn't just a fashion statement; it's a symbol of two hearts coming together. If you want that classic vibe, you gotta rock a Maang Tikka, no cap!
Matha Patti: Versatile and Stylish
Now, if you're all about that versatility and style, you need to peep the Matha Patti. It's like the swiss army knife of hair bling, fam. This bad boy covers your forehead and flows into your hair, making you look fly. And guess what? Matha Pattis come in all flavors, from low-key to extra AF. You can pick the one that suits your outfit and vibe. It's the perfect blend of tradition and modern swag.
Hair Chains: Unconventional Dopeness
Ready to elevate your hair game? Enter the hair chains. These babies are for the bold and the beautiful. You can drape them across your head, and they come in all sorts of designs – from delicate to blinged out with crystals and beads. If you're the kinda bride who's all about making a statement, the hair chain is your go-to choice.
Also Read: Get Ready to LOL with the Trendy Blouse Designs 2023 for Indian Weddings!
Jhoomar: Side Hustle of Elegance
If you're into that elegant side look, check out the Jhoomar, also known as the passa. It's like having a little piece of art on the side of your head. It's got a delicate chain with a pendant decked out in pearls, gems, or Kundan work. Rock this with a side bun or some luscious curls, and you'll turn heads, fam.
Floral Fascinators: Fresh and Fab
Now, here's something fresh and fab – floral fascinators. These are all the rage at Indian weddings these days. Imagine real or fake flowers jazzing up your hair, matching your outfit's color scheme. Whether you want a subtle touch or a full-on flower crown, these accessories bring that natural beauty to your bridal look. It's a refreshing change, for real!
Hairpins and Clips: Keepin' It Simple, Keepin' It Fresh
If you're all about that simple yet fresh vibe, don't sleep on hairpins and clips. These accessories may be petite, but they bring the wow factor. You can find 'em with intricate designs, pearls, or crystals. These little blingy wonders will keep your hair in check while adding a touch of glam to your overall swag. Perfect for sleek updos or braided hairstyles!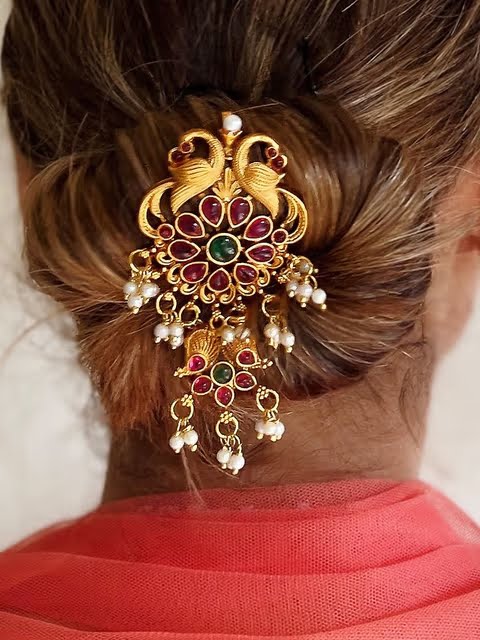 The Bottom Line: Pick Your Crown, Queen!
So, here's the deal, fam. Your wedding day is your time to shine, and these hair accessories are your crown. Each one brings its own unique swag to the table, so it's all about your style and vision. Whether you go old school with the Maang Tikka, rock the versatile Matha Patti, get daring with hair chains, keep it elegant with the Jhoomar, stay fresh with floral fascinators, or keep it simple yet fly with hairpins and clips – it's all about you.
Your big day deserves the best, and these accessories will have you lookin' like a queen. So, explore your options, talk to your stylist, and make that choice that's gonna make you feel like royalty. And remember, at the end of the day, it's all about your desi swag!
Also Read: Dyson Hair Dryers: Elevate Your Hair Game with These Awesome Gadgets!