Hey there, jet-setters and style-savvy wanderers! If you're all about globetrotting without the baggage (literally), you're in for a treat. We've got the inside scoop on how to pack light, look amazing, and own your travel fashion game. No boring lectures here, just the coolest tips to help you slay those travel pics.
Let's Get Minimalistic
Packing can be a buzzkill, right? But fear not, we're gonna make it a breeze. First up, embrace the minimalistic vibe. Choose clothes that can do a mix-and-match dance together. Think simple and versatile.
Wardrobe Must-Haves
The Iconic White Tee: A classic that plays nice with jeans, shorts, or even a skirt. It's the chameleon of fashion.
Neutral Bottoms: Grab some black or beige pants or jeans. They go with anything and everything.
Layer Up: Toss in a lightweight cardigan or a snazzy blazer for that extra oomph.
Kicks and Comfy: Keep your feet happy with stylish sneakers or comfy sandals.
Accessorize: Scarves, belts, and statement jewelry – they turn basics into stunners.
Roll, Don't Fold
You know how you roll with your squad? Well, roll your clothes too! Rolling is the trick to save space and dodge wrinkles. No one wants to deal with creased clothes on vacay.
Travel-Smart Fabrics
Let's talk fabrics, fam. Go for stuff that doesn't wrinkle easily and is low maintenance. Think jersey, silk blends, and synthetics. Light, comfy, and carefree.
Boss Packing Tools
Packing Cubes
These little champs are lifesavers. Keep your stuff organized like a pro. Tops, bottoms, and accessories each get their own cube.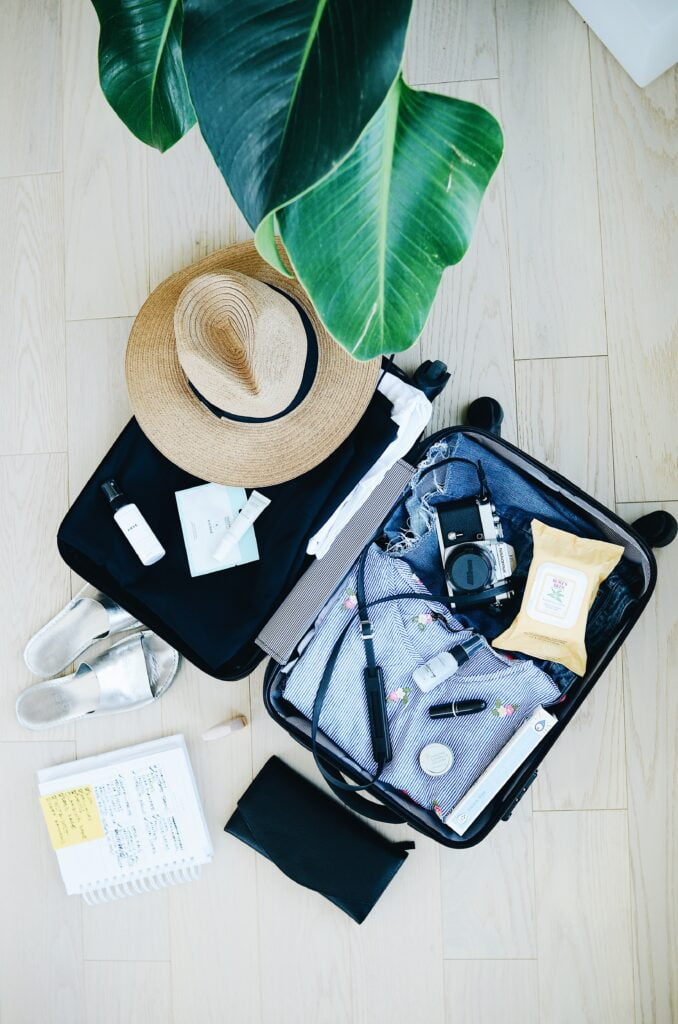 Vacuum-Sealed Magic
For those epic adventures, grab vacuum-sealed bags. Squeeze the air out, and watch your clothes shrink, creating mega space. Plus, no weird odors escaping.
Your Outfits, Your Way
From exploring the streets to fancy dinners, you've got outfits for every vibe:
Daytime Adventures
Rock your classic white tee with jeans and cool sneakers. Add a funky scarf and shades for that instant cool vibe.
Evening Glam
Time to level up! Switch out the jeans for a skirt or a pair of sleek trousers. Layer with a blazer, bling it up with some snazzy jewelry, and you're ready to own the night.
Beach Mode
Don't forget your swimsuit! Throw on a loose cover-up that's also a dress. Slip into comfy sandals, and you're beach-ready.
Packing Toiletries
Keep it simple, peeps. Most hotels hook you up with freebies. Get travel-sized bottles for shampoo, conditioner, and sunscreen. Easy peasy.
Say Goodbye to Wrinkles
No one wants their outfits looking like a crumpled mess. Stick some tissue paper or dry-cleaning bags between clothes to keep them wrinkle-free. It's like a fashion fortress in your suitcase.
Wrapping It Up
So, there you have it, our travel-friendly fashion hacks for the ultimate adventure. Light packing, big style – that's the name of the game. Choose smart, pack like a pro, and keep it fab with low-maintenance fabrics. Bon voyage, and may your travels be Insta-worthy!
Also Read: Men Beach Wear: Your Ultimate Guide to Stylish and Comfortable Beach Fashion