Yo, fashion fanatics! 🌟 Ready to dive into the dazzling universe of lehenga blouses? Get set to upgrade your ethnic game with some serious swag! From classic vibes to modern twists, we've got the lowdown on all things lehenga blouse, and trust us, you're gonna be slaying those desi vibes like a superstar. Let's get this fashion party started! 🎉
1. Classic Charm – Traditional Lehenga Blouse Styles
Alright, fam, let's kick things off with the OG classics. Picture this: intricate embroidery, dazzling zari work, and motifs that tell a story – that's the vibe of a traditional lehenga blouse. Imagine rocking a lehenga skirt with a blouse that's all about that heritage elegance. It's like stepping into a fashion time machine and owning every second of it! 🕰️
2. Modern & Chic – Blouse Styles for the Now
Listen up, trendsetters! If clean lines and minimalist vibes are your jam, then the modern lehenga blouse is calling your name. Think high-neck, sleeveless stunners with just the right amount of bling. These bad boys are all about mixing tradition with a dash of that contemporary cool. You'll definitely catch everyone's attention, no questions about it!
3. Necklines to Nail – Rocking the Collar Game
Say whaaat? Necklines are where it's at, and we've got the scoop. Whether you're all about that sweetheart neckline that's a total heart-stealer or the chic boat neckline that screams sophistication, there's a neckline for every vibe. These necklines aren't just details – they're your ticket to next-level glam. Get ready to dazzle! 💎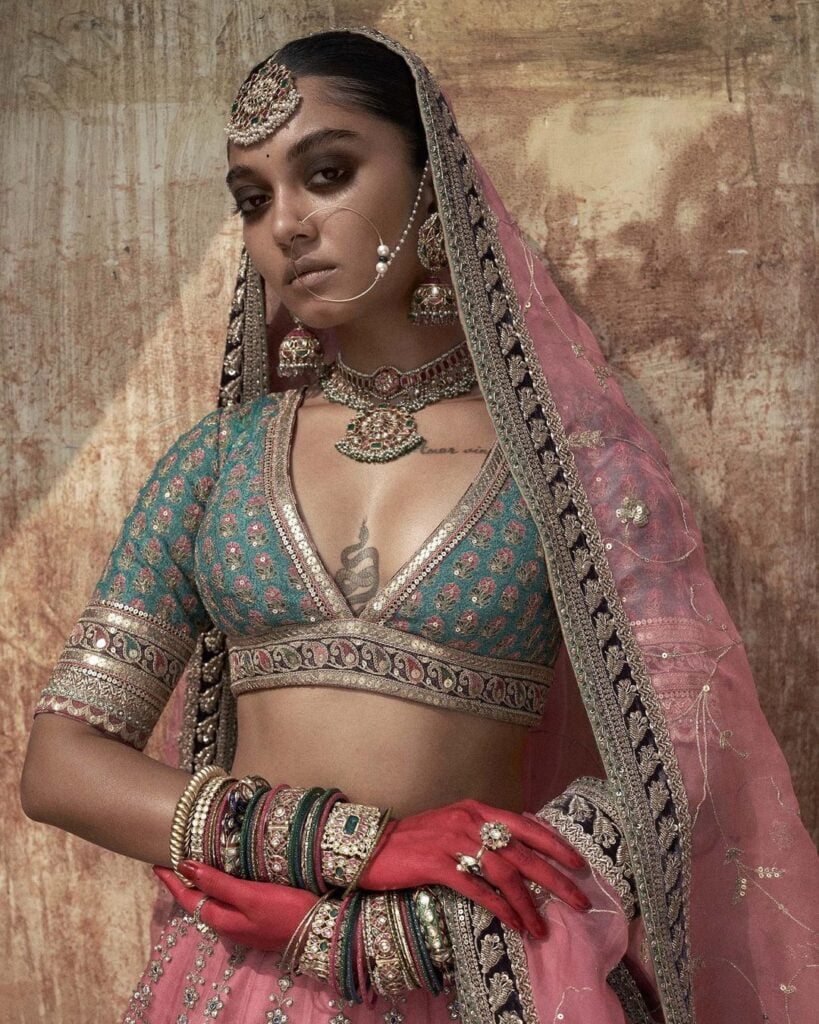 4. Sleeve Swagger – Blouse Sleeves that Slay
Get ready to amp up your style game, peeps! The sleeves on your lehenga blouse can totally change the vibe. From long and lavish sleeves with intricate designs to flirty flutter sleeves that bring the fun, you've got options for days. Go for full sleeves, cap sleeves, or even some cold-shoulder action – it's all about that swag factor! 💃
5. Back It Up – Blouse Backs to Wow
Whoa, there's a whole lotta drama happening at the back, and we're here for it! The back of your blouse can be a showstopper all on its own. Imagine a keyhole back that's all about the allure or a deep-V back that's bringing sexy back. Add in some latkan tassels or elegant embroidery, and you've got a fashion moment that's unforgettable! 🌟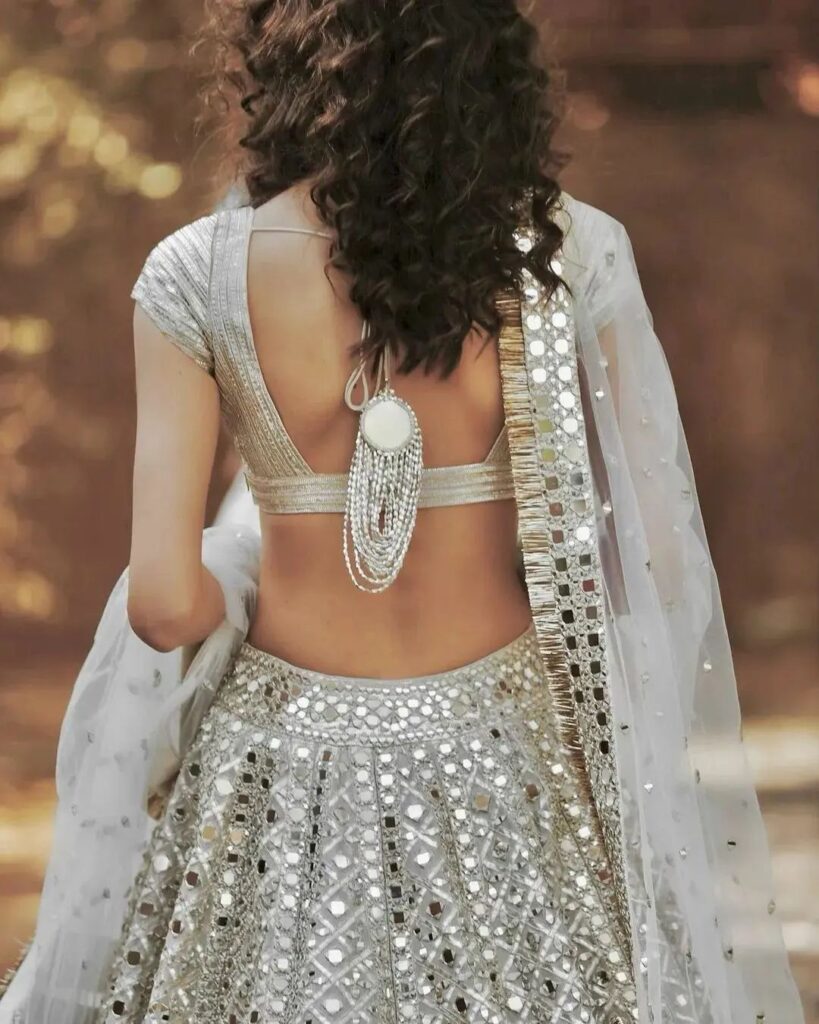 6. Desi with a Twist – Indo-Western Blouse Blends
Hey, trend adventurers! Ready to mix things up? Enter the Indo-Western lehenga blouse. Picture this: a cape-style blouse or a crop top with a high-waisted lehenga skirt. It's like fusing tradition with global style, and let's just say, you'll be turning heads from every direction. Time to show off that swag with some desi fusion! 🌍
7. Boss Tips for Blouse Bliss
Flaunt Your Shape: Pick a blouse style that's all about flaunting your fab body. Peplum blouse for curves? Empire waist for those hourglass vibes? You do you, superstar!
Comfort is Key: Look, you're gonna be slaying the fashion game, but comfort should never be compromised. Go for fabrics that feel like a dream and give you all the moves.
Play with Colors: Get creative with your color combos. Mix and match to create some serious contrast between that lehenga skirt and the blouse. You'll be a color-blocking queen!
Bling it On: Accessories are your BFFs. Think statement jewelry – chandelier earrings or a bold neckpiece – to take your lehenga blouse look to epic levels.
8. Future-Proof Fashion – Embracing the Trends
Hold up, fashion-forward fam! Trends are always poppin', and you wanna be on that style radar. Think asymmetric necklines, bold prints, and eco-friendly fabrics. Keep your fashion game strong by riding that trend wave. Fashion goals, unlocked! 🌈
So, there you have it, style squad – the ultimate guide to lehenga blouse styles that'll have you slayin' the fashion game like a total icon. From classic to chic, it's all about owning your vibe and rocking those desi vibes with pride. Get ready to own that fashion runway, 'cause you've got this on lock!
Also Read: Janhvi Kapoor's Epic Contrast Colour Blouse Hacks!