Hey there, fashionistas! 🌟 Ready to dive into the glitzy world of Priyanka Chopra's jaw-dropping red carpet moments? Hold onto your fashion hats, because we're about to spill the tea on the Top 15 Best Red Carpet Looks of Priyanka Chopra that left us all gasping for air. From Bollywood to Hollywood, our girl Priyanka knows how to slay the style game with OMG moments that redefine glam. Let's break it down!
1. Bulgari Bling (2023)
Get ready to be dazzled, peeps!Priyanka's couture combo by Miss Sohee and those stunning Bulgari jewels at the Mediterranea High Jewelry Event in the magical city of Venice, Italy, felt like something straight out of a fairy tale. Sparkles, drama, and absolute fierceness – this look had it all! ✨
2. Met Gala Magic (2023)
Hold the phone, because Priyanka brought superhero vibes to the Met Gala. That black gown with a sky-high slit and a cape that screamed "I'm here to slay" was everything. Cape on, power on! 🦸‍♀️
3. Bulgari Bling Round 2 (2022)
Oh yes, she did it again! At another Bulgari event, Priyanka rocked a Robert Wun stunner that gave her diamond necklace a run for its money. Bling bling, baby! 💎
4. Floral Frenzy (2021)
Who needs a garden when you have Priyanka slaying in a floral Richard Quinn masterpiece? The 2021 Fashion Awards were never the same after her show-stopping entrance. Bloom, baby, bloom! 🌸
5. Slaying the Red Sea (2022)
Crimson couture alert! At the Red Sea International Film Festival, Priyanka took our breath away in a Tony Ward gown that was pure Hollywood glam. Shimmer, shine, and all that jazz! 🌟
6. Grammy Goddess (2020)
Ralph & Russo, crystals, and fringe – do we really have to add anything else to that mix? Priyanka's Grammy Awards look was like a music diva's dream come true. She rocked it, and we're still recovering from the slayage. 🎶
7. Golden Globe Glam (2020)
Barbie vibes? Yep, Priyanka totally rocked that bubblegum pink off-the-shoulder gown at the Golden Globe Awards. Talk about turning heads and owning that pink carpet! 🎀
8. Cannes Chic (2019)
Sequins, sultriness, and all the Cannes Film Festival vibes. Priyanka's Roberto Cavalli dress had us all mesmerized, and we couldn't take our eyes off her. Shine bright, girl! 💃
9. Met Gala Madness (2019)
Priyanka totally aced the "More is more" theme at the Met Gala. Her Dior ensemble was like a fashion explosion that left us all starstruck. Bring on the drama, girl! 🌈
10. Oscar Stunner (2019)
Vanity Fair Oscar Party? Priyanka OWNED it with her Elie Saab halter dress, plunging neckline, and that dramatic tulle skirt. She's basically a red carpet queen, and we're bowing down. 👑
11. Velvet Dreams (2018)
Velvet, Ralph Lauren, and 250 hours of pure dedication – Priyanka's Met Gala look was all about luxury and a touch of royal vibes. The queen has arrived! 🔥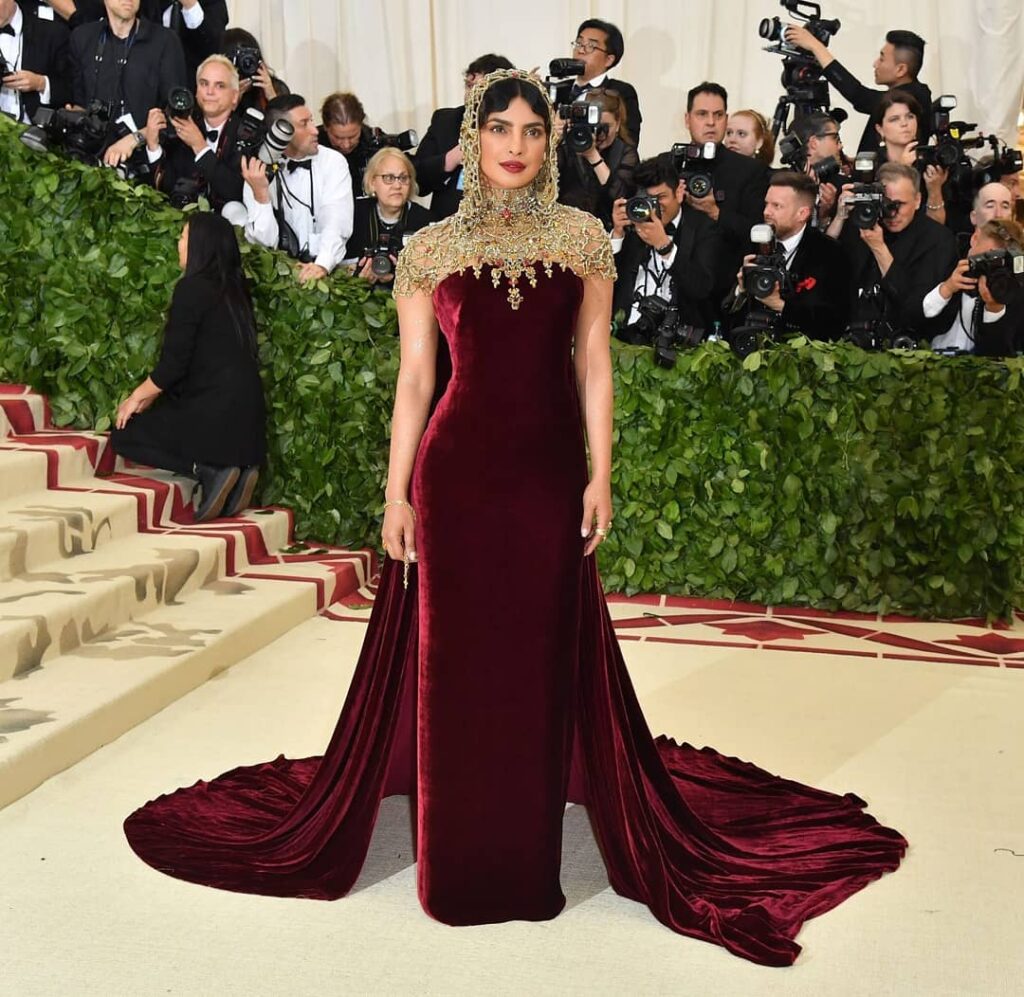 12. Lace Love (2017)
Golden Globe Awards, meet Priyanka's lace and diamonds combo. It's like she invented elegance and sophistication all over again. A total red carpet game-changer! 📚
13. Academy Awards Vibes (2017)
Off-the-shoulder glam, silver bangles, and the Academy Awards? Priyanka had us all swooning with her timeless charm and Hollywood elegance. That's how you do it, folks! 💫
14. Trench Glam (2017)
Ralph Lauren + trench gown + Priyanka = one epic Met Gala moment. Edgy and elegant, she redefined red carpet coolness with this look. You go, girl! 🕶️
15. Emmy Enchantment (2016)
Red alert at the Emmy Awards! Priyanka's crimson Jason Wu gown had us all falling in love with her style magic. Glamour, sophistication, and all the heart eyes! 🔴
There You Have It, Style Warriors!
And there you have it, fashion fam – the top 15 red carpet looks of Priyanka Chopra that had us all shook and swooning. From her dazzling Bulgari bling to her Met Gala mastery, every outfit was like a masterpiece on the runway of life. Keep slaying, Priyanka – the world is your red carpet, and you're owning it! 💃