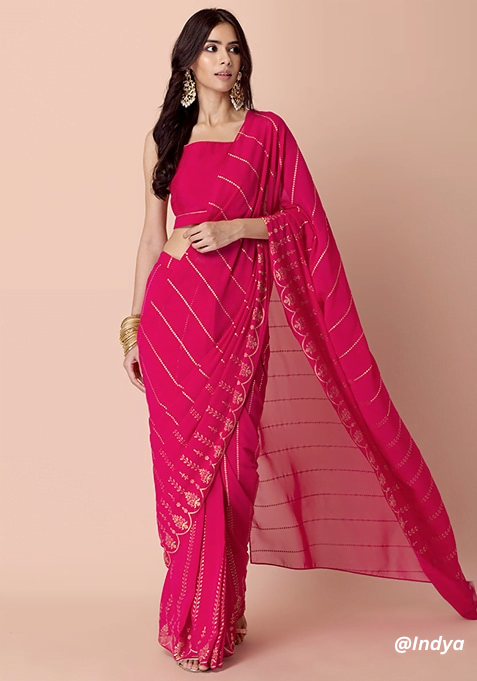 Hey there, fashionista! Are you ready to dive into the world of ready to wear sarees? Buckle up because we're about to make this journey a whole lot of fun and fab. Ready to wear sarees are like a fashion cheat code – they bring the elegance of a saree without the "How do I drape this?" drama.
Let's Get Started: Picking the Perfect Saree
First things first, let's find that perfect saree. Think about the fabric – silk for a royal touch, georgette for a modern vibe. Color-wise, go wild with bright shades for parties or keep it cool with pastels for a chill day.
Don't forget to check out the design! It should scream "you." If you're all about bling, find one with sparkles. If minimalism is your game, stick to simple motifs.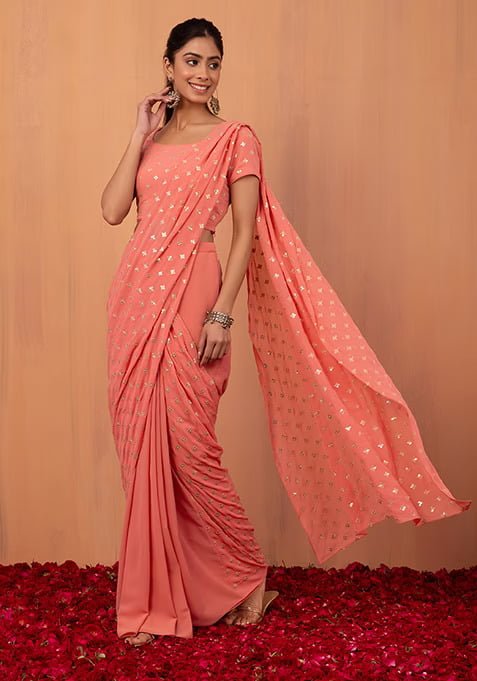 Blouse Babble
Now, onto the blouse – the saree's partner in crime. Want to turn heads? Choose a blouse in a completely different color. A red blouse with a cream saree? Yes, please!
Think about the neckline and sleeves. A little drama never hurt anyone – go for boat necks or deep backs. If you want to stay classic, full sleeves are your best friend.
Pro tip: Match the blouse's bling with the saree's bling for maximum impact.
The Art of Saree Wrangling
Okay, so ready to wear sarees are pre-stitched, but you still need to know how to rock 'em. Here's a quick rundown:
Petticoat Prep: Make sure your petticoat is snug and matches your saree's color.
Pallu Pleats: Gather the pallu (the loose end) in pleats and drape it over your left shoulder like a boss.
Tuck and Roll: Tuck the saree into the petticoat and create clean pleats in the front. Secure them with safety pins – no peek-a-boo moments, please!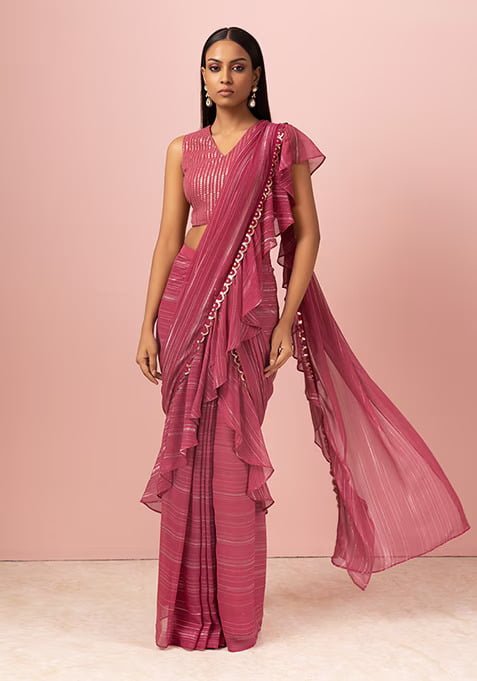 Accessory Extravaganza
Accessories, darling, can make or break your look. Here's how to nail it:
Earrings: Match 'em with your blouse neckline. Jhumkas, studs, or chandelier earrings, you choose.
Neck Bling: A necklace that complements your blouse's neckline – that's the secret sauce.
Arm Candy: Stack those bangles or pick a bold bracelet for your wrists.
Shoe Game: High heels for extra oomph or comfy juttis – your call.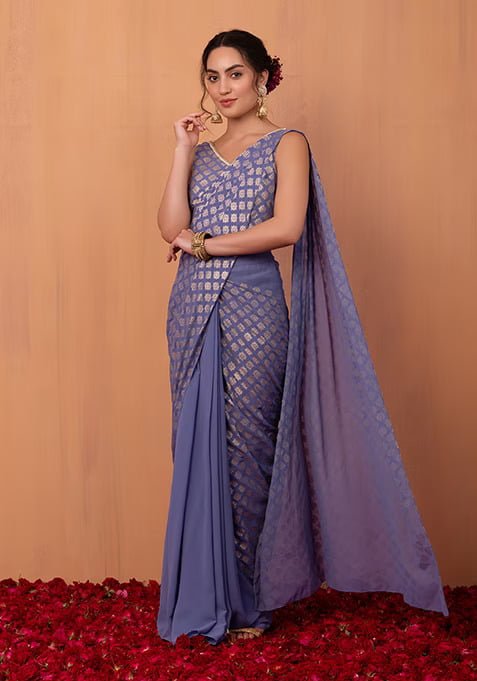 Hair & Makeup Magic
It's time to slay that hairstyle and makeup:
Hair Story: Sleek bun, beachy waves, or a classic braid – your hair, your rules. Add some bling like hairpins or flowers if you're feeling fancy.
Makeup Maven: Keep it subtle and in sync with your saree. Foundation, eyeshadow, and lipstick – the trio of fabulousness.
The Grand Finale
Before you step out, do a quick mirror check. Make sure everything's on point – from your drape to your accessories. And don't forget the most important thing – confidence. Wear your saree like a superstar because you are one!
Ready to wear sarees are all about convenience and style. With these tips in your back pocket, you'll be turning heads and stealing hearts at every event.
Also Read: Slay in Satin Sarees: Your Ultimate Styling Guide