Yo, fashionistas! Are you ready to step up your style game and slay in satin this season? We've got the inside scoop on the most lit satin dress trends that are rocking the fashion world. Get ready for a wild fashion ride, 'cause we're about to spill the tea on these silky, smooth, and seriously stylish dresses. 😎
Satin 101: The Ultimate Fancy Fabric
Before we dive into the juicy stuff, let's break it down for you. Satin is like the Beyoncé of fabrics – smooth, shiny, and always in the spotlight. It's all about that luxe vibe, with a surface that's so glossy, it could blind ya (not really, but you get the idea). This fabric drapes like a dream, making it perfect for dresses that scream, "Look at me!"
Satin Dresses: Versatile and Slay-Worthy
Satin dresses are the real MVPs of your wardrobe. They can go from brunch with your squad to a hot date night without breaking a sweat. Let's check out the hottest trends that are making waves this season.
Trend 1: Slip Dresses – The Classics with a Twist
Remember those classic slip dresses your grandma rocked back in the day? You bet, they've made a comeback, and they're absolutely rocking it! This season, designers are giving them a glow-up with lace, funky hems, and colors that pop. Slip into one of these, and you'll feel like you're walking on a fashion runway.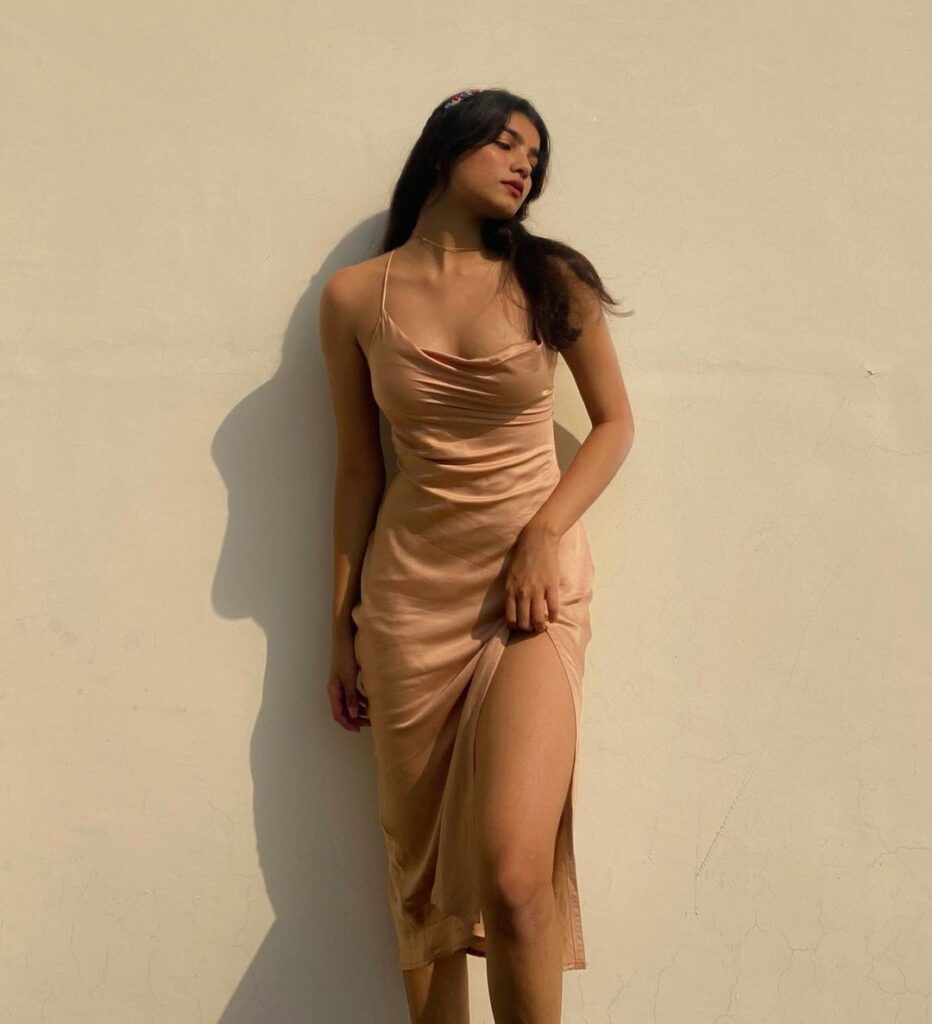 Trend 2: Bold and Beautiful Colors
This season, it's all about going big with your color game. Think vibrant emerald greens, fiery reds, and electric blues that'll make you stand out like a neon sign in the desert. These colors are so bold; you'll need sunglasses to look directly at 'em. 😎
Trend 3: Vintage Vibes with Satin Wraps
Satin wrap dresses are the perfect blend of retro and chic. They've got that cool wrap style that's not only flattering but also adjustable for when you've had a bit too much pizza. Look for flowery patterns and unique designs to add a touch of nostalgia to your wardrobe.
Trend 4: Bling, Bling, and More Bling
Want to shine bright like a diamond? Say hello to satin dresses with all the bling you can imagine. Sequins, beads, feathers, crystals – it's like your dress went to a jewelry store and had a blast. Just remember to keep the accessories low-key, so you don't blind your friends.
Trend 5: Maxi Lengths for Maximum Drama
Maxi-length satin dresses are stealing the show on red carpets and Insta feeds everywhere. They're the definition of drama and sophistication, perfect for when you want to make a grand entrance. Walk in, and let that dress flow – it's like having your own personal fan machine.
Trend 6: Asymmetrical Hemlines
For those who like to keep things interesting, we've got the asymmetrical hemlines. These dresses are like a mullet – business in the front, party in the back. They bring the fun and make a bold fashion statement.
Trend 7: Satin with a Side of Sustainability
As we're all becoming more eco-conscious, sustainable satin dresses are the way to go. These dresses are crafted using eco-friendly materials and ethical production methods. Looking hot while saving the planet? Now that's what we call a win-win!
Wrap It Up in Style
Satin dresses are the real deal, and this season is all about going big or going home. Slip into one of these silky wonders, rock those bold colors, and shine like the star you are. Whether you're heading to a fancy event or just wanna slay on a regular day, satin dresses have got your back.
So, don't wait around – get out there and own your style in satin. It's all about having fun, feeling confident, and looking fabulous.
Also Read: Wedding Dresses Around the World: Your Style Guide!