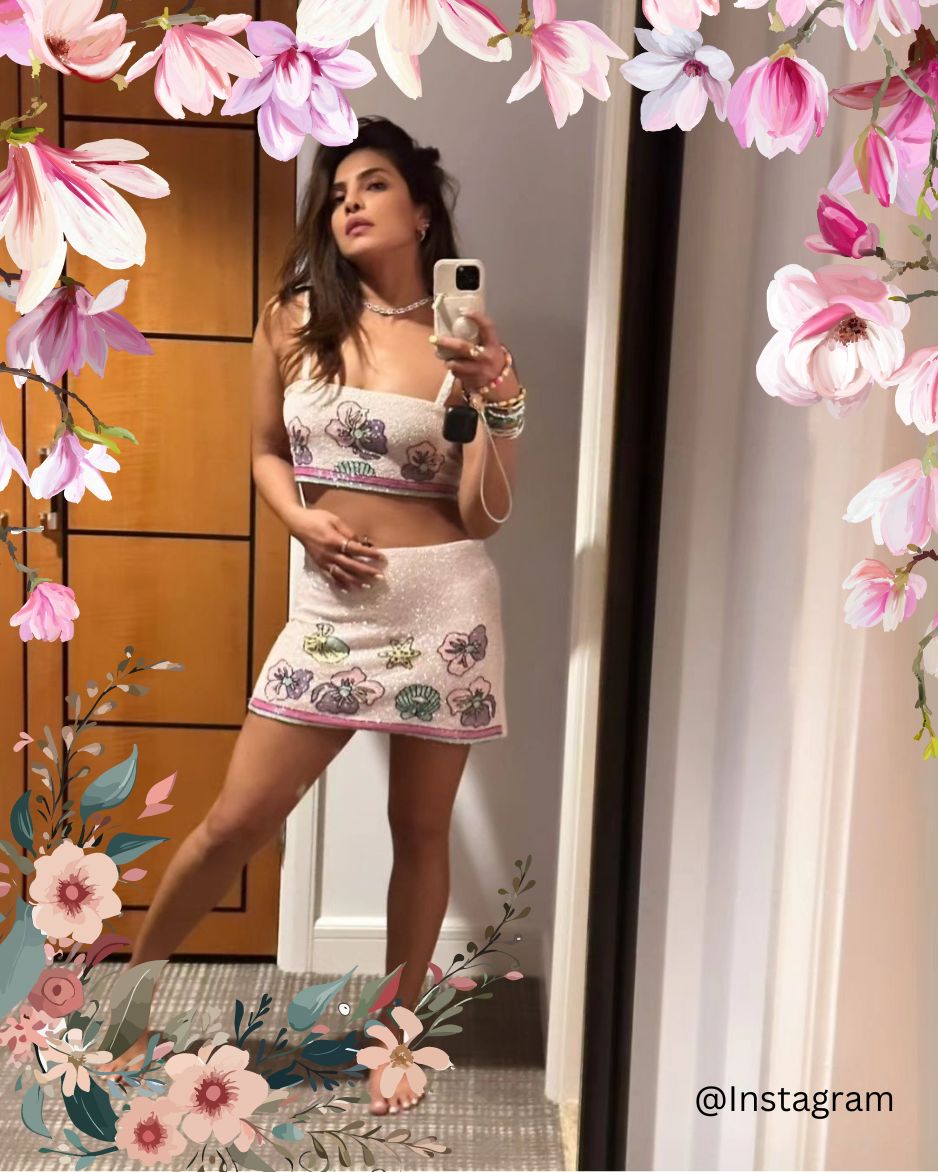 Hey there, fashion fam! 🌟 Get ready to dive into the scoop on Priyanka Chopra's jaw-dropping style game at the Jonas Brothers concert. This is the real deal, so buckle up and let's break down the deets!
1. The Gist of It: Priyanka Rocks Crop Top and Mini Skirt Combo!
Okay, picture this: Priyanka Chopra is totally owning the Jonas Brothers' concert scene with her latest outfit stunt. She's got this fab printed crop top and mini skirt duo that's sending shockwaves through the internet. It's like, "Whoa, can we just talk about how amazing she looks?" 🤯
2. The Outfit Breakdown: Pink Perfection with a Splash of Bling!
Hold onto your seats, 'cause this outfit is no joke! Priyanka's working this blush pink magic adorned with sequins and these cute patterns of flowers, shells, and starfish in all sorts of cool colors – pink, purple, green, and yellow. It's like a color explosion, and we're living for it! 🎨🌸
The crop top is all about those delicate shoulder straps, a sassy square neckline that's all about showing off the collarbone, and a short midriff-baring hem that's just fierce. And don't even get us started on the mini skirt – mid-rise waist, snug fit, and that mini hem length that's all about being flirty and fun. 😍
3. Extra Layers of Sass: Silver Bomber Jacket + Bling Galore!
Priyanka's not stopping at the crop top and skirt, folks. She's leveling up with a silver chrome bomber jacket that's oversized and open-fronted. Talk about edgy vibes! And then there's the bling – statement earrings, rings, beaded bracelets, a chain-link choker necklace, and sequin-dazzled knee-high boots with those killer high heels. It's like she's creating a fashion earthquake everywhere she goes. 🕶️💫
4. Glam Squad Goals: Makeup Magic and Hair Flair!
Can we just pause and appreciate Priyanka's glam choices? Feathered brows? Check. Subtle eyeshadow? Check. Lashes that are ready to slay? Check. Sleek eyeliner game on point? Check. Mauve lip shade, blushed cheeks, and that glowing highlighter? Triple check! And her hair? Side-parted wavy locks that are pure perfection. 🔥💄
5. Insta-Worthy Moments: Priyanka's Concert Chronicles!
Hold onto your screens, because Priyanka's Instagram game is off the charts! From a mirror selfie that's all kinds of hot to adorable family moments inside a van – she's giving us all the feels. Oh, and did we mention the Jonas Brothers rockin' the stage? She's got that covered too!
6. Fan Frenzy: Adoration Overload!
Peep these comments, y'all! Fans are gushing left and right. One's like, "Whoa, @nickjonas, you lucky guy, you!" Another's like, "Pri, your outfit's on fleek! You're hot and gorgeous, girl!" And someone's just straight-up saying, "She's a stunner, plain and simple." 🙌❤️
7. Get the Look: Channel Your Inner Priyanka!
Ready to kick your fashion game up a gear? Look no further than Priyanka's sensational style. Her crop top and mini skirt combo isn't just an outfit – it's a statement. Rock those concerts or any event like a pro with this inspo. You wanna turn heads? You got it! 👑🎤
So, there you have it, fam! Priyanka Chopra's slay-worthy concert look is breaking the internet and giving us major style goals. From the pink perfection to the bling overload, this outfit's got it all. Now, it's your turn to grab that fashion crown and rock it like the superstar you are. 💃👗🔝
Also Read: Priyanka's Bling-Bling Bralette Stole the Show at Nick's Concert!