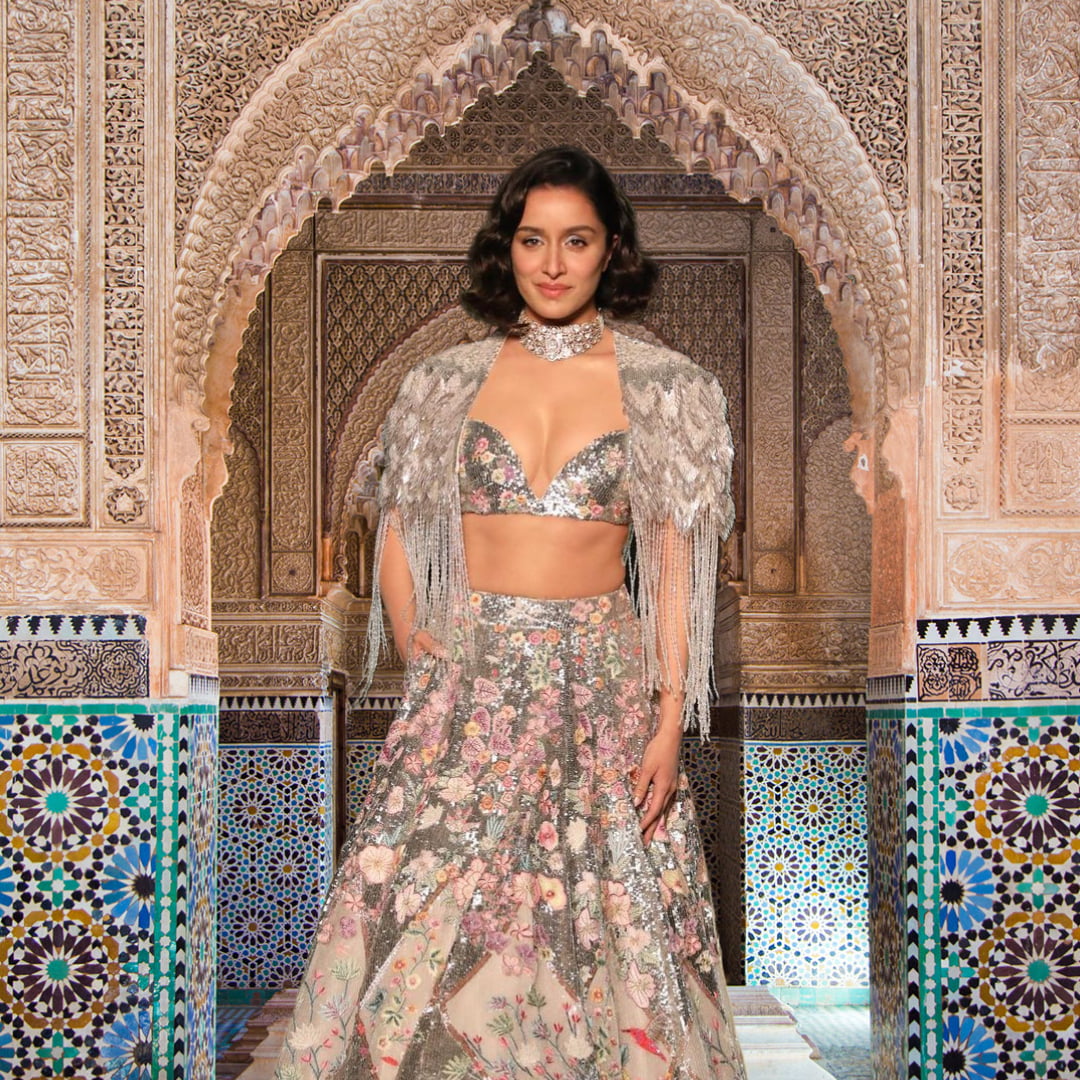 Hey, hey, heyyy, fashionistas and Bollywood buffs! Get ready to have your minds blown 'cause we've got some seriously sizzling news for you! So, like, you know India Couture Week 2023, right? A total fashion fiesta where all the celebs and designers show off their A-game. Well, brace yourselves, 'cause our girl Shraddha Kapoor just owned that runway like a boss!
Picture this: lights, camera, action! And there she was, the gorgeous 'Baaghi' star, strutting her stuff in a jaw-dropping silk organza lehenga choli by the designer Rahul Mishra. Mic drop! The sequins on her outfit were legit blinding, and that low cute blouse and cape combo? Absolute perfection! I mean, you could hear the crowd going wild like "YAAASSS QUEEN!"
And wait for it… she whipped out a silver choker necklace to complete her slayage! Can we say fashion goddess alert? Shraddha was giving us all the feels with her glittery eye makeup and that chic short hairdo. She looked FLAWLESS, like she stepped straight out of a fairy tale!
Oh, but here's the kicker, peeps! Our girl didn't just walk that ramp; she OWNED it like a queen! Royalty personafied, y'all! The confidence, the style, the swag – it was like the stars aligned to give us this magical moment. I bet even the runway was like, "Dang, girl, you're killing it!"
Let's talk fandom, okay? Shraddha Kapoor ain't just an actress; she's the QUEEN of hearts! Her fans go gaga over her, and that's an understatement. Her social media is like a shrine of love and admiration. Like, you scroll through her Instagram, and it's like heart emojis on repeat!
And guess what? She's got a whole lineup of movies in her kitty. Like, we're talkin' 'Naagin', 'Stree 2', 'Chaalbaaz in London', 'Chanda Mama Door Ke', and 'Dhadkan 2'! That's a whole bunch of Shraddha goodness coming our way, and we are SO here for it!
Okay, let's spill some tea on the personal front. So, there were rumors, like juicy Hollywood-level rumors, about her dating this celebrity photographer dude, Rohan Shrestha. But you know how celebs are, always keeping us guessing! They never confirmed anything, and then BAM! The gossip mill churned out stories about them calling it quits in 2022 after four years. Talk about a roller coaster ride, right?
But seriously, let's wrap this up on a high note. Shraddha Kapoor rocked our socks off at India Couture Week 2023! It was pure fire, and we can't stop gushing about it! So, here's to our style queen, our girl-next-door crush, and the reigning diva of Bollywood – Shraddha Kapoor! Keep slayin' and stay fabulous, 'cause we'll be cheering you on every step of the way!
Note: Alright, peeps, we spilled the tea and served up some sassy fashion news, all while keeping it chill and entertaining. Hope you enjoyed the ride! 🎉🔥😎