Hey there, fashion enthusiasts and movie buffs! Guess who just stole the show at Milan Fashion Week? It's none other than the fabulous Scarlett Johansson, making a surprise appearance at the Prada Spring 2024 Show. Hold onto your seats because we're about to take you on a fashion rollercoaster!
A Little Black Dress that Rocks
Picture this: Scarlett strutting her stuff in a killer little black dress. But this isn't just any black dress; it's a game-changer. It's got this sassy crisscrossed neckline with a sneaky keyhole cutout. And guess what? It's thigh-skimming, showing off those killer legs!
Wait, there's more! She cinched it at the waist with a black leather belt sporting Prada's signature triangle logo in gold. That's like adding a cherry on top of a sundae – it's just perfect.
Kitten Heels That Mean Business
Now, let's talk footwear. Scarlett rocked pointy kitten heels. You heard that right – kitten heels are back in the game! These black leather pumps are like the James Bond of shoes: sleek, sharp, and ready for action. With an ultra-low heel and a pointy toe, they ooze sophistication.
What's the best part? You can snag these killer heels online for $1,390. That's your chance to walk in Scarlett's shoes, quite literally.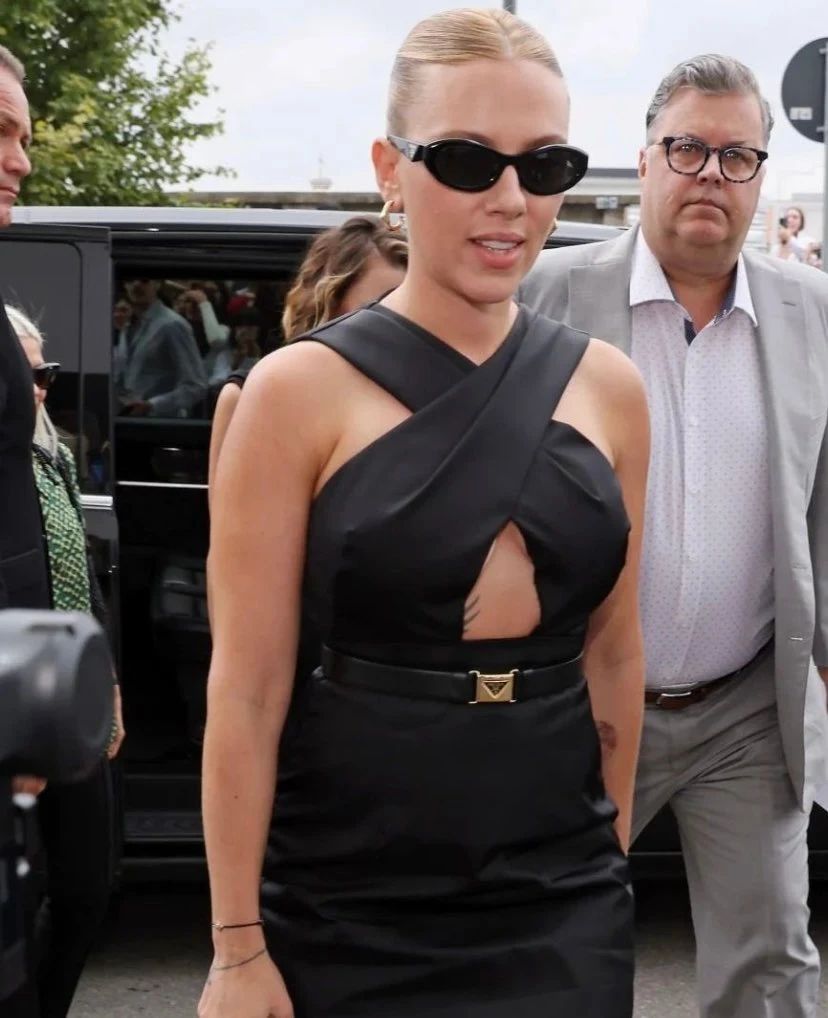 Accessory Game on Fleek
Accessories, my friends, are where the magic happens. Scarlett didn't stop at the dress and heels. She carried a black leather Prada bag – talk about matching! It's like she's teaching us a masterclass in coordination.
But wait, there's more glam! Her cat-eye sunglasses are straight out of a Hollywood blockbuster, and those angular gold hoop earrings? They're pure magic.
The Star-Studded Front Row
Scarlett wasn't alone in her fashion adventure. She had some A-list pals in the front row. Wes Anderson, the genius behind "Asteroid City," was right there beside her. Could this be a hint at a movie collaboration? Our excitement levels just hit the roof!
But the star power didn't stop there. Benedict Cumberbatch, Emma Watson, Amanda Gorman, Hunter Schafer, and Letitia Wright were also in the house. It was like the Oscars of fashion shows!
Prada's Leading Lady
Scarlett Johansson isn't just a pretty face in the crowd. She's the face of Prada's Galleria handbag campaign. Why? Because she's a chameleon on screen, able to become any character. And guess what? Prada is all about reinvention and creativity. It's a perfect union in the world of fashion.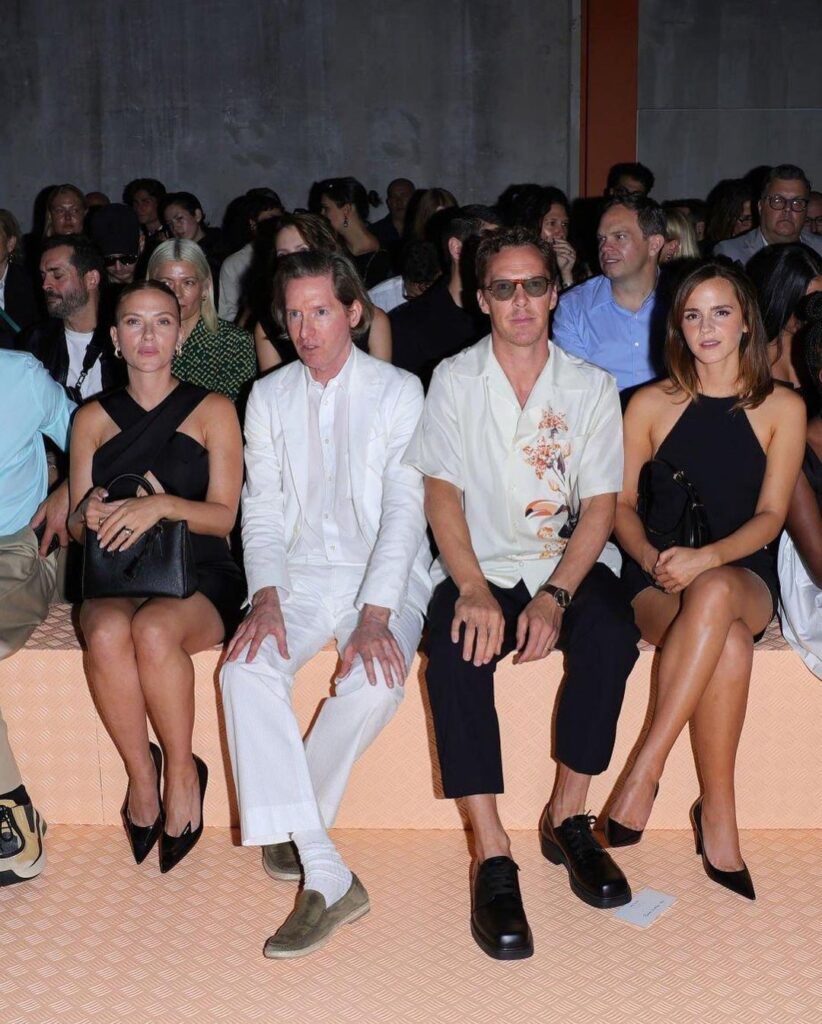 Beyond Prada: Scarlett's Style File
But wait, there's more! Scarlett's style isn't limited to Prada. She's a fashion explorer, and her wardrobe is a treasure trove of amazing brands. From Rodarte to Carolina Herrera, Gucci to JW Anderson, she's got it all covered. Every red carpet is her runway!
So, there you have it, folks – Scarlett Johansson's Prada power move in Milan. She turned heads, set trends, and left us all in awe. Until next time, stay fashionable and keep rocking your own style!
Also Read: Milan Fashion Week: Hottest Debuts from New Designers, Celeb Moments, and Fashion Frenzy!