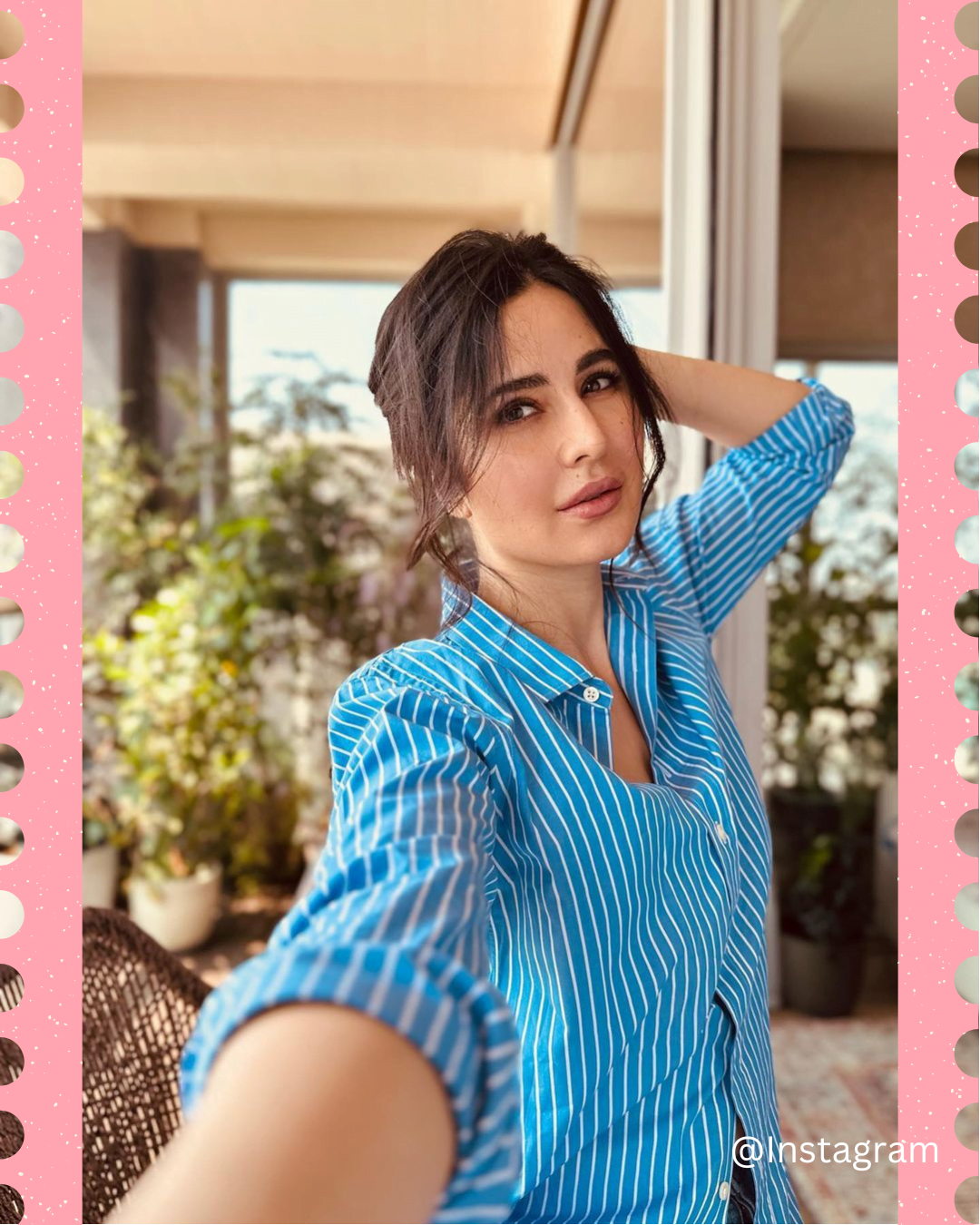 Hey there, fashion fam! 🌟 We're about to drop some serious style knowledge on you – and guess what? It's all about the classic, the timeless, the totally fab striped shirt! And who better to take inspo from than the queen of elegance herself, Katrina Kaif? Get ready to up your fashion game and turn heads with these killer ways to rock a striped shirt for all occasions.
1. Casual Cool with Denim Dreams:
Ready for those everyday vibes? Take a cue from Katrina and grab your fave blue striped shirt. Tuck it into those trusty denim jeans – the ones you practically live in! Roll up those sleeves for a chill vibe, slip into some white kicks or sassy ankle boots, and you're good to go. Brunch date? Shopping spree? You're all set!
2. Boss Babe Office Slay:
Need to crush that workday? We got you! Pair your striped shirt with a high-waisted pencil skirt – think sleek and stylish. Top it off with a tailored blazer – oh yeah, you mean business! Don't forget those power pumps and minimal accessories. Get ready to conquer the office like a true boss babe.
3. Knot It, Rock It:
Want a look that screams street chic? Tie a knot in the front of your striped shirt, and boom – instant style upgrade! Match it up with high-waisted shorts or a cute denim skirt. Pop on some cool mules or sandals and throw on oversized sunnies – paparazzi won't know what hit 'em!
4. Slip Dress Sass:
Elevate your striped shirt game by layering it under a slip dress. Find one that matches the vibes – soft colors or neutrals are your BFFs. Let those collar and sleeves peek out for that sweet contrast. Romantic dinner or fancy event? You're gonna be the star of the show!
5. Monochrome Magic:
Feeling those single-color vibes? Team up your blue striped shirt with darker blue tailored trousers. Tuck it in for that sleek look. Keep the bling low-key with silver or gold pieces, and strut your stuff in pointed-toe heels. Monochrome never looked so stunning!
6. Boho Beauty in Maxi Style:
Embrace your inner boho babe by pairing your striped shirt with a flowy maxi skirt. Pick one with fun prints that match your vibe. Add a belt for that extra pop, layer on necklaces and bold earrings, and finish with comfy sandals. Festival? Beach day? You're set!
7. Weekend Vibes with Culottes:
Weekend = chill time! Slip into your striped shirt and wide-legged culottes – comfy and chic, all rolled into one. Those trendy sneakers or cute espadrilles? Yep, they're the cherry on top. Running errands or grabbing brunch? You're officially the weekend style icon.
So there you have it, style stars! Katrina Kaif's blue striped shirt look is your ultimate style playbook. Whether you're crushing casual cool, owning the office, or embracing boho vibes, these ideas are your ticket to fashion glory. And don't forget, fashion is all about you, so add your own flair and slay it your way!
Also Read: Newly Launched: Kay Beauty's Eye-Catching Wonders for Ultimate Glam!