Hey there, party people! You know, when celebs step out of their glittery world and do something heartwarming, it's like an epic plot twist in the movie of life. So, here's the scoop – Rashmika Mandanna, the Tollywood sensation, recently hit us right in the feels with her wedding stunt. Let's spill the chai on this and dig into the glamorous deets!
The Wedding Shenanigans
Picture this: Rashmika, the superstar, taking a breather from her movie madness to attend her assistant's wedding in Hyderabad. Yeah, you heard that right! She traded her movie set for a wedding mandap, and it was lit!
Draped in a fire emoji-worthy orange saree by Anita Dongre, which, by the way, costs a cool Rs 16K (that's like a year's worth of Netflix, folks!), Rashmika was an absolute stunner. She made the entire wedding venue her personal runway, and we were here for it.
Adding Glam to the Gala
Now, we all know Rashmika can make jaws drop with her style game. And this time, she turned up the heat at the wedding, making it an unforgettable fiesta. Her orange saree wasn't just a piece of clothing; it was a fashion statement that said, "I'm here to slay."
The moment she stepped in, the cameras couldn't get enough of her. She oozed charisma and elegance, and it was like a red carpet rolled out for her at this shaadi. Talk about stealing the limelight!
Aww-Worthy Moment Alert!
Get ready to feel the warmth, because this part will surely tug at your heartstrings! The newlyweds, Sai and his bride, pulled off the cutest move ever. They went full desi and touched Rashmika's feet for blessings! Can you imagine? Our girl Rashmika was all blushes and humility, and it was the sweetest thing ever. Netizens couldn't get enough of her down-to-earth vibes.
Lights, Camera, Action!
While Rashmika is busy creating magic on-screen, let's spill the tea about her upcoming movies. Brace yourselves, peeps, because "Pushpa 2" and "Animal" are on the horizon, and they are going to be 🔥🔥🔥!
We've seen her ace different roles, and these films are no exception. It's like waiting for your fave series to drop on Netflix – the anticipation is real!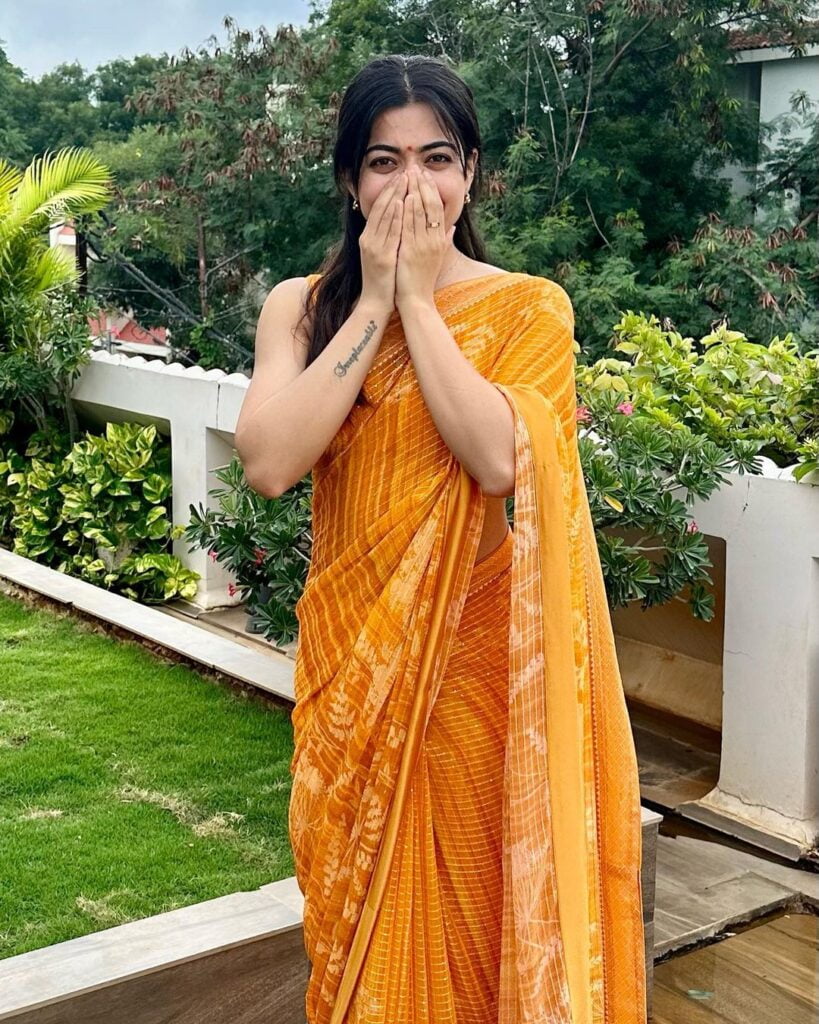 The Vijay Devarakonda Gossip
Now, here's the juicy stuff! We've all heard whispers about Rashmika's connection with Vijay Devarakonda. Are they an item or just BFFs? The chemistry between them on-screen has got everyone talking, but guess what? The cat's got their tongues, and they're not spilling the relationship tea!
While the rumor mill keeps churning, these two are keeping it on the DL. Is it love or just great acting? We may never know, but we'll keep our eyes peeled for any Insta-worthy moments!
Bottom Line
Rashmika Mandanna, you've done it again – melted our hearts and slayed the fashion game, all in one wedding adventure! As she continues to dazzle us on the silver screen, we can't help but admire her off-screen charm. Stay tuned for more Rashmika awesomeness because this superstar isn't slowing down any time soon!
Also Read: Cracking the Code of Tamannaah Bhatia's "Kaavaalaa" Song Look