Hey there, fashionistas and Bollywood buffs! We're about to spill the tea on the dazzling Kriti Sanon and her jaw-dropping denim-on-denim look at the Ganapath trailer launch. Brace yourselves for some fashion fireworks!
Mugler Magic 🌟
So, Kriti stepped out with Tiger Shroff for the Ganapath trailer bash in Delhi, and guess what? She wore a Mugler bustier and jeans combo that's basically fashion goals on steroids!
Picture this: a sleeveless denim bustier that's a mix of light blue and black. It's got these delicate straps and a zipper down the front, making it super spicy. The plunging neckline and body-hugging fit? Yeah, they showed off Kriti's curves in all the right ways!
Denim Dream 💙
But wait, there's more denim drama! Her matching denim jeans were high-waisted and had a snug, skinny fit. It's like she took the classic denim-on-denim vibe and turned it into a masterpiece.
Saint G's Bootylicious Boots 👢
And don't even get us started on those black leather boots from Saint G. These bad boys were thigh-high, had killer high heels, and basically screamed, "I'm here to slay!" They gave the whole look an extra boost.
Accessories on Fleek 💍
Of course, Kriti knows that a killer outfit deserves killer accessories. She rocked silver hoop earrings, statement rings, and a black leather belt with a seriously extra silver buckle. These blingy touches took her look to the next level.
Glam Galore 💄
Kriti's makeup was lit! She went for bold kohl-lined eyes, a hint of smudged brown eyeshadow, and lashes that could rival a Disney princess. Her lips were rocking a muted pink shade, and her cheeks were flushed with a rosy glow. The whole makeup game was on point!
Silky Tresses for the Win! 💁‍♀️
For her hair, Kriti went for silky tresses parted in the center. It was like the icing on the cake, making her look drop-dead gorgeous.
Fan Frenzy 🌟
Naturally, social media went bonkers when Kriti strutted her stuff. Fans couldn't stop gushing. One fan said, "She's raising the temperature for real!" Another was like, "I thought I couldn't be more mesmerized, but boy, was I wrong!" And someone even said, "She's unreal!" Yeah, we feel you!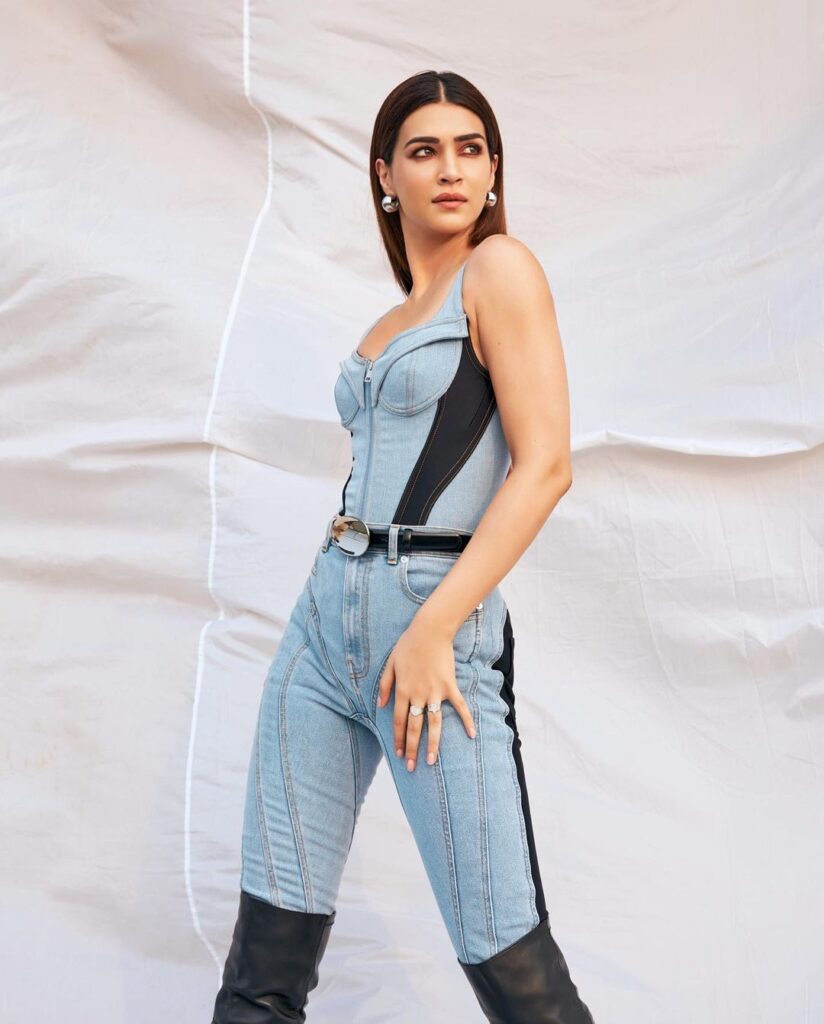 About Ganapath
Oh, and don't forget, the movie they're promoting is Ganapath, hitting theaters on October 20th. With Kriti, Tiger Shroff, and the legendary Amitabh Bachchan in the mix, it's gonna be a blockbuster for sure!
In a nutshell, Kriti Sanon's denim dazzle at the Ganapath trailer launch was pure fire. Her bold fashion choices, killer accessories, and glam makeup made her the star of the show. As the movie release date approaches, we can't wait to see more of her on the big screen and on the fashion front!
Also Read: Kriti Sanon's LBD Magic: Dress Like a BossBabe!