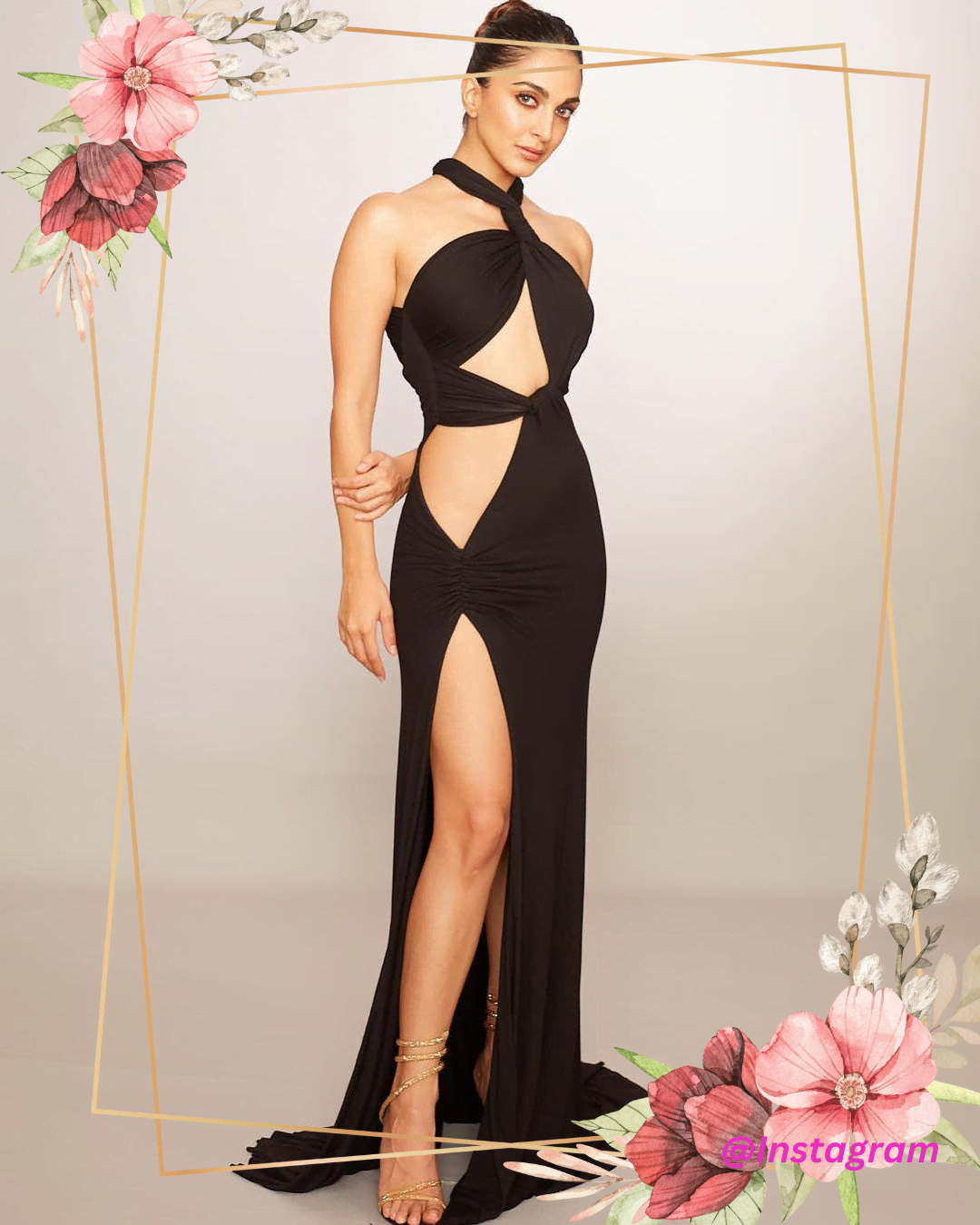 Hey there, fashion fam! 👗👠 Ready to dive into the fab world of Bollywood's style superstar, Kiara Advani? Get ready to be wowed 'cause this gal is seriously slaying the fashion game. From Instagram inspo to jaw-dropping gowns, Kiara's got us all heart-eyed!
Kiara's Style: Chic & Beyond
Picture this: a total fashion icon who can rock anything from traditional sarees to ultra-modern outfits. That's our girl Kiara for you! But wait, there's more: she just hit us with an OMG-worthy black cut-out thigh-high slit gown that's giving us all the feels.
Breaking Down the Glam Gown
Okay, so let's talk about this killer black gown Kiara's been rocking. It's like modern art meets sassy style. Those cut-out deets? Total game-changer, adding some oomph to her look while keeping it oh-so-elegant. Bow down, fashion world!
Less is More: Kiara's Secret Sauce
Guess what, less really is more, peeps! Kiara's showing us how to slay with no accessories, letting the gown steal the show. And those black-golden heels? A touch of glam without stealing the spotlight. Smart move, Kiara! 💃
Sleek Hair Bun: Sass Level 100
Hold the phone, 'cause Kiara's sleek hair bun is turning heads! This ain't your everyday bun – it's pure sophistication, highlighting her gorge face and that stunning gown neckline. It's like a cherry on top, but better.
Nude Makeup: Effortlessly Gorgeous
Can we talk about that makeup game, though? Kiara's rocking a natural look that's all about enhancing her beauty, not hiding it. It's like makeup magic that lets her shine through. We're taking notes, peeps!
Kiara's Style Legacy: Mic Drop
This girl's all about breaking the rules and making waves. Kiara's fearless fashion sense is a total mood, and she's teaching us that style is all about being YOU. Bow down, world – there's a new style queen in town!
Steal Her Style: 101
Ready to upgrade your fashion game? Kiara's got your back! Here are the deets:
1. Mix It Up
Don't stick to just one style – try it all! Kiara's showing us that experimenting is the key to finding your fab fashion vibe.
2. Confidence Rocks
Kiara's confidence is off the charts, and guess what? Confidence is everything. Own your look and rock it like you're walking the red carpet.
3. Little Things Matter
Deets matter, peeps! Kiara's attention to the small stuff, from outfits to makeup, is what sets her apart. Pay attention to those deets and slay the game.
4. Keep It Simple
Remember, simple can be stunning. Kiara's no-accessory look and minimal makeup? It's all about letting your style speak for itself.
5. Dare to Be Different
Kiara's all about taking risks and making a statement. Embrace your inner trendsetter and don't be afraid to stand out from the crowd!
Level Up Your Style, Kiara-Style
Time to wrap it up, fam! Kiara Advani is the reigning queen of fashion, and she's got us all in awe of her style. That black cut-out gown? Iconic! So go ahead, let Kiara's fab fashion journey inspire you to rock your own style like a total boss.
Also Read: How to Rock Evening Gowns Like Kiara