Hey there, peeps! Guess who's making waves in the OTT world? Yep, it's none other than the fabulous Kareena Kapoor Khan, and she's bringing all the sass and style with her latest gig, 'Jaane Jaan.' Not only is she showing off her acting chops, but she's also giving us some major fashion goals.
Style Queen on the Loose
Kareena Kapoor Khan, aka Bebo, has been our style crush forever. She's the queen of effortlessly rocking everything from sexy dresses to boss babe pantsuits. And now, with 'Jaane Jaan' around the corner, she's proving she's still the ultimate style icon.
The Maroon Magic
Hold on to your hats, folks, because Kareena just dropped a fashion bomb on Instagram! Her caption said it all, "Jaane Jaan ready… Have you watched the trailer yet?" But it's not just her words; it's the outfit that got us all shook.
The Outfit Breakdown
Let's break down the awesomeness of Kareena's outfit:
1. Sizzling Halterneck Bralet
Her outfit started with this sizzling halterneck bralet top that showed off those toned shoulders. It's the kind of top that says, "I'm here to slay."
2. Draped Skirt Drama
And then, there's the draped skirt. It's got that wow factor that makes you feel like you're watching a red carpet event. The way it flows is pure magic.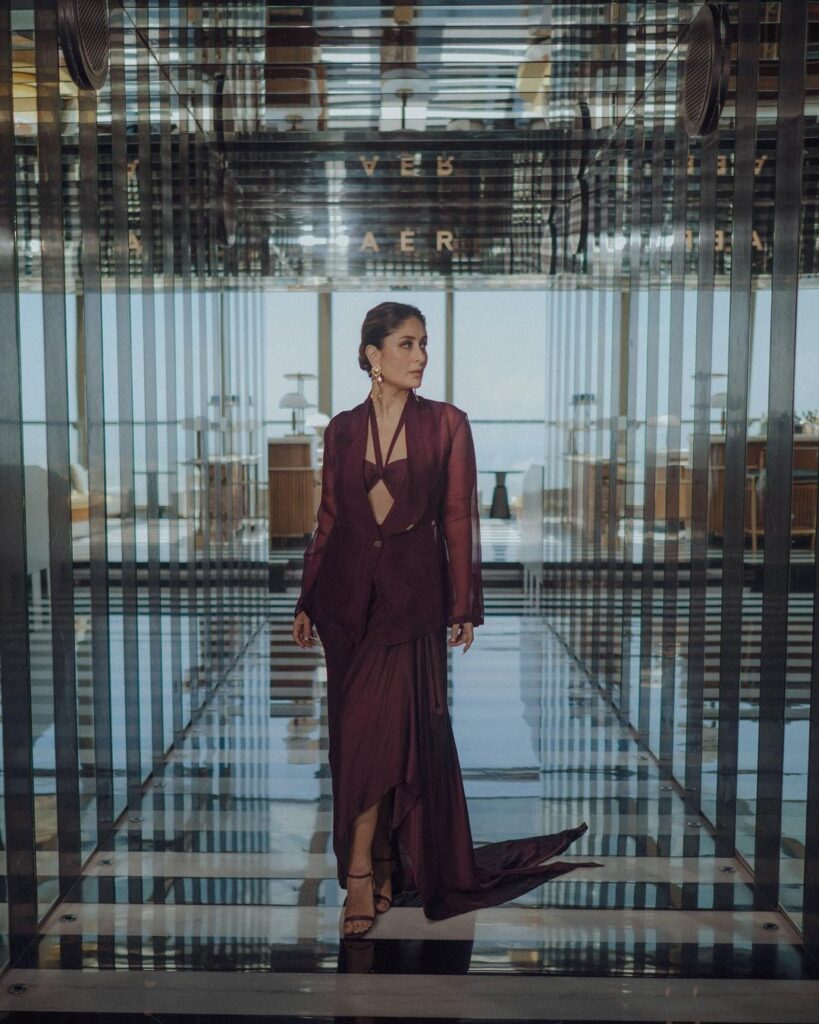 3. Sheer Organza Jacket
To top it all off, Kareena rocked an open organza jacket with full sleeves. It's sheer, it's stylish, and it's making us want one ASAP.
Bling it On!
Accessories, anyone? Kareena knows how to do it right. She rocked statement gold earrings, and those black stiletto heels? Killer! It's as if she's saying, "Go all out with those accessories, folks!"
Effortlessly Gorgeous
Here's the deal – Kareena doesn't need a ton of makeup. With her hair in a neat bun and just the right amount of makeup, she's showing us that less is more. She's all about that natural beauty vibe.
Wrapping it Up
So, there you have it, folks! Kareena Kapoor Khan is slaying not only the acting game but also the fashion game with her 'Jaane Jaan' debut. She's the real deal when it comes to style, and we can't wait to see what she serves up next.
In a world where style matters as much as substance, Kareena effortlessly nails both. We're all pumped for her upcoming project, not just for the drama but also for the fashion inspo she's giving us.
In the wild and ever-changing world of Bollywood and OTT, Kareena Kapoor Khan is our style hero. Stay tuned for more of her epic style moments!
Also Read: Bollywood Bling-Bling Bash: Tira by Reliance is Lit!