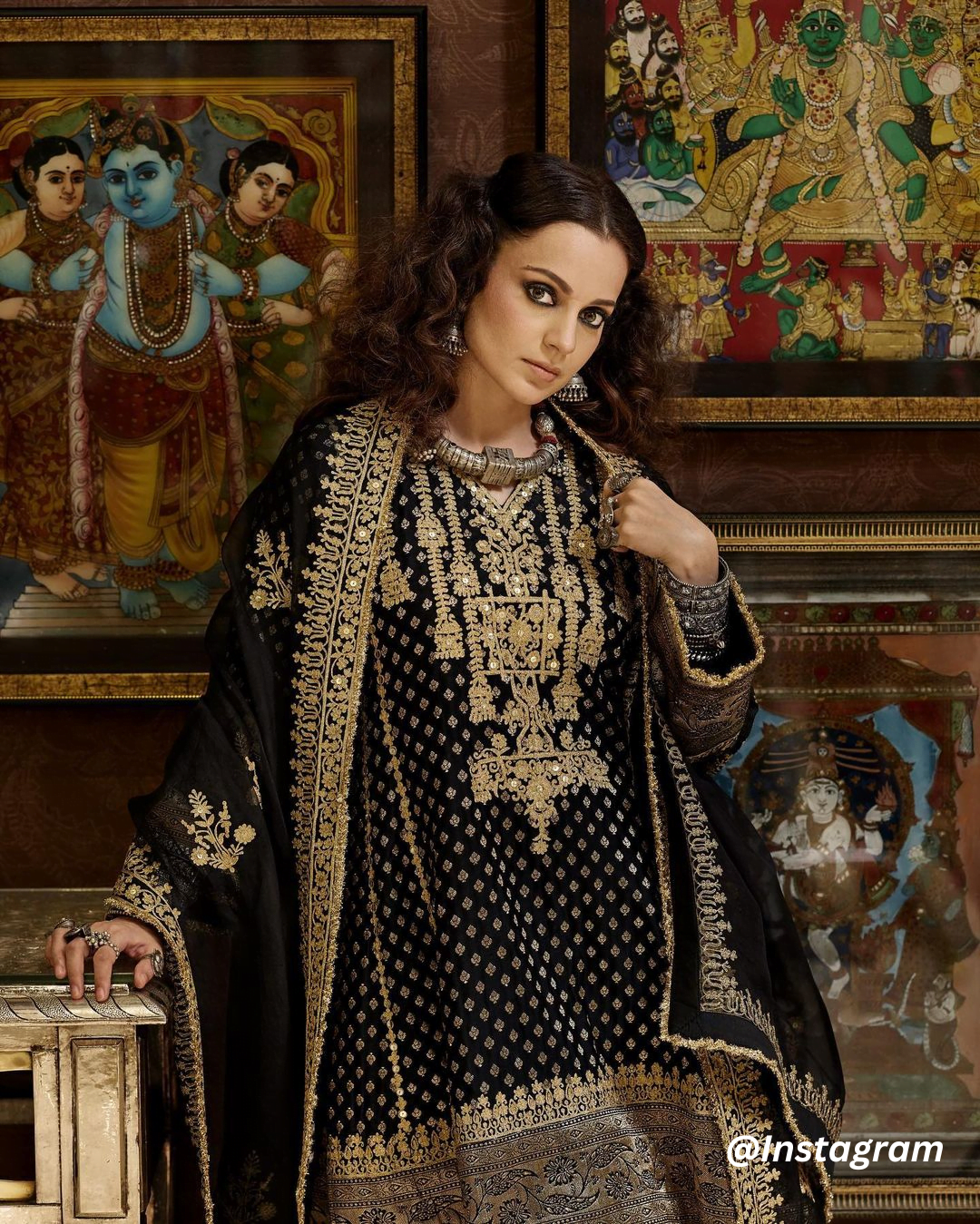 Hey there, fashionistas and movie buffs! 🌟 Let's dive into the fabulous world of Kangana Ranaut's style as she gears up for her upcoming flick, "Chandramukhi 2." Brace yourselves for a whirlwind tour of Kangana's jaw-dropping outfits that scream sophistication with a hint of swag.
1. Beige Beauty:
Kangana kicks things off with a bang in a stunning beige golden silk saree. It's not just any saree, though – it's got this delicate gotta patti lace action that takes it to a whole new level. She pairs it up with a beige organza blouse, goes easy on the makeup (nude and winged eyeliner for the win), and tops it off with a classy bun.
2. Pinky Promise:
Next up, she's all about the Punjabi vibes in a rani pink embroidered suit with a neon green dupatta. She rocks black embellished juttis, keeps the makeup subtle, lets her natural curls do their thing, and adds a tiny pink bindi for that extra oomph. Oh, and don't miss those killer golden stud earrings!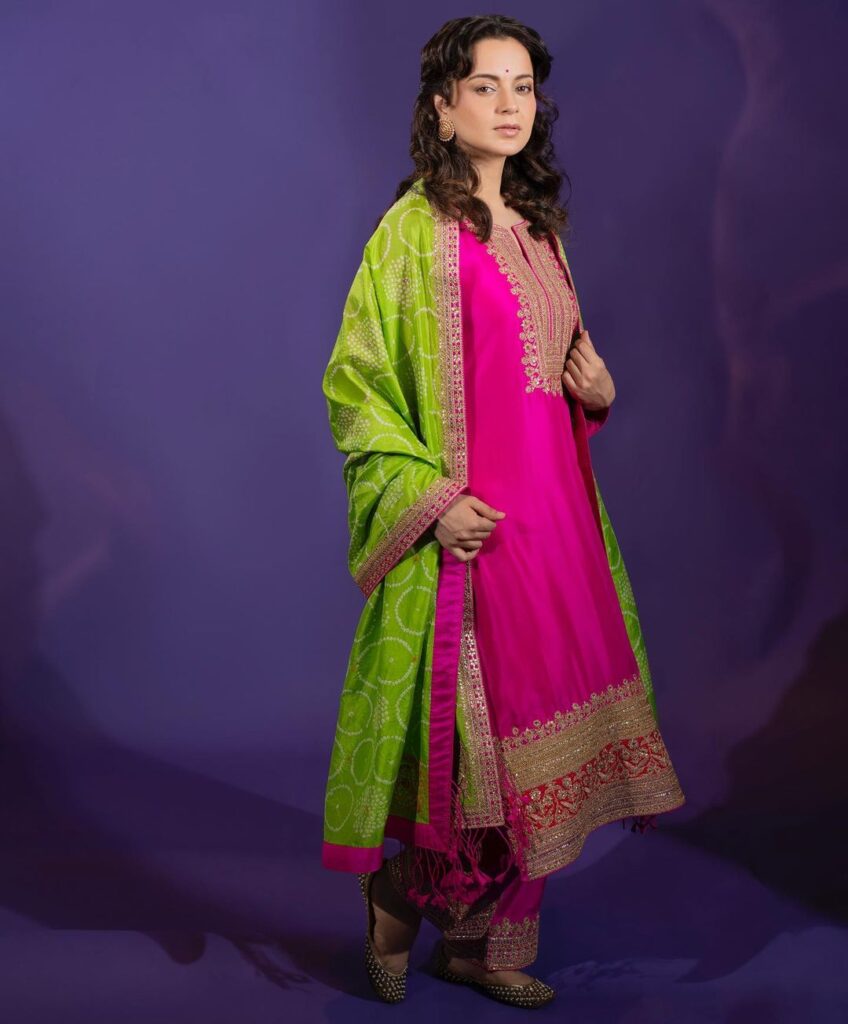 3. Cream Dream:
Kangana takes us on a royal journey with a cream georgette saree and an organza embroidered blouse. This time, she's flaunting cape sleeves that scream "queen." She rocks a collar necklace set with emeralds, sports a chic bob-like Marilyn Monroe hairstyle, and adds a hint of gold to her makeup. It's all about matching perfection, folks.
4. Banarasi Bling:
Yellow Banarasi saree alert! Kangana stuns in this number with a red border that's pure eye candy. Her parrot green sleeveless blouse adds the right pop of contrast. Accessories? You bet – big jhumkis and a tiny green bindi. And that nude makeup? On point!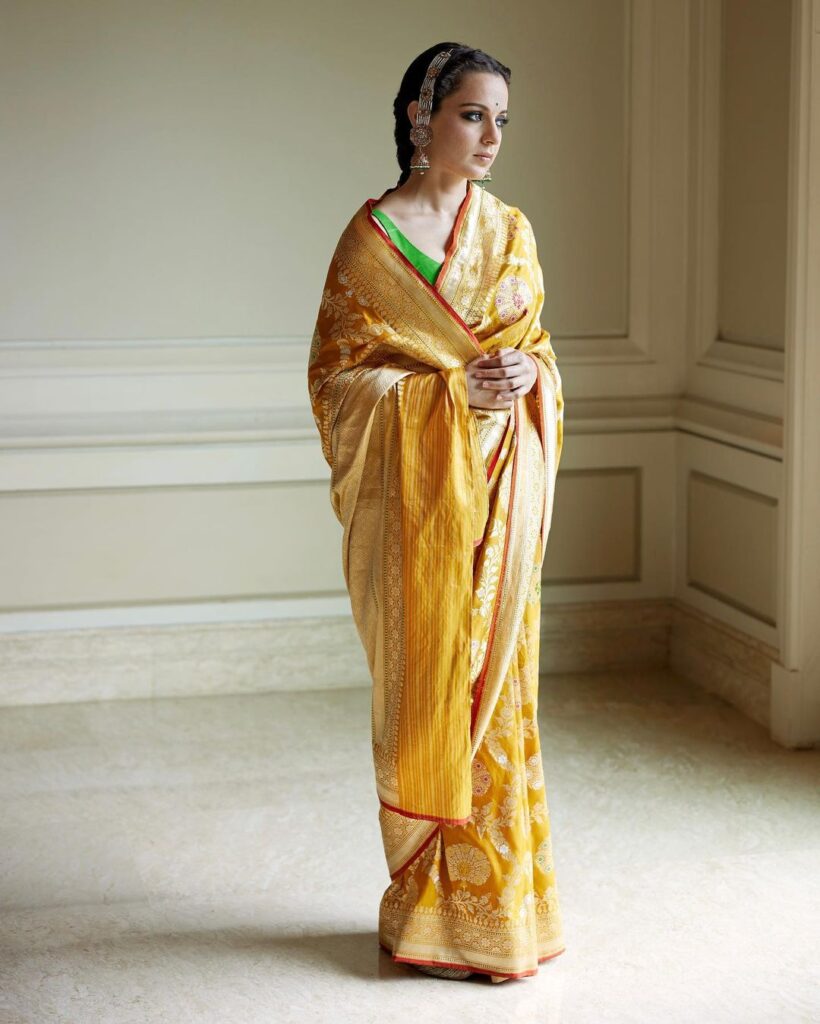 5. Black Magic:
Last but definitely not least, Kangana slays in a black silk anarkali suit with intricate golden embroidery. The short anarkali kurta is super chic, and those salwar pants with golden embroidery at the bottom? Killer! She keeps her makeup neutral with those signature kohl eyes, and her silver jhumkis, kada necklace, chunky bangles, and silver rings are pure perfection.
Phew, Kangana Ranaut sure knows how to make an entrance, doesn't she? Her style journey for "Chandramukhi 2" is a fashionista's dream come true. From traditional elegance to contemporary chic, she effortlessly nails every look.
So, mark your calendars for the release of "Chandramukhi 2" on September 28, 2023. You're in for a double treat – an amazing movie and some serious style inspiration from the one and only Kangana Ranaut. 💃
Also Read: Kangana Ranaut: The Radiant Revelation in Chandramukhi 2