Hey, fashion fam! Hold onto your stylish hats because we're diving into the most amazing fashion whirlwind that just rocked the Tokyo Fashion Week. Kanako Sakai, a total fashion wizard, wasn't even planning to drop a runway show bomb this season. But guess what? She did, and it was LIT!
Whirlwind Beginnings and Sneaky Surprises!
Imagine this: Kanako Sakai, a fashion genius with only two years of label life, bagged the super cool JFW Next Brand Award 2024 in June. And guess what that means? Two shows on her tab, baby! With just two months to get her glam on, she was ready to rock the runway, and boy, did she slay!
Textile Magic: From Seashells to Superstar
Hold up, fashionistas, 'cause here's the scoop on what makes Kanako Sakai's threads unreal. She's like a treasure hunter, but for fabrics! She hit up every nook and cranny of Japan to find the wildest textiles. But here's the kicker: her latest collection had fabrics made from crushed seashells. Yes, you read that right! Imagine shining bright like a diamond, but from the sea. It's pure magic, peeps!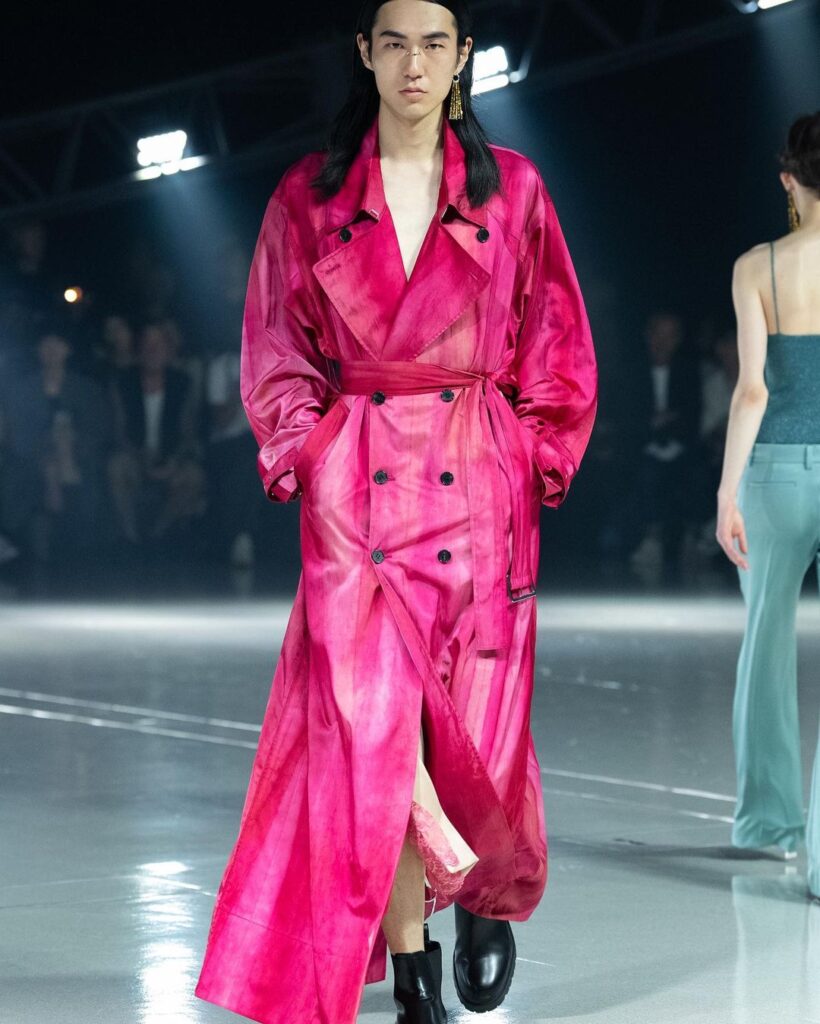 Memories Woven into Fashion
You know those heart-fluttering memories from your childhood? Kanako Sakai turned hers into fashion gold! She was all about those seashells and memories of summer homework. Remember those shiny mother-of-pearl things? Yep, she used that inspo to whip up some serious raden-ori magic. It's like childhood dreams turned into super chic outfits. Major heart eyes.
Samurai Swag and Pop of Pink
Now, get ready for the bling bling part! Sakai's all about her Japanese roots, and she's spicing up her pieces with some next-level flavor. Picture this: samurai family crests turned into silver sequins, glinting and shining like armor on her clothes. It's like modern royalty meets total badassery!
Oh, and did we mention the surprise twist? Tank tops turned into swishy fringed flapper dresses. Yes, you heard that right! And for that extra oomph, pink lace peeking out from super slick tailoring. Can we say #FashionGoals?
Breaking the Mold, Like a Boss
Hold onto your seats 'cause we're breaking some serious fashion norms here! Sakai's all about smashing those gender stereotypes. Her brand is all about the ladies, but she shook things up by throwing in some male models. It's all about that "human vibe," she mentions. And guess what? It totally worked! Fashion knows no bounds, and Sakai's leading the charge.
Epic Debut: The Showstopper
Alright, here's the finale that'll blow your minds. Kanako Sakai's debut runway show was like fireworks on the fashion scene. Her theme? "Welcome." And boy, did she welcome us into a world of style, sass, and pure genius! The energy was off the charts, and her pieces? Oh-so-confident, oh-so-gorgeous. This show marked the beginning of Tokyo Fashion Week with a bang and left everyone begging for more!
Kanako Sakai: Future Fashion Legend
And there you have it, the ultimate fashion scoop on Kanako Sakai, our style superstar. From a surprise runway show to mind-blowing fabrics and breaking all the rules – she's the real deal. Get ready for her pieces to rule your closets and slay your 'gram feeds. Kanako Sakai is here to stay, and trust us, you wanna be part of this epic fashion journey!
Also Read: Spring 2024 Fashion Fiesta: Copenhagen's Trendsetting Runway Extravaganza!