Hey there, fashion-forward peeps! 🌟 If you're all about lookin' fly while rockin' that denim game, you're in for a treat! We've got the scoop on the latest jeans trends that are seriously takin' the style world by storm. Say goodbye to boring old jeans and get ready to slay in some seriously chic and trendy denim looks. Let's dive in, shall we?
1. High-Waisted Hype: Snatch that Waist, Babe!
Okay, so high-waisted jeans are totally making a comeback, and honestly, we're here for it! These jeans are like magic for your curves, giving you that perfect fit and all the comfy vibes. Rock 'em with a cute blouse and heels for a night out, or keep it chill with a graphic tee and sneakers for those casual hangs. Trust us, these jeans are an instant confidence boost.
2. Straight Up Stylin': Classic Vibes, Always In!
Listen up, legends – straight-leg jeans are the bomb dot com. They've been around since forever, and for a good reason. These jeans are timeless, versatile, and just ooze that cool factor. Wear 'em to work with a snazzy blazer, or throw on a cropped sweater for weekend shenanigans. You'll be rockin' that classic charm wherever you go.
3. Distressed Diva: Embrace the Edge!
If you're all about that edgy look, distressed denim is your new BFF. Ripped, torn, and frayed – these jeans scream attitude in the best way possible. Whether you go for subtle rips or bold knee slashes, you'll be givin' off those effortless cool-girl vibes. Pair 'em with a leather jacket and ankle boots to slay that rockstar look.
4. Groovy Flares: Throwin' It Back to the '70s!
Guess what's back from the past? Flared jeans, baby! These bad boys are all about that bohemian chic vibe that's seriously on point. They make your legs look a mile long, and we're totally here for that illusion. Dress 'em up or down – rock 'em with a flowy blouse and platform shoes for those boho feels.
5. Mom Jeans Magic: Comfort Never Looked So Cute!
Ladies, if you're all about the cozy vibes without skimping on style, say hello to mom jeans! These jeans are all about chillin' and looking fab at the same time. They're high-waisted and a bit roomy, and trust us, they're like a fashion hug for your legs. Tuck in a colorful turtleneck and throw on a snazzy belt for that modern twist.
6. Pop of Color: Brighten Up Your Life!
Ready to add some pizzazz to your denim game? Colored denim is where it's at. Say goodbye to just blue jeans and hello to shades like red, green, and yellow. Make a bold statement and flaunt your one-of-a-kind style. Keep the rest of your outfit chill with neutral tops and accessories – let those colorful jeans shine, babe!
7. Bling Bling Jeans: Sparkle and Shine!
Calling all glam queens – embellished jeans are your new obsession. Sequins, studs, and embroidery galore – these jeans are like a party for your legs. From subtle glitz to all-out bling, you'll be the center of attention. Keep the balance by pairing 'em with simple tops and accessories. Let those jeans steal the show!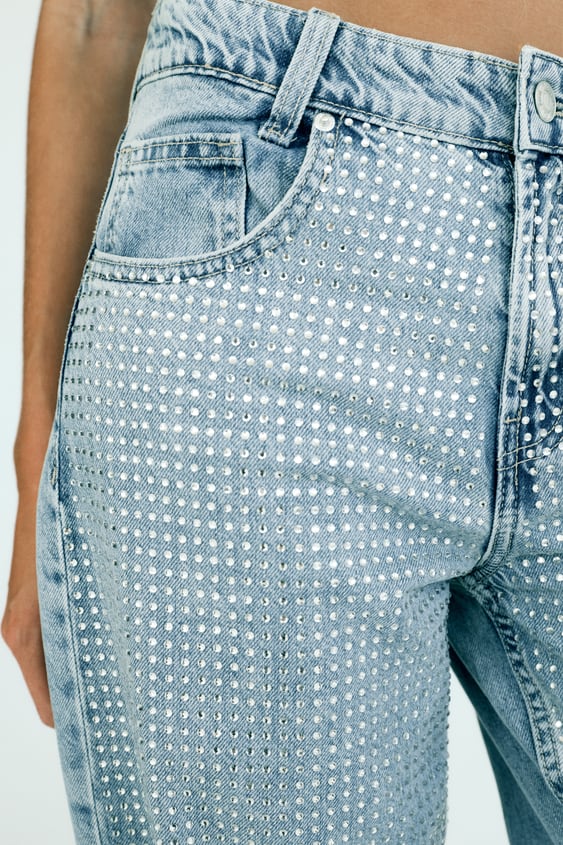 8. Wide-Leg Wonderland: Effortless and On Fleek!
Last but not least, wide-leg jeans are givin' us all the feels. They're flowy, comfy, and chic AF. These jeans are all about that relaxed yet stylish vibe. Pair 'em with a tucked-in blouse or a sassy crop top – you'll be radiating confidence wherever you go.
So there you have it, trendsetters – a crash course in the hottest jeans trends that are slayin' the fashion game. From high-waisted sass to flared fabulousness, there's a style for every vibe. Remember, fashion is all about expressin' yourself, so go ahead and rock those jeans like the style superstar you are!
Also Read: 10 Types of Trendy Pants for Women: Get Ready to Slay with Sass and Comfort!