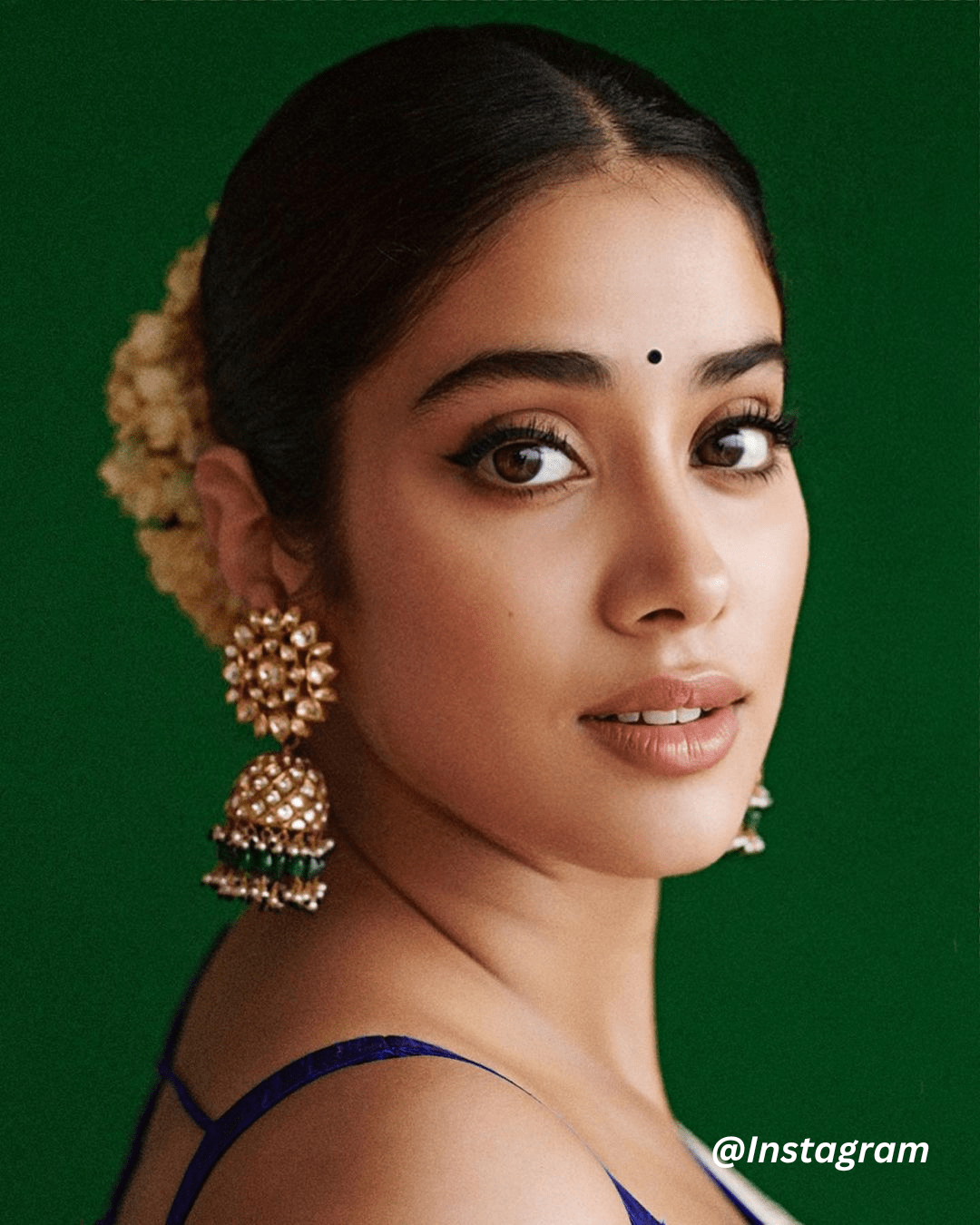 Hey there, fashion-forward peeps! Get ready to be totally wowed by the one and only Jahnvi Kapoor, 'cause she just dropped a bombshell of a look that's taking us on a major time travel trip! Imagine this: it's the 1800s, and Jahnvi's draped in a watermelon pink saree that's like a piece of art. 🍉🎨 Hold on tight, 'cause we're diving into this pinkalicious adventure!
Pretty in Pink… Saree!
Alright, so picture this: Jahnvi Kapoor is rocking a saree that's all about that watermelon pink shade. And wait for it – there's this super delicate light pink silk border that's like the icing on the cake. Seriously, it's a whole vibe. You'd think we're at a retro fashion show or something!
Makeup Game: Subtle Queen
Guess what? Jahnvi Kapoor's makeup game is out of this world. She's keeping it lowkey but totally stunning. Imagine rocking a pink eyeshadow that's just the right amount of pop – like, it's making her eyes twinkle! 🌟 And then there's the lipstick – it's this soft pink shade that's practically hugging her natural lip color. Talk about lip goals!
Less is More: Minimal Magic
Hold up, 'cause Jahnvi's showing us that less is more. Her makeup is chill, but it's totally bringing out her A-game. It's like she's saying, "I don't need a truckload of makeup to slay." And we're here for it! Her minimalistic style is all about embracing her real beauty, and honestly, she's nailing it.
Flower Power: Blossom Queen
Okay, get ready for the real deal – Jahnvi Kapoor's hair game is on point. Her hair is flowing, wild and free, just like her spirit! And guess what she's rocking? Cherry blossom flowers, baby! 🌸 It's like she's got a crown made of flowers, and we're totally digging the vibe. It's giving off those classic desi feels with a splash of fun.
Desi Frida Kahlo? Heck Yeah!
Hold up, have you ever heard of Frida Kahlo? Well, Jahnvi Kapoor is giving us major desi Frida Kahlo vibes! She's blending Indian tradition with this artsy twist that's making us do a double-take. It's like time traveling to the past, but with a modern twist. It's unique, it's fresh, and it's oh-so-Jahnvi!
Timeless Throwback: Retro Chic
Guess what? Jahnvi Kapoor's nailing that retro vibe like a total pro. Her pink saree is straight-up vintage glam, and that silk border? It's like the cherry on top. But the coolest part? Her makeup isn't stealing the show – it's just highlighting her natural beauty. It's like a classic movie, but in real life!
Desi Charm, Redefined
In a world where everyone's all about modern fashion, Jahnvi Kapoor is flipping the script. She's reminding us that desi beauty never goes out of style. Her makeup? Subtle but stunning. Her saree? A burst of pink perfection. And those flowers? Well, they're taking us on a journey through time, and we're here for every second of it!
Rocking the Retro Elegance
So, there you have it – Jahnvi Kapoor is turning heads with her retro saree look. It's all about that timeless charm mixed with a dash of modern flair. Her makeup, her outfit, and those cherry blossom flowers are creating a vibe that's totally irresistible. It's like she's saying, "Hey, embrace the past, but do it in style!"
Also Read: Janhvi Kapoor's Epic Contrast Colour Blouse Hacks!