Hey there, trendsetters! 🌟 Have you ever spotted Kriti Sanon rocking the streets of Mumbai in her super cool outfits? Well, get ready to dive into the world of fashion inspo 'cause we're breaking down her latest effortlessly awesome look! 📸👖👚
The Killer Outfit: Slayin' in Simplicity
Picture this: Kriti strolls out in Mumbai looking like a total fashion goddess. She's all about that black cropped tank top that's as comfy as your fave PJs but as chic as a runway model. The top's got these awesome wide straps, a plunging neckline that's all "Hey there!", and a sassy cropped hem that oozes confidence. And wait for it… paired with light blue acid-washed denim shorts that are like your bestie's hug in clothing form.
Let's talk about these shorts – high-rise waistline, pockets (yay for pockets!), frayed hem, and they're just so comfy they practically give you a hug. Plus, they've got that breezy loose fit that's just perfect for casual hangs.
Bling It On: Accessories that Slay
Accessorizing, anyone? Kriti knows how to do it right. Check these out:
White lace-up sneakers: Think style meets comfort. Perfect for strutting the streets.
Gold hoop earrings: Bling that's not too blingy – just right for adding a touch of glam.
Dainty pendant necklace: It's like adding a sprinkle of fairy dust to your outfit.
LV Monogram Bag: Yep, a Louis Vuitton tote bag that screams "I'm fabulous!"
No-Makeup Glam: Easy Breezy Beauty
Kriti's makeup game? On point! She's all about that natural beauty. Think feathered brows that are as carefree as your weekend plans. She lines those eyes with kohl, adds some sleek eyeliner, and finishes off with mascara that says "Hello, gorgeous!"Her skin radiates with a rosy glow, and her lips sport a nude and shiny finish – giving off that "I woke up like this" effortlessly chic vibe. And those open wavy locks? Perfection.
Rock Kriti's Style: Dress Like a Star
Got fashion goals? We've gotchu covered:
Crop Tops for Days: Nab a cute cropped tank top and show off those abs (or not, you do you!).
Denim Dream: Acid-washed shorts with a high-rise waistline? Yup, they're your new BFFs.
Accessories A-Game: Add some bling that sparkles but doesn't blind. Think cute hoops and a pendant necklace.
Easy Makeup Magic: Feathered brows, kohl eyes, and glossy lips – you're ready to conquer.
Chill Hair Vibes: Those beachy waves with a casual side part? Hello, ultimate coolness.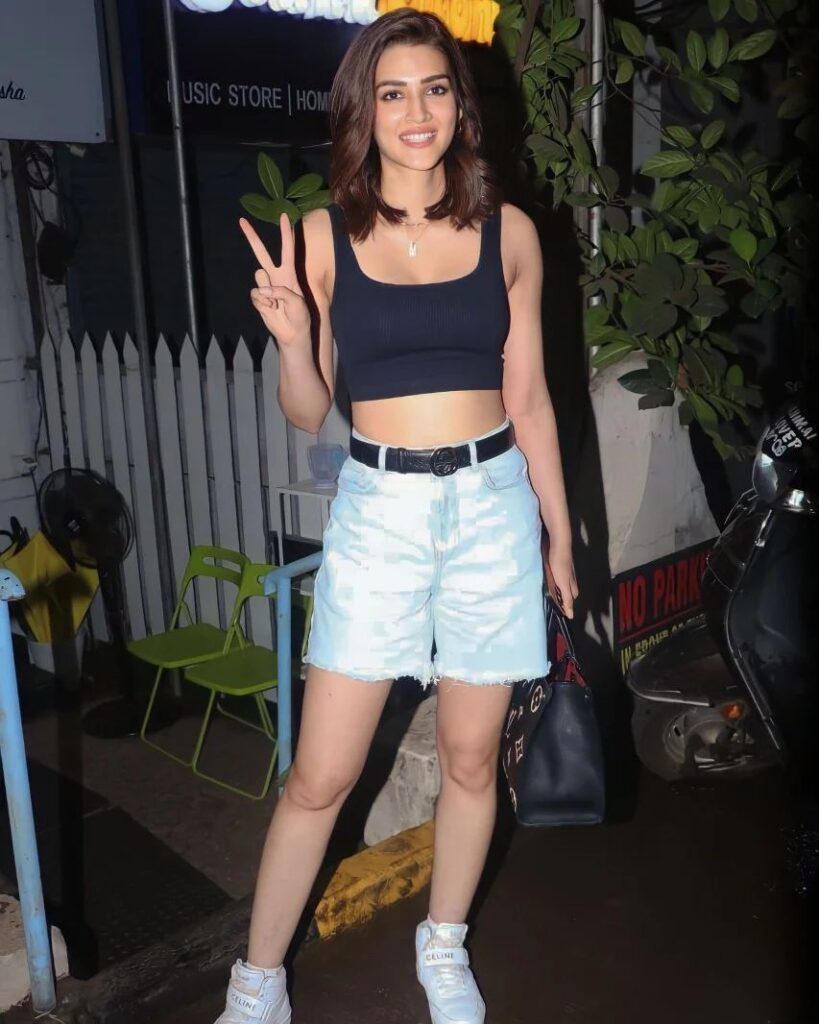 Kriti's New Gig: Lights, Camera, Action!
Hold onto your seats, peeps! Kriti's dropping some big news. She's teaming up with Kajol for a new project called Do Patti. It's gonna be on Netflix, and it's gonna be epic. They're reuniting after 8 whole years – remember Dilwale? Yep, that's the one. 🎬🍿
Kriti shared her excitement on Insta with a pic and a caption that goes, "DO PATTI begins! This 🦋 is ready to flyyyyyy! Need all your love and blessings." The movie's gonna be produced by Kanika Dhillon's production house, Kathha Pictures. Get ready for some serious entertainment, folks!
Get Your Kriti On: Be a Style Rockstar
So, here's the deal: Kriti Sanon knows how to rock that casual-yet-chic vibe like nobody's business. The next time you're prepping for a chill hangout, remember her style wisdom. Channel your inner fashionista, show off those killer accessories, and embrace the no-makeup glam. You've got this, trendsetter!
Also Read: Get Ready to Sizzle with Kriti Sanon's Hyphen Skincare Magic!