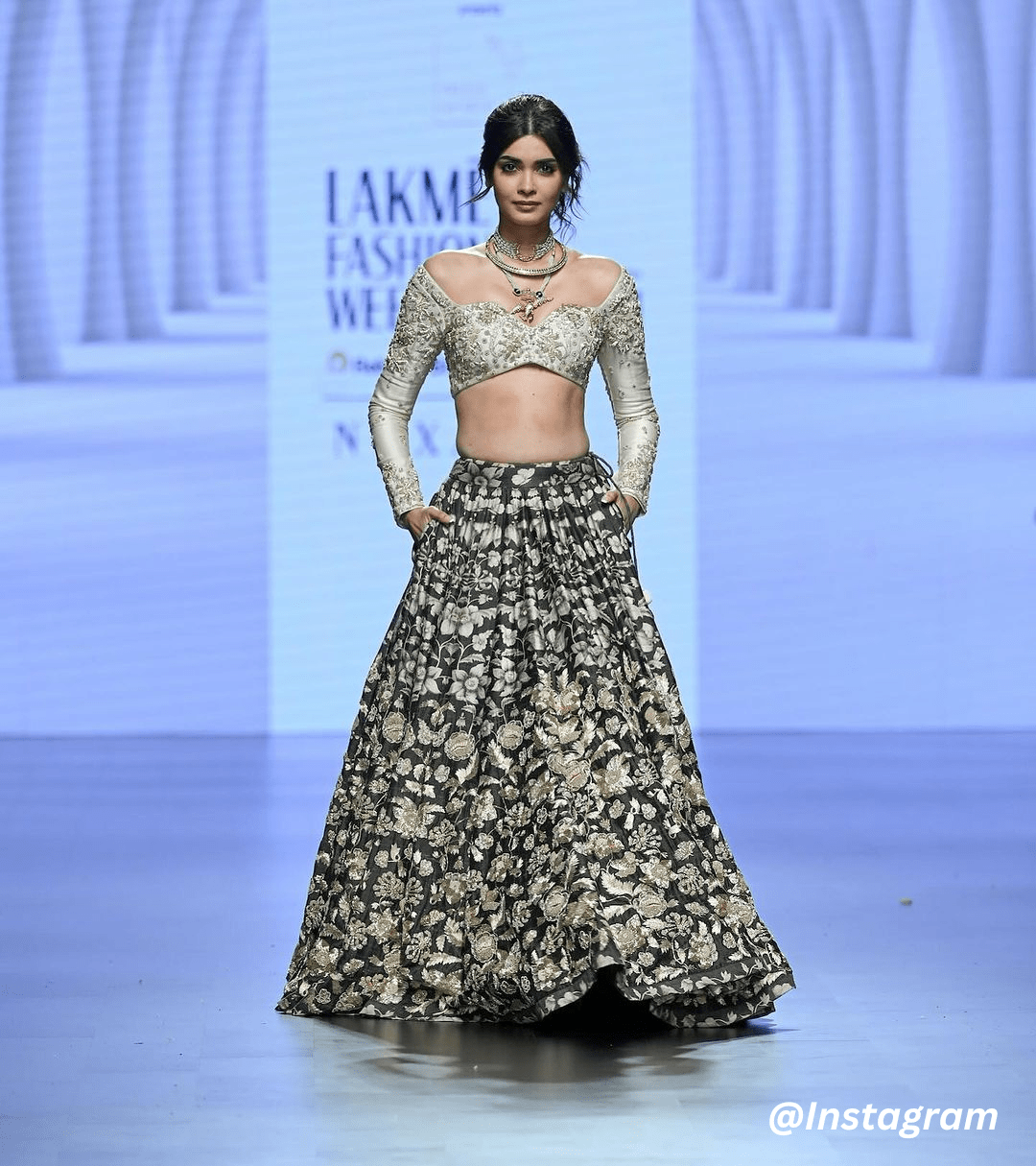 Alright, so you know Diana Penty, right? She's the ultimate fashion queen! From rocking it at Cannes to owning the Paris Couture Week, she's our go-to style icon. But the latest buzz? It's all about her Lakme Fashion Week 2023 entrance. Hold on to your hats, because Diana's bringing something new to the table!
Meet Diana: The Fashion Diva
Diana Penty's got this whole fashion game on lock. She can pull off anything from fancy bustiers to those dreamy tulle skirts. Seriously, her style is like 🔥!
The Lakme Fashion Week 2023: Diana's Time to Shine
Lakme Fashion Week? That's Diana's playground. This year, she's the muse for Paulmi & Harsh, and trust us, it's epic. But what's got everyone talking is her outfit – a Dupatta-Free Lehenga with pockets. Yeah, you heard it right, pockets!
The Lehenga: Tradition Meets Swag
Her outfit is pure genius. It's a black lehenga with golden floral embroidery, but here's the cool part – it's got pockets on both sides. Fashion meets practicality, and we're here for it!
The Blouse: Chic and Sassy
Diana paired it up with an off-shoulder ivory blouse that's all kinds of classy. It's got full sleeves, some killer embroidery, and a deep neckline. Plus, it's cropped. She ditched the dupatta for comfort, and honestly, it's a power move!
Bling, Bling: Diana's Jewelry Game
Diana went all out with the jewelry, rocking not one, not two, but three statement necklaces. Talk about adding some extra zing to the whole outfit!
Hair and Makeup: On Point
Her messy bun is all about that chill, casual vibe. And her makeup? Glossy pink lips, rosy cheeks, smokey eyes, long lashes, and those perfectly arched brows. She's basically perfection personified!
The Big Finish: A Total Win
Diana's runway moment was a huge hit. She's got the confidence, the style, and those pockets! This outfit is all about mixing tradition with modern vibes and, of course, loads of comfort. Diana Penty's setting new trends, folks!
A Trip Down Memory Lane
But this isn't Diana's first Lakme Fashion Week rodeo. In a previous show, she wowed us with a sensational silver lehenga by Disha Patil. The flared skirt, a chic bralette-style blouse, and an elegant ivory floor-length veil – all those heart-eyes emojis!
So, there you have it. Diana Penty and her Dupatta-Free Lehenga with Pockets are rocking the fashion world. She's mixing tradition with a ton of style and practicality. This outfit is all about being bold, comfortable, and slaying the game. Keep an eye on Diana, folks!
Also Read: Kiara Advani Slayed at Lakme Fashion Week!