Hey there, fashionistas! Get ready to dive into the world of Deepika Padukone's stunning white saree look that left us all swooning. If you've ever wondered how to slay in a white saree just like Deepika, then you're in for a treat. Let's break it down in a super simple, fun, and friendly way!
1. The Dreamy White Saree
Picture this: a gorgeous white georgette saree with a dash of black sequins. It's like a fairytale come to life! So, grab a similar saree that's light as a feather and gives you that Bollywood glow. The black sequin border? It's the secret ingredient for oomph and glamour.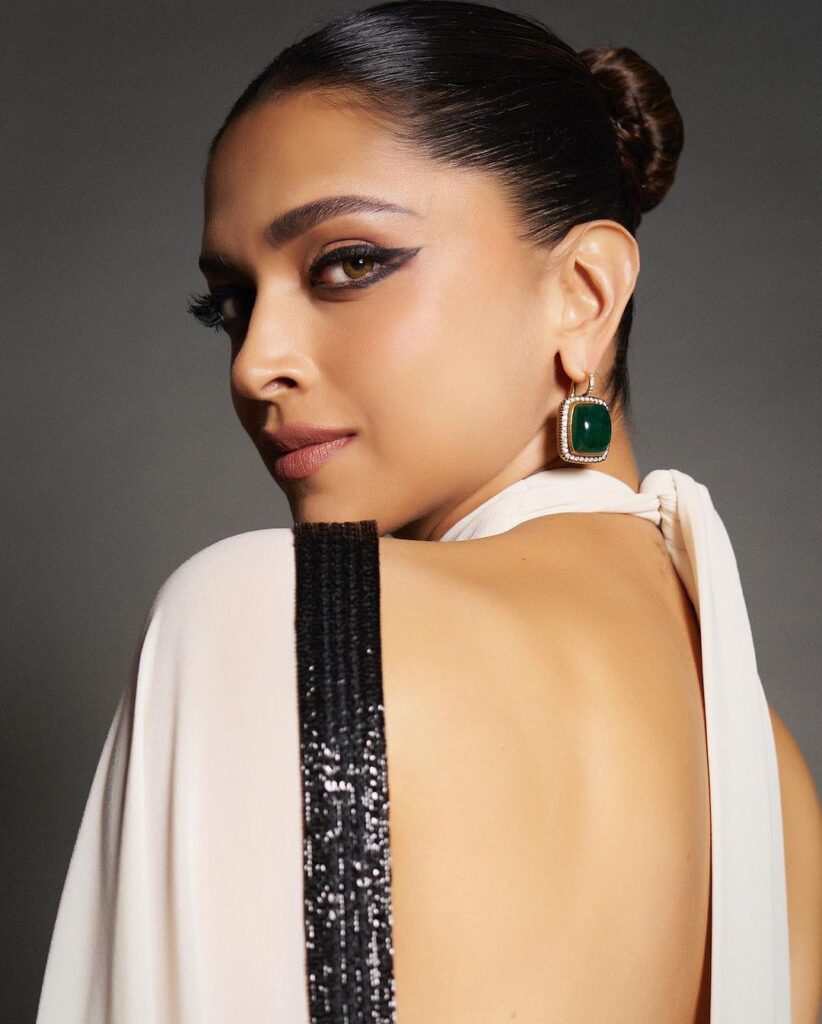 2. The Cool Halter Neck Blouse
Deepika's blouse is pure sass! It's a halter neck that's almost backless, and boy, does it turn heads. To rock this style, find a snug-fitting halter neck blouse that matches your saree's vibe. You'll feel like a superstar!
3. Sparkling Emerald Earrings
Let's talk bling! Deepika went with emerald earrings to add a pop of color. Emeralds are like little drops of magic. Find a pair that suits your style and makes your ears happy.
4. Sleek Bun FTW
Hair up in a sleek bun is the way to go! It's chic and lets your saree shine. Comb your locks, tie them up in a high ponytail, and twist that ponytail into a sleek bun. Secure it with some pins, and voilà!
5. Makeup – Keep It Classy
Less is more, folks! Deepika's makeup is all about that minimalist charm. Opt for a fresh and understated appearance, with lips in a natural shade. But here's the real deal – the cat-eye magic. Use eyeliner to create that fierce cat-eye look. Don't forget to smudge some kajal on your waterline for that extra drama.
6. Deepika's Special Appearance
Here's the sweetest part: Deepika wore this masterpiece at a press meet at Yash Raj Film Studios on September 15, 2023. It was to celebrate the success of the movie "Jawan," and here's the kicker – she did it all for the love of cinema. Yep, she didn't charge a dime for her special appearance. Talk about a true Bollywood heart!
In a nutshell, Deepika's white saree look is all about elegance and flair. It's like a style adventure waiting to happen. So, go ahead, give it a shot, and make heads turn at your next big event. Remember, it's not just about the clothes; it's about owning the look with confidence and a sprinkle of Deepika's charisma. Get ready to shine! 😎✨
Also Read: Deepika Padukone's Style Game from "Jhoome Jo Pathaan" That's Lit AF!