Hey there, fashionistas! Let's dive into the world of gorgeous gowns and how to rock them like a pro at those special events. We're talking weddings, galas, and fancy dinners – all the good stuff!
Gowns: A Dash of Elegance
Before we get into the nitty-gritty of styling, let's appreciate gowns for a sec. Gowns aren't just clothes; they're like a fashion fairy tale waiting to happen. Picture yourself as the star of the show, because that's what gowns do best!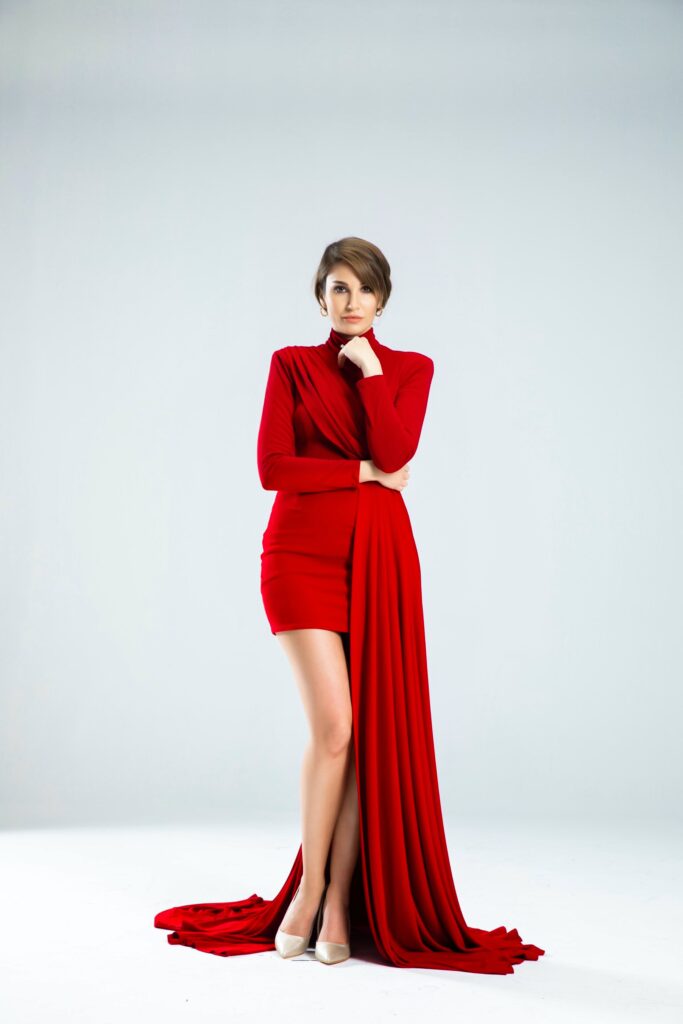 Finding "The One"
No, we're not talking about your Prince Charming – we're talking about the perfect gown! Here's how you can find it:
1. Know Your Shape
Think of it as a gown matchmaker! Know your body type and choose a gown style that loves your curves back. If you're a pear, go A-line; hourglass, rock a mermaid; and if you're petite, opt for an empire-waist beauty.
2. Colors That Pop
What color gets your heart racing? Black for that 'I mean business' vibe, red for pure confidence, or maybe soft pastels for a touch of romance? The color of your gown sets the mood, so choose wisely.
3. Fabric Finesse
Different fabrics bring different vibes. Silk for sophistication, satin for that luxurious feel, chiffon for the breezy look, and lace for a touch of romance – take your pick!
Styling Your Gown, the Fun Part!
Now, let's amp up your gown game with some fabulous styling.
1. Bling it On!
Accessories are your gown's BFFs. Here's what you need:
a. Jewelry Galore
Necklaces: Match your necklace to your gown's neckline. Sweetheart? Go for a pendant. Strapless? A statement collar piece is your jam.
Earrings: Long and dangly for drama, studs for subtle elegance.
Bracelets and Rings: Keep it balanced. If your gown's fancy, go simple with jewelry, and vice versa.
b. Carry a Cute Clutch
A chic clutch that matches your gown's color – it's like the cherry on top of a stylish sundae.
2. Hair Magic
Your hair can be your best accessory, too. Check this out:
a. Updo Chic
Fancy events call for fancy updos. Think chignons and French twists – they're like a red carpet for your hair!
b. Lovely Loose Waves
For a relaxed yet chic vibe, let those waves flow. Perfect for gowns that love a little breeze.
3. Makeup Marvel
Makeup is the final piece of the puzzle. Here's your cheat sheet:
a. Lips that Wow
A bold lip color, like classic red or deep plum, is the secret to instant glam.
b. Smokey Eyes, Oh My!
Smokey eyes are your go-to for captivating allure. Pair them with a neutral lip for a perfect balance.
The Grand Finale
As you strut your stuff in your dream gown, remember one thing: confidence is your secret weapon. Wear that gown like you own it, and let your inner star shine bright!
To sum it all up, styling a gown for special occasions is all about embracing your body type, picking the perfect color and fabric, and nailing the art of accessorizing, hairstyling, and makeup. With these tips, you'll be the life of the party, making unforgettable memories wherever you go!
Also Read: Get Ready to Slay: Finding Your Awesome Christian Wedding Dress