Hey there, fashion fam! Let's talk choker necklaces, those awesome neck bling that can totally level up your style game. Doesn't matter if you're getting fancy or just wanna rock your everyday vibe – chokers are where it's at. Here's the lowdown on how to score the perfect one that matches your personality and slays your outfit.
1. Match that Neckline: First things first, check your neckline, peeps. Different choker styles go with different tops:
V-necks or scoop necks? Grab a pendant choker to amp up that neckline game.
Rocking a high neck? Thin chokers that sit chill above the collarbone are your jam.
Strapless or off-shoulder? You're the queen of options, girl!
2. Get the Right Length: Chokers come in all lengths – think of it as a choose-your-own-adventure novel for your neck! Here's the scoop:
Collar: Bold and snug. Perfect for making a statement.
Choker: Classic, sits right above the collarbone, and goes with almost anything.
Princess: Slightly lower, adds that touch of fancy to any outfit.
Matinee: Bust-level bling, vibes well with high necks.
Opera: Super long and dramatic – ready to slay those formal events.
3. Material Matters: What's your flavor, fam? Material sets the vibe:
Velvet or satin: Luxe and vintage vibes, y'all.
Metal chains: Elegant and layer-friendly. Get that trend on!
Pearl-studded: Total sophistication, perfect for classy events.
Leather or fabric: Adds that edge, giving off cool casual vibes.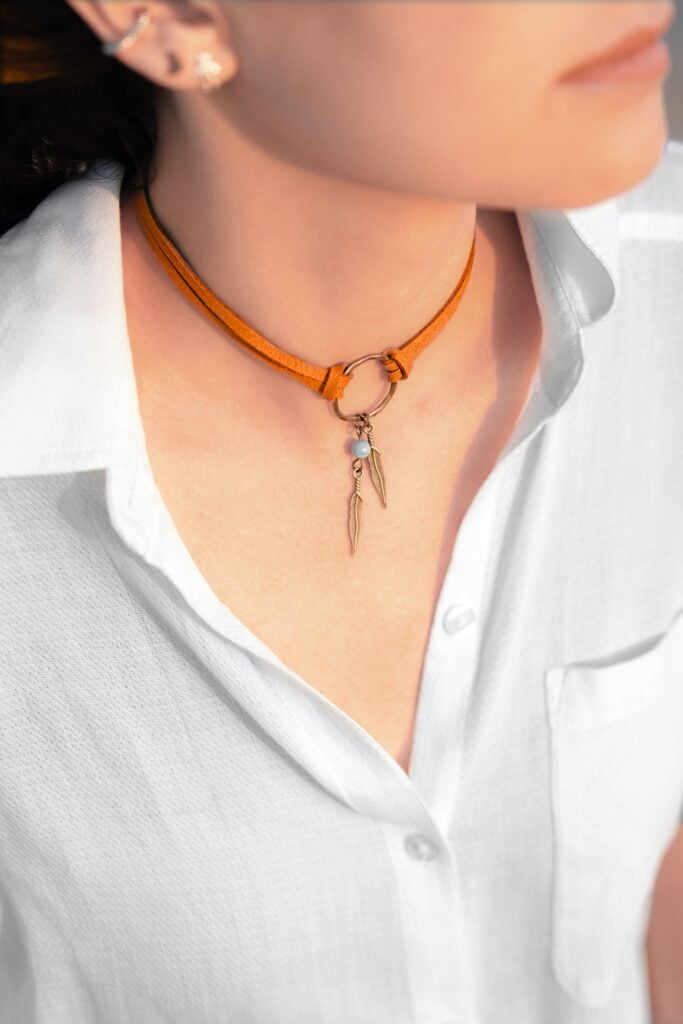 4. Pendants that Pop: Pendant chokers are like your necklace's BFF. Add your own swag with pendants that shout you – birthstones, symbols, or just a cute design that vibes with your soul.
5. Show Off Your Style: Your choker should scream you, babe! Boho vibes? Get those beads and layers. Keeping it lowkey? A sleek, clean design is your jam.
6. Comfort is Key: Keep it comfy, always! No choking, promise. Make sure it fits just right or snag an adjustable one for that perfect snug.
Bottom Line: Choker necklaces? Oh yeah, they're forever cool. They've got that magic to turn your outfit into an instant masterpiece. From glam nights to hanging with your crew, finding your dream choker is like leveling up in a style video game. So go on, rock that choker and own your fab self! 🎉👑✨
Also Read: Necklace Trends 2023: Get Ready to Slay Your Style Game!