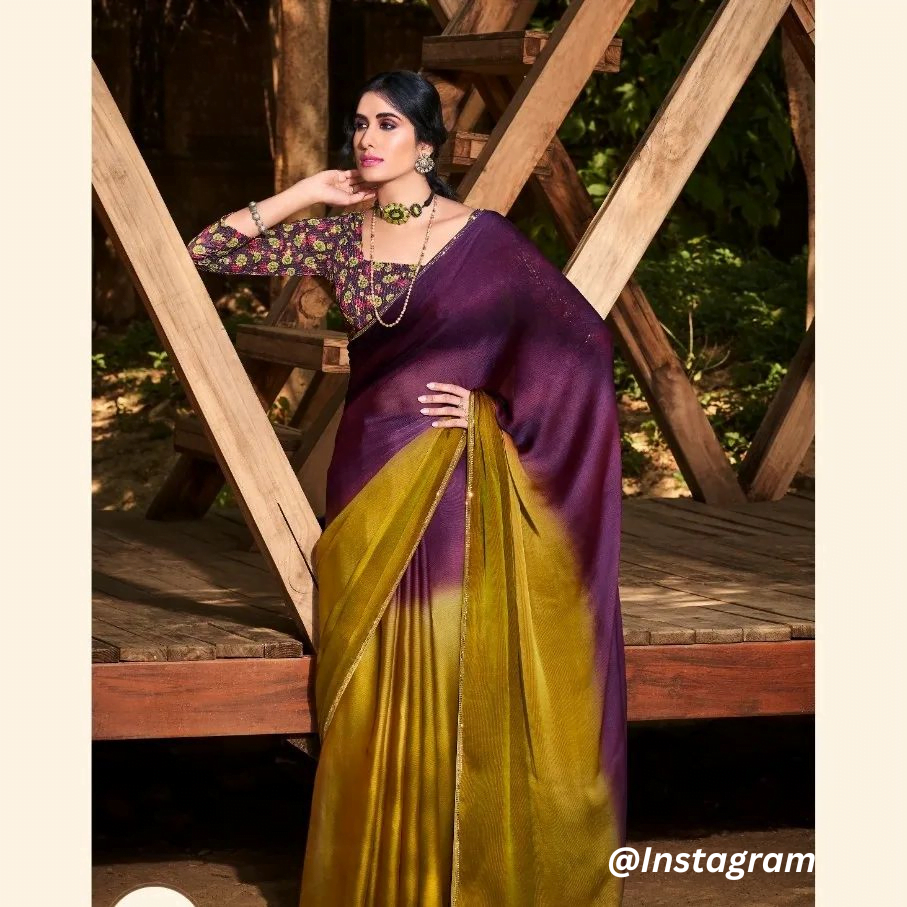 Hey there, fashion-forward peeps! If you wanna be the life of the party, then guess what? We've got the ultimate style secret to share: Chiffon Sarees. 🎉 These beauties are pure magic and will have you turning heads and dropping jaws at every shindig. So, let's dive into the fab world of chiffon sarees and learn how to rock 'em like a pro!
Chiffon Sarees 101
Okay, so first things first, what's the deal with chiffon sarees? Well, they're like the coolest fashion invention ever. Made from super light and sheer fabric, these sarees are all about slaying in style and feeling comfy while you're at it.
Picking Your Dream Chiffon Saree
When it's time to choose your dream chiffon saree, here's the scoop:
1. Colors that Pop 🌈
Go wild with colors that match your vibe and the occasion. Light shades like baby blue and pastel pink are perfect for daytime events, while darker hues like deep maroon and emerald green are killer for nighttime parties.
2. Bling or No Bling? ✨
Some chiffon sarees are blinged out with embroidery and sparkles, while others keep it simple and classy. Your choice depends on how fancy or chill the party is. Go big or keep it low-key – it's your call!
3. Sizzle with a Sassy Blouse
Your blouse game has to be strong! Experiment with different necklines, sleeves, and back designs to find the one that screams 'YOU.' Customizing your blouse gives your outfit that extra oomph!
Styling Tips to Rock That Saree
So, you've got your killer chiffon saree. Now, it's time to slay it with some dope styling tips:
1. Saree Draping Drama 💃
The way you drape your saree can make you stand out. Try the classic Nivi drape or go funky with the butterfly style. Feel free to mix and match to suit your vibe and body shape.
2. Bling it On 💍
Accessorize, baby! Add some bling with statement jewelry – chandelier earrings, a fierce necklace, or a maang tikka. Don't forget to rock a stylish clutch and some killer heels!
3. Fab Hairstyles 💇‍♀️
Your hair game is crucial. Classic buns and loose waves are cool, but you can also go wild with a braided crown or a sassy side-swept bun for a modern twist.
4. Makeup Magic 💄
Keep your makeup soft and elegant to match the delicate vibe of chiffon sarees. A light smoky eye, nude lips, and a dewy glow are the way to go. Lock it in with a bomb setting spray for all-night partying!
In a Nutshell
Chiffon sarees are like the ultimate party weapon. Pick the right one, add your unique style, and you're ready to rock any event like a true fashionista. Confidence is your BFF here, so wear that chiffon saree with pride and style. Now go out there and own the party!
Also Read : How to Style Manish Malhotra Chiffon Sarees: A Comprehensive Guide