Hey there, party peeps! So, you wanna rock the Krishna Janmashtami scene by dressing up as a Gopi? That's awesome! Get ready for the most epic Gopi transformation ever. We're about to make you the star of the show in a way that even Lord Krishna will be impressed. 🕺🌟
Gopi Glam 101: What You Need
First things first, let's break down the Gopi look. It's all about bringing that divine, traditional swag to the dance floor. Here's your checklist:
1. Dress to Impress
Gopis are all about vibrant colors and elegance. Grab a "Lehenga Choli" – it's like the Indian version of a fabulous dress-up game! Make sure it's as bright and beautiful as your dreams.
2. Feeling Fabulous
Think comfort meets style. Choose comfy fabrics like cotton or silk – no itchy stuff allowed. Gopis were all about ease, and you should be too.
3. Bling It On
Gopis knew how to accessorize! Bling it up with bangles, jhumkas (funky earrings), and a maang tikka (forehead ornament). Let's turn up the sparkle!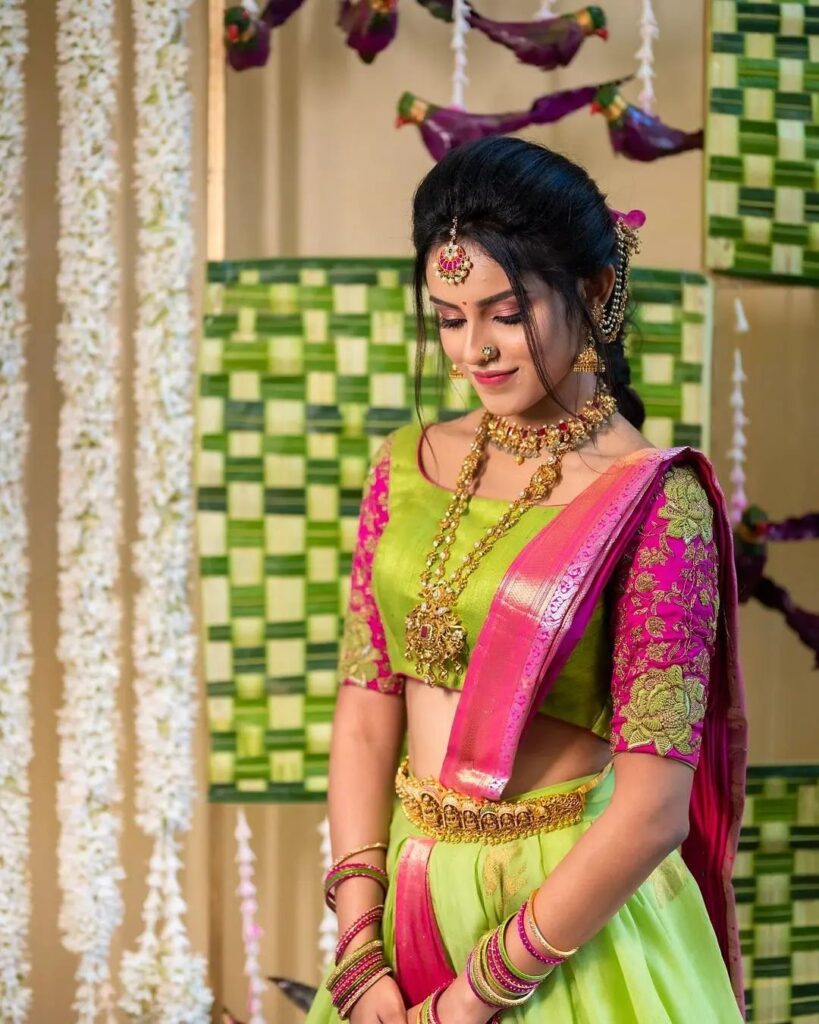 The Gopi Guru's Beauty Tips
Now, let's talk about makeup because every Gopi needs that glow-up. Here's the scoop on easy and breezy Gopi makeup:
1. Natural Vibes
Think fresh and fabulous. Keep your makeup light and breezy with earthy eyeshadows and lip shades. Less is more, my friend!
2. Bindi Magic
The secret sauce of a Gopi look? That cute little bindi on your forehead. It's like the cherry on top – simple but oh-so-stylish!
Gopi Chic: The Finishing Touch
Your transformation is almost complete, but remember, confidence is your BFF on this adventure. Channel your inner Gopi with love, humility, and devotion. It's not just about the clothes; it's about the heart.
In a nutshell, becoming a Gopi for Krishna Janmashtami is the ultimate style move. You're not just dressing up; you're stepping into a world of devotion and celebration.
Now go out there, shine like a star, and dance the night away with Lord Krishna himself! 🎉🕺
Also Read: Ultimate Rakhsha Bandhan Outfit Guide: Get Ready to Slay!