Hey there, fashion fam! Brace yourselves because we're about to dive into the fabulous world of Ananya Panday's Diwali shenanigans. Trust me; this is a style journey you don't want to miss!
Ananya's Blazing Diwali Entry
So, Ananya Panday decided to drop a fashion bomb at Ekta Kapoor's Diwali bash, and let me tell you, jaws were on the floor! Decked out in a dusty pink saree and a bold bandeau blouse, she basically defined what it means to be fashion-forward and fearless.
The Outfit Deets: Because Details Matter!
Sequins, Mirror Work, and All That Jazz
Ananya's saree was like a work of art – organza and silk, drenched in a dreamy dust pink hue. And oh, did I mention the bling? Sequins and mirror work that screamed 'festive glam'! Talk about setting the party on fire.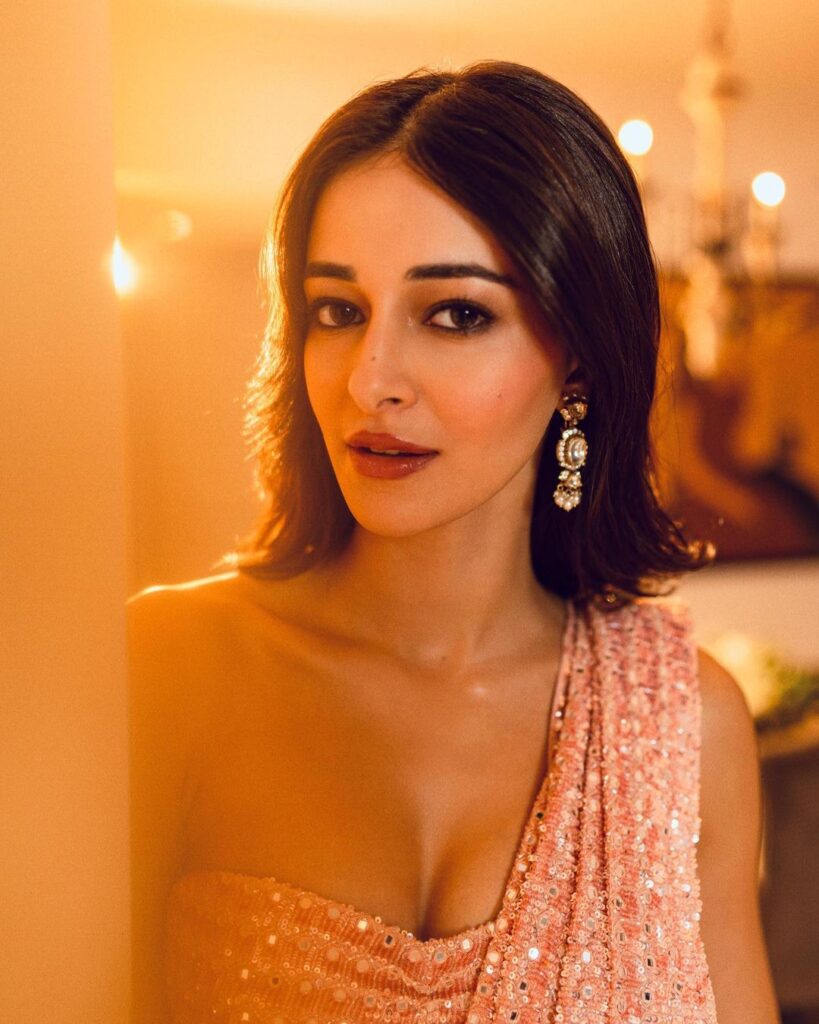 Bandeau Blouse: Breaking the Blouse Mold
Now, let's talk about that bandeau blouse! Picture this: no straps, all sass. It's like the rebellious cousin of traditional blouses, making everyone rethink their fashion choices. Also, hand-embroidered with sequins and mirror work – because why not?
Styling Vibes: Effortless & Chic
Hair Flip and Makeup Game Strong
Ananya decided to let her hair down—literally. Wavy tresses in a mid-parted style, giving off those 'I woke up like this' vibes. And the makeup? Nude and on point. She basically said, "I don't need filters; I'm naturally fabulous."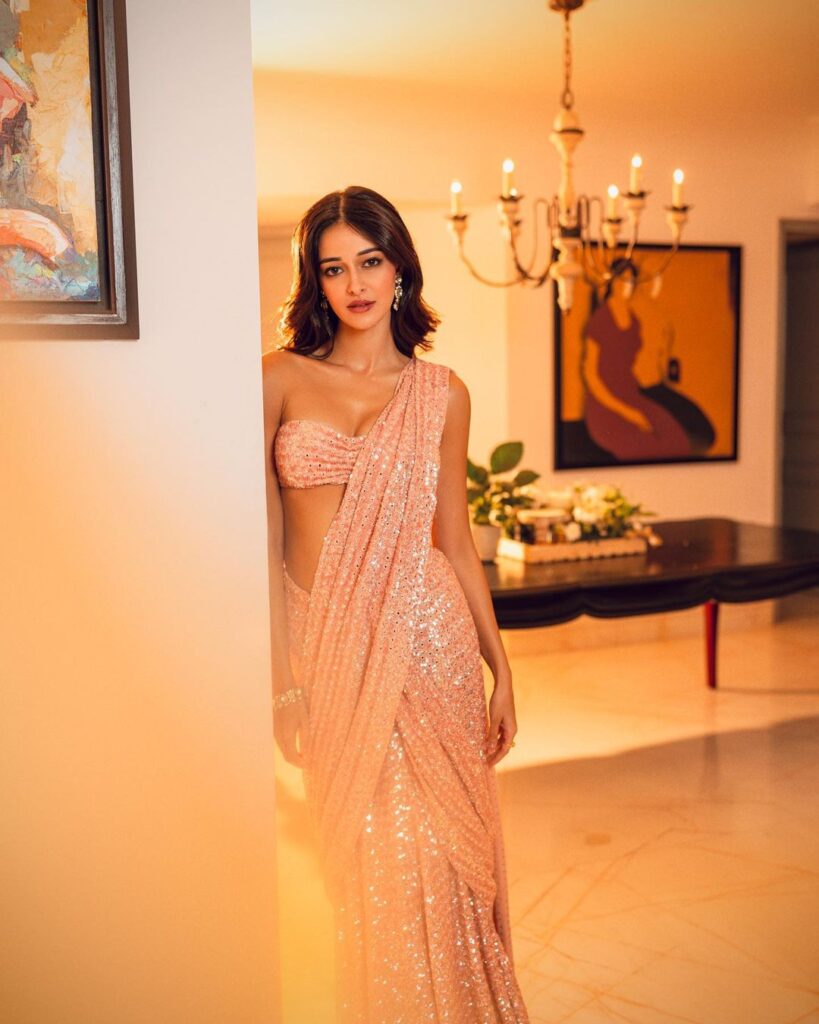 Bling It On: Silver Earrings and Ring
Accessories? Nailed it! Long silver earrings and a finger ring to add that extra glam. It's like she raided a jewelry store and made it look effortless. Teach us your ways, Ananya!
The Designer Drama: Arpita Mehta's Magic
Ananya's look is the brainchild of the amazing Arpita Mehta. Minimal yet fab – that's the vibe of Arpita's creations. Ethic meets contemporary in a magical dance, and we're all here for it.
Price Tag Alert: Luxury with a Side of Ouch
Hold onto your wallets, folks. The dust pink dream set comes with a price tag that could make your eyes water—₹385,000! But hey, who said looking this good would be cheap?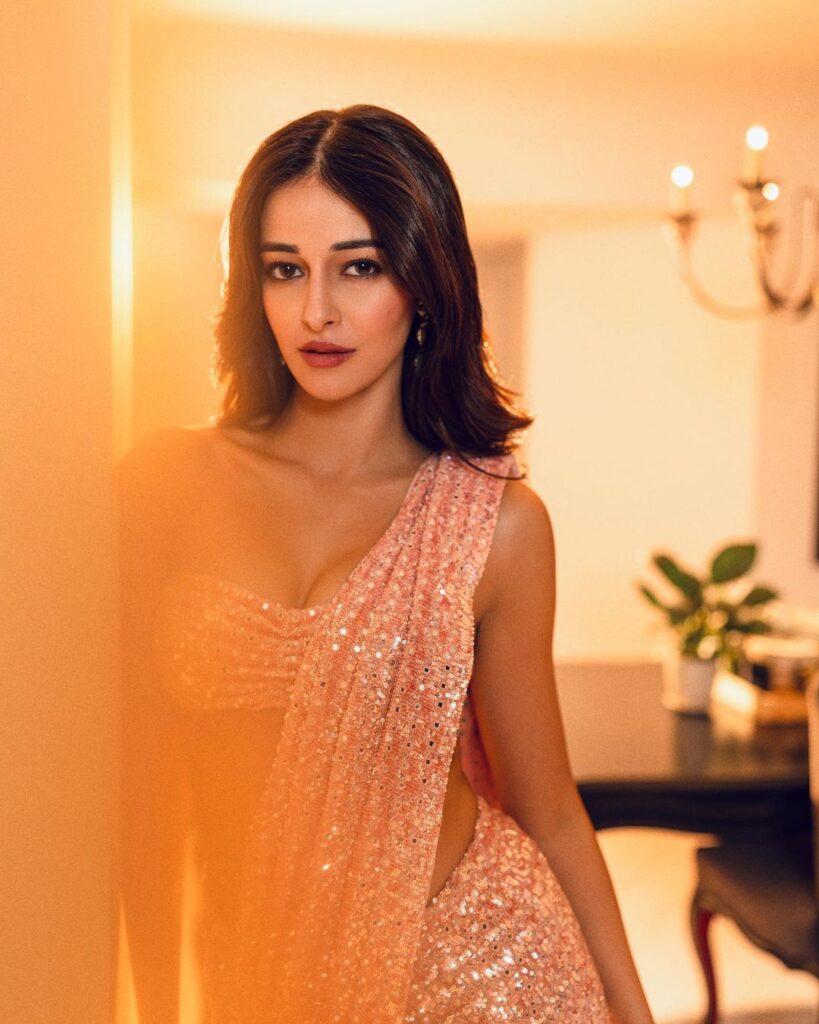 Bandeau Blouse Love: Because Trends Matter
Tradition with a Twist
Bandeau blouses are like the superheroes of ethnic wear. Paired with sarees, lehengas, or skirts, they're like the cool kids in town, giving traditional blouses a run for their money.
Mix It Up: Fashion Experimentation
Want to rock Ananya's Diwali vibe? Get yourself a bandeau blouse and let the fashion experimentation begin! Different fabrics, embellishments, and patterns – go wild, my friend. This festive season is all about standing out.
Recreate the Magic: Your Fashion Adventure
Ready to sprinkle some Ananya magic in your wardrobe? Try the bandeau blouse, play around with styles, and make a statement that screams 'I'm here to slay!' Let this festive season be your runway, and trust me, heads will turn!
In a nutshell, Ananya Panday owned Diwali with a style that's making waves. The dust pink and bandeau blouse combo, with all its sequins and sass, is a lesson in slayage. So, channel your inner fashionista, take some inspo, and let the Diwali magic unfold!
Also Read: Janhvi Kapoor and Ananya Panday: Ganesh Chaturthi Fashion Vibes